'Veep' Star Anna Chlumsky Talks Hollywood, Humor, and HBO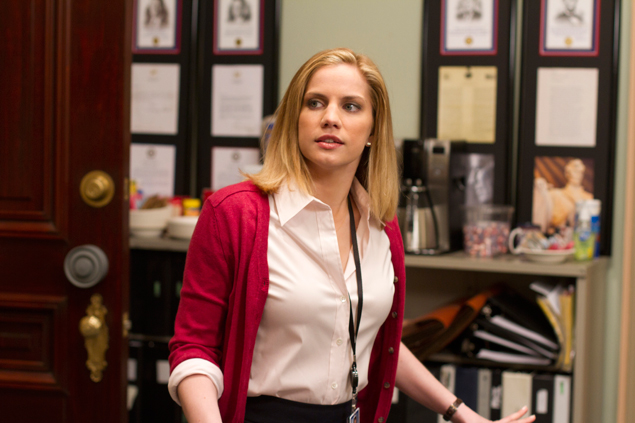 Anna Chlumsky isn't alone. In fact, the actress, best known for her role as the sweet and spunky Veda in the beloved 1991 dramedy My Girl, is surrounded by artists constantly remembered for their former nostalgia-inducing projects. On her new HBO series Veep, Chlumsky, 31, stars alongside the likes of Seinfeld vet Julia Louis-Dreyfus and Arrested Development alum Tony Hale. In pop culture terms, when Veda met Elaine and Buster.
"What I'm realizing is that's almost more the rule than the exception," Chlumsky tells Hollywood.com about being associated with a particular role. "Growing up it was the exception because I was maybe the only one in my school or my circle of friends that had that experience. But now that I know more people in the industry, I am realizing this happens to almost everybody." (Chlumsky — who took a long hiatus from acting to study International Relations at the University of Chicago and explore her options outside of Hollywood — also acknowledges why there is a special love for certain childhood films, "Whenever people are excited about My Girl, I always think if I met the kids from The Neverending Story. I would probably be the same way.")
And when it comes to
Veep
, Chlumsky is certainly in some very good company of those who have a memorable body of work attached to their name. Not only does the actress get to work with sitcom royalty like Louis-Dreyfus ("She's an incredible technician and at the same time she manages the balance of being totally open and impulsive when they call 'Action!'," Chlumsky said of working with the star), but she gets to re-team with
Armando Iannucci
, the man behind the film that kick-started her full-time return to acting, the bitingly funny 2009 Oscar-nominated political satire
In The Loop
. 
"It wasn't even just a relief with work with Armando again, it's one of the best joys of my career so far," Chlumsky says. "Just to work with him even once during In The Loop and then to be called up again to do an even longer project. He and his team [including scribe Simon Blackwell] works in a way that just really gels with the way I work. I've always just felt really trusted by them and so fulfilled, so that was something I was really looking forward to doing again. It was neat because it was a new venture, a new character."
That character is Amy, the hard-working, if not incredibly stressed-out, Chief of Staff to Louis-Dreyfus' Selina Meyer, the well-meaning, but gaffe-prone Vice President of the United States of America. While their characters and the setting are unequivocally American, the humor is pure Iannucci. But Chlumsky is not worried about the laughs getting lost in translation with U.S. audiences, or with anyone outside of political world. 
"When we did the D.C. premiere, there were certainly moments where you just heard those individual laughs where you knew that it resonated with someone really, really closely," Chlumsky says. "Something that I realized about Armando and his writing team for In The Loop and The Thick of It and now Veep is that they are kind of brilliant at every type of humor. They can do highbrow and lowbrow right in the same sentence and it totally works. They can do slapstick, they can do visual gags, they can do puns, they can do cerebral humor. They kind of run the gamut and as a result, there truly is something for everybody."
In every sense of the word. 
Veep
falls into HBO's already buzzy and eclectic Sunday night line-up, airing between the feverishly popular
Game of Thrones
 and the much-talked-about
Girls
. "I'm excited first and foremost as a viewer, because
Game of Thrones
is one of my very favorite shows and now having seen the pilot of
Girls
and being a
Lena Dunham
fan, I get to watch three shows that I personally love," Chlumsky says.  "And how lucky am I that I'm actually in something that I would watch as an audience?" 
Also making the My Girl star feel lucky? Seeing her show air on a barrier-breaking night that celebrates, well, girls, thanks to Veep and Girls. "We're at this place where we're pushing the next stylistic envelope," Chlumsky says, noting that Dunham and Iannucci's approach to comedy are actually quite similar. "That's always been Arm's style to be very fly on the wall, very documentary, we always dirty up the dialogue and that's kind of Lena Dunham's style as well. She is so balls-out and really is telling a very, very simply dirty truth. She doesn't push for grit — it's just that's actually the way life is and that's a nice thread between Arm's work. Let's just tell the stories of these people and see how people behave. We don't have to glam it up. I think HBO has really hit a new stylistic note with our shows, which is a joy to be a part of." Welcome back. 
Veep premieres on HBO tonight at 10 PM ET.
[Photo credit: HBO] 
More: