'VICE': Pushing the Limits of News with Humor and Horror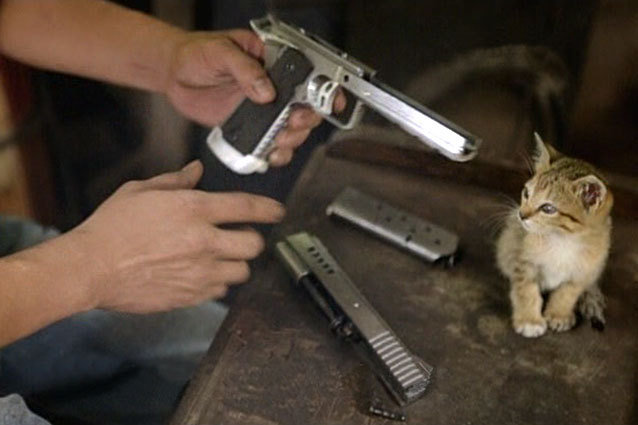 A shot of a gun pointed at a harmless little kitten. A dismembered head lying by itself in the middle of a road. A look at teenagers beating themselves with chains in the name of God. These are just a few of the shocking moments seen in HBO's new documentary series VICE — a program that tackles the kind of stories that mainstream media overlooks or is afraid to approach.
In Episode 1, host Shane Smith and correspondent Ryan Duffy take the viewers on two completely different journeys. In the first story, Duffy explores the ins and outs of the election process in the Philippines, and uses satire to compare the election season to hunting season. In Part 2, Smith embarks upon a more emotional venture to share the stories of children suicide bombers who work for the Taliban.
RELATED: TV Tidbits: Morgan Freeman Blasts Off Into Space
The show begins with Duffy's story, "Assassination Nation." The cameras follow him as he meets with the country's governor, who is about to begin another campaign. Remembering the 100 plus people that were killed during election season in 2010, Duffy ignores the country's political tensions and dives right into the deepest and darkest waters of the story. He and his team do a great job at exploring both sides of the issue; there's no denying that they have incredible access. In one scene, Duffy literally sits in the backseat with the governor during a military convoy. In the next, the rebel militia general is taking him on a tour his secret camp.
While most reporters would be scared s***less to be put in these situations, Duffy does it with a smile, and even interjects his sense of humor throughout. In one shot, the camera focuses on an innocent kitten that has a gun pointed at it — perhaps meant to represent in inevitability of assassination attempts on the governor's life, no matter how much security he has, or touching on the illegal manufacture of guns by the rebels.
The show's ironic tone continues to develop as Duffy again joins the convoy of the governor. All of sudden, the trip is halted when hundreds of men start getting out of their cars with guns to protect the governor. While we are at first led to believe that the rebels are about to attack, it turns out that the governor just has to use the bathroom.
RELATED: Ryan Murphy Has A Racy New Show
While Duffy's story is riddled with humor like this, Smith's takes a different form of narration. There are no slight jabs in this half. It's just a serious and emotional story about the poor Afghan children who the Taliban brainwash to act as suicide bombers. While Smith takes us through the story by interviewing children who made failed attempts at bombings, and chatting with high ranking officials who condone these death missions, the cameras add images of extremely distrubing scenes to drive his points home. Shock value at its highest takes form when the camera captures shots of a severed head lying in the middle of the road and teenage martyrs beating themselves with chains. One scene even displays piles of bodies after one such bombing occurs — and the segment even opens up with footage of 9/11.
Yes, these scenes are graphic, but they serve their purpose. Viewers are called to understand the emotional warfare waged on these children and used to turn them into killers. And in the end, you are left viewing the kids not as heartless murderers, but as innocent children who are unable to control the fact that they are getting brainwashed by mad men.
RELATED: Hoda Kotb Might Be Leaving 'Today'
This show may dare to push the odds of what's acceptable in front of the news camera, but you couldn't expect anything else from an HBO news series produced by Bill Maher.
VICE premieres Friday night at 11 PM on HBO. Tune in.
Follow Lindsey on Twitter @LDiMat.
[Photo Credit: HBO]
---
From Our Partners


Hayden Panetierre Bikinis in Miami (Celebuzz)


Every Jurassic Park Dinosaur Ranked From Best to Worst (Vulture)