Viewers Beg NBC to Stop Killing Elephants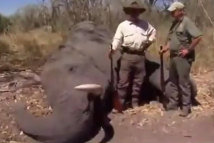 NBC Hey, NBC, did you ever think that maybe people wouldn't love seeing an elephant shot in the face? No? Well, now, the network's new show, Under Wild Skies, is getting slammed by the public as well as animal rights organizations for being inhumane. 
In the clip below,  two gun lobbyists, one of which is show host Tony Makris, are seen stalking and shooting an African bull elephant. Makris, who is a strategist for the NRA, is seen instructing his pupil on how to kill the elephant, at one point even saying aim "right between the eyes." When he shoots the animal, we hear a stampede and cry of pain. As the men retreat to reload, Makris laughs and says the elephant "got a little cheeky." Yeah, you know what, I would probably get a little "cheeky" too if I was running for my life.
In case you aren't throughly disgusted yet, the two men then casually discuss shooting some birds later in the afternoon while they stand back and wait for the elephant to die. Makris ends the clip by thanking his hunting partner for sneaking them "right in this guy's (the elephant's) bedroom." The casualness of the comment, as well as the idea that the two are celebrating the kill, is horrible and is causing serious blowback for NBC.
The show, which is NRA sponsored, was shown on NBC Sports this past Sunday, Sept. 22. After it aired, viewers began begging NBC to cancel Under Wild Skies. In fact, Care2petitonsite has started a petition that has already reached close to 35 thousand signatures, while another on causes.com reached 55 thousand. PETA also wrote an open letter to the network urging them to cancel the show. 
While many have agreed that the killing of this animal was inhumane, it was legal. Fortunately, Botswana will ban wildlife hunting starting on January 1, 2014. However, it looks like NBC will continue airing Under Wild Skies, though they will stop showing this particular clip.
The network released a statement saying, "We've listened to our viewers and will not air that particular episode of 'Under Wild Skies' again. We're also taking a close look at our internal standards as part of this process because this content should not have aired. While this form of hunting is legal, we understand that many viewers find it objectionable. As a result we are taking an aggressive approach towards objectionable content within future episodes of 'Under Wild Skies' and other series." 
While we're glad that NBC will not air this clip, it doesn't solve the problem. NBC should not be airing any shows that glorifies animal cruelty, let alone doing so for entertainment. Hopefully, with these petitions and public opposition, NBC will decide against broadcasting any future shows of this nature. 
More:
NBC announces Hillary Clinton Miniseries
Casey Affleck Supporting Animal Cruelty Bill
Ryan Gosling Blogs About Animal Rights
Follow @hollywood_com
| 
Follow @lexi_smail | 
---
From Our Partners:


A Complete History Of Twerking (1993-2013) (Vh1)


20 Grisliest TV Deaths of 2012-2013 (Vulture)