Sure to Be a Huge Hit, 'Vikings' Is Horrendously Watchable and Amazingly Schlocky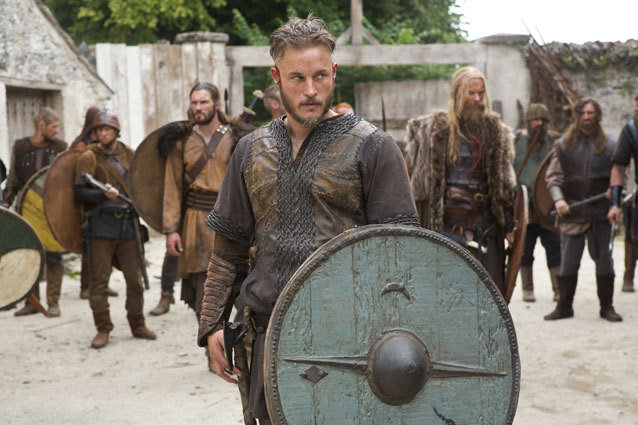 Everyone knows those shows that are horrendously popular but that no one seems to watch, like Two and a Half Men and NCIS. But there are a whole different set of shows that are super popular that you may not even know that you're not watching, like Pawn Stars, Top Gear, and the miniseries Hatfields & McCoys. These are all on History Channel and they are all monster hits. On Sunday, March 3, at 10 PM they are going to add another sure-to-be-champion to their stable, the 9-part series Vikings.
This show is right in the channel's sweet spot: it has a nominal glean on history, it is virulently male, and it speaks to the states with square borders and Christian values. Yes, this last one seems strange considering how violent the Vikings are known to be, but a sequence of the warriors sparing the priests during raid on a monastery and the continued presence of one of the monks throughout the series shows that, just like in Ben Hur, Jesus is just waiting to bend down to lend a hand in an otherwise heathen epic. That's good because this thing debuts right after the premiere of Mark Burnett's much ballyhooed The Bible miniseries.
RELATED: Holy Heck, History's 'Hatfields & McCoy's Sets Ratings Record
History is really giving Vikings the best of both worlds, it gets to be as bloody as it wants to be because redemption is seemingly at the end. The series opens with our hero Rangar Lothbrok (Travis Fimmel) and his brother Rollo (two guys with names that sound like clearing phlegm and a candy treat) as they finish a raid on the Balkans, shoving their steel inside the guts of Eastern Europeans and getting a crimson spray all over their Nordic features. The next year Rangar gets his friend Floki (Gustaf Skarsgard brother of True Blood hottie Alexander), a ship builder who looks like he's auditioning for a role as Judas Priest's guitarist, to make him a vessel that will allow him and a crew to sail west, into the unknown territory, rather than follow the orders of their leader (Gabriel Byrne) and sail east to familiar pillaging grounds. They take the journey, find England, and the drama starts from there. That's no spoiler alert, he was a real guy, so some of this is historically accurate. 
What is really interesting about Vikings is that you are rooting for Ragnar and his crew to be successful, but you are rooting for them to be better crooks and murderers. Ragnar is no Walter White or Tony Soprana or any of the other conflicted anti-heros we're used to on cable. He does not apologize for the way he is or his culture and is not at all conflicted about killing someone on his ship for disagreeing with him. He just wants to find new ways to screw people out of their treasure and take it home for his own. These people are, quite literally, barbarians who live to kill and screw and then maybe kill something after they screw or get killed while they're trying to screw. That's it. 
RELATED: 'Hatfields & McCoys' Success Proves TV Audiences Haven't Lost Their Attention Spans
This is the problem with any Viking saga, their code of honor is so distant from ours that their fights and squabbles, their praying to far-off gods, their blowing their nose in a pitcher of water and then passing the pitcher to the next guy to wash his face with the snotty water, will seem nothing but comical to modern Americans. Still, when Ragnar goes off on the "most dangerous and stupid voyage ever," he is basically going on an historical version of The Deadliest Catch. This might be comedy for some, but it's going to be wish fulfillment for plenty, doing that libertarian thing where no man can tell him what to do and, if they disagree with him, he has a right to bear arms and cut off theirs. 
For all of the schlocky sets and costumes and elements that look like they were lifted from an episode of Kevin Sorbo's Hercules: The Legendary Journeys this show desperately wants to be "good." This is the History Channel doing Game of Thrones. This a dark, dank, ancient world; there are ravens that carry prophesies; there are strange gods we don't entirely know; and there are giant sword fights. But Vikings is missing what makes GoT so awesome, the epic scope, the expansive cast of characters, and the political wheeling and deeling that makes allegiances and honor shift faster than an "imp" can fall into bed with a prostitute. Still, it just doesn't have, well, the same magic.
RELATED: 'Game of Thrones' Season 3: Revenge Is Coming in First Trailer
But it's not like Vikings won't cast a spell on you. I don't know what it was, maybe the handsome actors, the foreigness of the landscape, or just the good old fashioned urge to see what happens next (or to figure out who Rangar's wife Lagertha looks more like: Ke$ha or Blake Lively) but I clicked on each subsequent episode on the DVD given the press for review. It comes on, well, like a Viking invasion, quick, bloody, and brutal without any finesse whatsoever. It's not good, but it's effective. 
Follow Brian Moylan on Twitter @BrianJMoylan
[Photo Credit: History Channel]
---
From Our Partners:


Justin Bieber Celebrates 19th Birthday, Loses His Pants (Vh1)


60 Celebrity Bikini Bodies: Guess Who! (Celebuzz)