Vinny to Take a Break from 'Jersey Shore' to Stop By '90120'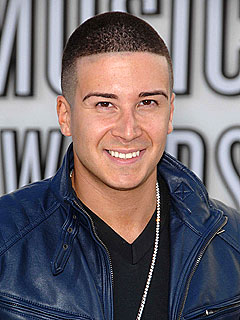 Vinny Guadagnino: master thespian. Just the other day, we heard that The Jersey Shore's by-default most reasonable star was enrolling in improv classes at the Upright Citizens Brigade. Apparently, news that he was trying to hone this craft paired with the invaluable Jersey Shore brand were enough to land him a guest role on 90210.
Vinny's character will be a young, flirtatious celebrity with an undying attraction to the high-life that his fame has afforded him. The episode in which he guest stars will take place in Las Vegas, and will involve a poker game with participants including Vinny and series regular Matt Lanter (who plays Liam).
If Vinny plays his cards right (bam) this could be the first of many acting challenges that takes him further than Jersey Shore idolatry. Producers reported that they were opening casting calls exclusively to recognizeable stars for the role that ultimately went to Vinny, so clearly, he's reached a pretty decent level of notoriety. And while the reality series has brought him this far, his studies at the UCB and exprience with guest roles in scripted projects might launch him into a legitimate acting career.
Stranger things have happened.
90210 airs Tuesday, 8 p.m. ET on the CW.
Source: EW