Charlize Theron's 'Hatfields and McCoys' Finds Its Femme Fatale in Virginia Madsen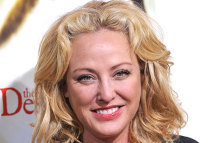 Look's like we've got a regular McCoy on our hands. Monk and Hell on Wheels alum Virginia Madsen has joined NBC's Hatfields and McCoys series according to The Hollywood Reporter. Madsen will take on the role of Eloise McCoy, the surreptitious matriarch of the McCoys and a royal thorn in the Hatfield family's side.
The actress — who's played both funny and dramatic in her past roles — will join the production, which finds the age-old American tale of the feuding Hatfield and McCoy families fast-forwarded from the late 1800s, when most of the real-life drama went down, right into modern day Pittsburgh. The wealthy Hatfields are pitted against the McCoy family from the wrong side of the tracks, and of course, drama ensues — with Madsen in the middle of it all. Her character, Eloise, is set as the whispering voice in Patrick McCoy's ear, getting revenge for her husband's death by convincing Pat to take revenge on the Hatfields.
With the monumental success of History's Hatfields and McCoys miniseries, including a Golden Globe for star Kevin Costner, it's safe to say NBC's Charlize-Theron-produced drama has some dusty coattails to ride in on. But will audiences take to an updated version of the old Kentucky tale? Or will they simply be itching for the simpler times of the actual Hatfield-McCoy feud?
Follow Kelsea on Twitter @KelseaStahler.
[Photo Credit: Wenn]
---
From Our Partners:

Pregnant Kate Middleton Bikini Pics Spark Palace Anger (Celebuzz)

50 Steamiest Movie Kisses of All Time (Moviefone)