'Walking Dead' Comic Creator Robert Kirkman Gets Another AMC Series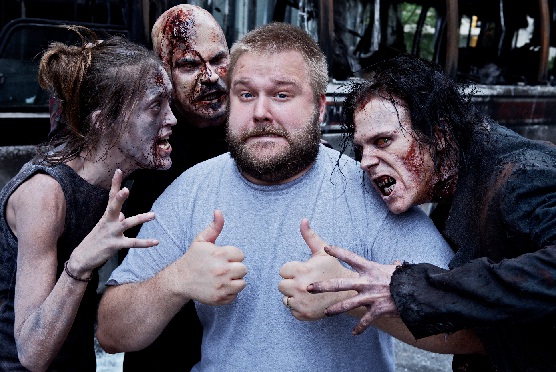 AMC is picking up what Robert Kirkman is laying down, if you know what I mean.
And if you don't know what I mean, let's just say the network is looking to double its dose of series inspired by Kirkman's comic books. AMC has seen wild, flesh-eating, and groaning success with the sci-fi drama The Walking Dead (nine million finale viewers in March is nothing to gurgle at), so it's only natural that Kirkman's new comic, Thief of Thieves, is headed for a similar fate. The network where story matters is developing a series based on the comics with the help of Kirkman, Walking Dead producer David Alpert, and former EP Chic Eglee.
While most Walking Dead fans would follow Kirkman into a burning barn if he asked them to — oh wait, we already did — a little context about his fledgling series couldn't hurt. Thief of Thieves is a gritty, humanized take on the heist genre and from what we can tell, comic fans are gobbling it up already. Its only two issues both sold out immediately. Plus, the hero of the series sounds rather Rick Grimes-esque. He's a master thief who wants to quit the business, but instead opts to steal only what has already been stolen. We've got ourselves another high and mighty good guy stuck in a situation bereft of morals! Get ready for some seriously pensive smoldering looks, but this time the hero will be in an impeccable suit instead of grimy sheriff garb. And we're sold.