Walt and Jesse May Have Cameos in 'Better Call Saul,' But Should They?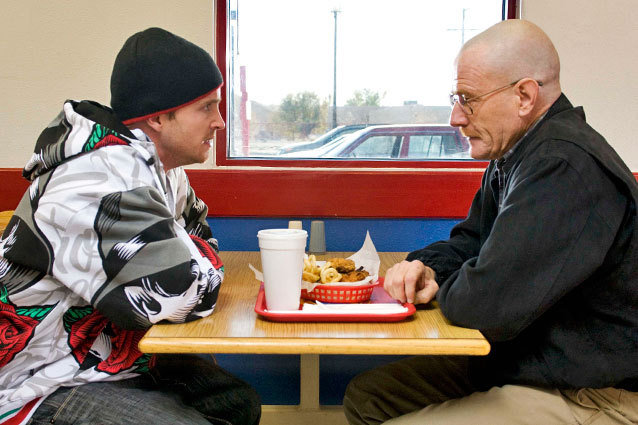 AMC
Walter White isn't dead, guys — well, at least in the Better Call Saul world he isn't. In an interview with The Hollywood Reporter, Vince Gilligan revealed that he intends to include both Walt and Jesse in Better Call Saul, the prequel spinoff of AMC's Breaking Bad.
Saul will be Gilligan's next TV move following the end of Breaking Bad, and it will follow Saul Goodman (Bob Odenkirk) in the days before he met the infamous Walter White (Bryan Cranston). While Saul is set before Walt's meth-cooking days, Gilligan says that having Walt and Jesse (Aaron Paul) appear in the series is definitely not out of the question.
"Personally, I'd have a hard time resisting putting all these guys in for a cameo or two every now and then," he says in his interview with THR.
So Gilligan isn't ready to say goodbye to his favorite duo (and Cranston and Paul have both expressed interest in appearing in the spinoff), but who's to say that that's a good idea? Should Walt and Jesse come back to Albuquerque when we just said farewell to them? They were an inherent part of the Breaking Bad world, and it might be hard for fans to see them meddling with Saul when they already know what fate lies ahead of them.
Gilligan and Saul showrunner Peter Gould might be able to get away with putting Jesse in the storyline every now and then because they knew each other (at least tenuously, through Jesse's punk pals) before Walt entered the picture, but having Walt appear might break the show's integrity and believability. If Gilligan is set on including Walt, then we'd rather see him shopping for cereal for Walt Jr. in the background of a supermarket scene than actually have him interact with the Saul cast. However, we do hope that Badger gets a good chunk of airtime on Saul. We just know he has so many movie ideas to share with the world.
But whether or not Walt and Jesse actually end up having speaking roles in the spinoff, it doesn't seem like the show is heading off in a good direction. Yes, Saul's character has been a fan favorite from the start, but what's going to make this show different and unique from Gilligan's previous (extremely) successful endeavor? It was one thing when Saul was set to be a half-hour sitcom, but Gilligan has since changed it to be an hour long drama, which is making it sound more and more like Breaking Bad by the second.
"We're [Gilligan and Gould] both one-hour drama guys," Gilligan says in his interview. "So we figured, 'Why not shoot Saul in the same way?' Let's shoot it in Albuquerque, let's get as much of the crew back together as possible, and let's do it the way we did it before so that it will be of a piece with that pre-existing fictional universe that we had so much fun creating."
It sounds like Gilligan is having a hard time parting from his meth days and is trying a little too hard to make Saul the next Breaking Bad. The problem is that Breaking Bad is done now. It was a show that was loved by millions and received much praise, but it's done and it shouldn't be messed around with. Saul has a chance to be a good show (not as great as its predecessor), but only if Gilligan loosens the reigns and lets it figure out its own path.