Watch Arnold Schwarzenegger's 'Tonight Show' Infomercial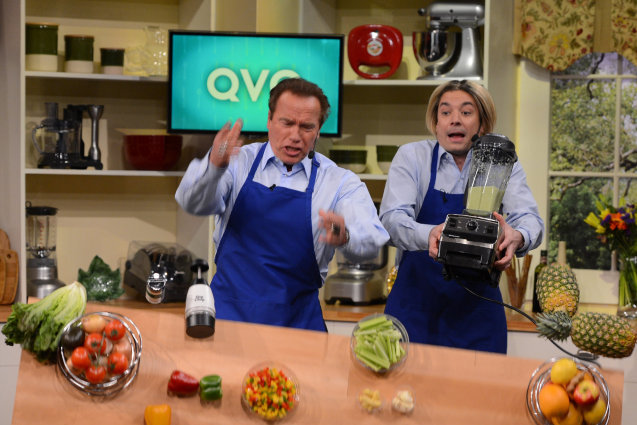 NBC via Getty Images
Arnold Schwarzenegger certainly showed off his acting chops when he recited some of his most famous catchphrases during Monday night's taping of The Tonight Show. 
The former Californian governator and Jimmy Fallon cooked up a fresh batch of hilarity when they put together a skit that satirized the popular home shopping network, QVC.
In an in-"faux"-mercial titled "Now We're Cookin' with Zach Striker," Fallon starred as the blonde wigged host with a spotty Australian accent and Schwarzenneger beside him as his celebrity guest foodie. Although Fallon wanted to advertise a magnificent multi-purpose blender first, Schwarzenegger was more interested in learning about another product, the plain ol' Slap Chop.
As Fallon kept pressing on about the blender, Schwarzenneger became more incensed and kept yelling, "Get to da choppah!!!" – a throwback to his iconic line from the his 1987 movie Predator. Impatience got the best of the aging action star and he eventually flipped over the table before promising, "I'll be back!"
Check out the video of the skit below: