Watch Bryan Cranston's Stunningly Become Walter White in Under Eight Minutes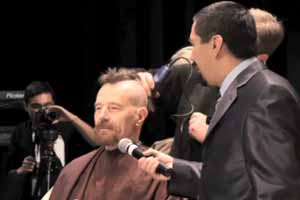 If you've ever watched an episode of AMC's meth and ennui cocktail Breaking Bad, then you think the main character, Walter White, is just a bald dude with a goatee, an awful green shirt and a pair of glasses that have been broken more than the heart of all the girls outside of Twilight who eventually realize that RPattz is never going to marry them. Well, it seems like there is a whole lot more involved than having Bryan Cranston, who plays Walter, roll around in the dirt a few times.
Cranston showed off the whole rigamarole on The After After Party, which seems to be a local talk show hosted by Steven Michael Quezada, who also plays one of the DEA agents on the show. He says that every day it takes him about 45 minutes to go from normal to meth dealing psychopath, but he has the hair, makeup and wardrobe team from the set turn him from his normal boring self into the world's most demonic chemistry teacher in less than eight minutes. It's damn near astonishing. But then when he actually slips into character, you see just why this guy has won so many damn Emmys.
Thanks to our friends at Uproxx for unearthing this (and not making me shave my head).