Watch What Happened to Meryl Streep on 'Watch What Happens Live' — VIDEO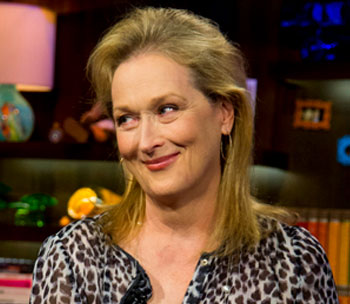 Meryl. F**king. Streep. visited Andy Cohen on Watch What Happens Live on Thursday night and the result was one of the funniest, entertaining and most surreal hours of television this summer. Maybe of this year. Maybe ever.
The 63-year-old three-time Oscar-winner, who stopped by the ridiculous Bravo free-for-all to promote her latest film
Hope Springs
, was the ultimate talk show guest. Streep was funny (the star's hilarious reactions fluctuated between amused and horrified throughout), brutally honest (she opted not to Plead the Fifth during Marry, Shag, Kill and offed
Dustin Hoffman
in the process), and just downright lovely. (Of one of the many sincere things the humble actress had to say about her former costars, when it came to the topic of
Lindsay Lohan
, Streep simply said, "I pray for Lindsay.")
See, there's a reason why everybody loves Meryl Streep. Of course, nobody loves
Meryl Streep
quite the same way outrageous 
Billy on the Street
host/harasser
Billy Eichner
does. The eccentric comedian had his lifelong dream come true when he got to be on hand for Streep's appearance. While Eichner stood at a safe distance in the Clubhouse bar, the interaction he had with his idol were priceless. 
Watch some of the best moments from Streep's time on Watch What Happens Live below, including her classic, gif-friendly meeting with Eichner.
That was fun for everyone!
[Photo Credit: Bravo] 
More: