Web Comedy is the New 'Monty Python': 'Key & Peele' Weigh In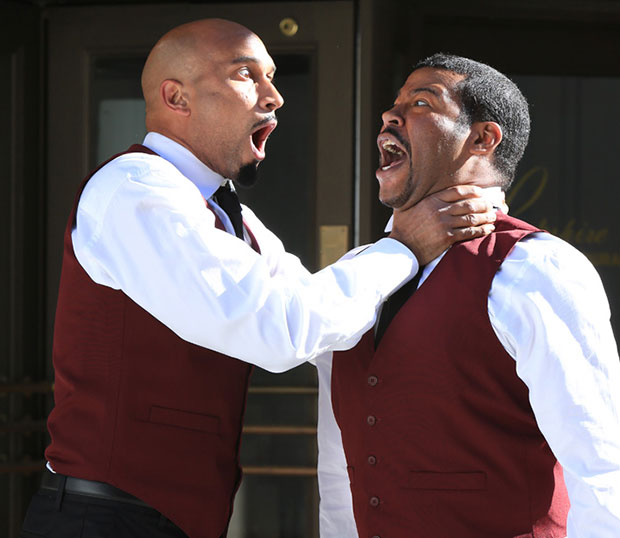 You may know
Keegan Michael Key and Jordan Peele
best for their famous sketch: Obama and Luther. The comedy duo often spoofs President Obama on Comedy Central's appropriately named sketch show
Key & Peele
, but they've certainly got a few other laughs up their sleeves. Including the recent Dubstep skit, which turned the wildly popular musical style into an affliction I wouldn't wish on my worst enemy. It's the perfect way to support their viewpoint on comedy: make it absurd.
"Everything changed because of social media. Everything has to change…" Key tells Hollywood.com. Now that social media is an integral part of comedy, it's necessary to stay on top of what people are talking about. (And let's face it, the Internet is practically a playground for Dubstep digs.)
Of course, comedians can't just take a trending topic, whip up a joke, and immediately be funny. In order for a sketch to catch on, you need to go further, according to Key and Peele. "The stuff that seems to really, really, really take off online is stuff that's comparable – stylistically – to Monty Python," says Peele.
And no, that doesn't mean the best stuff on the Internet is full of British accents, silly walks, and Terry Jones in a dress. Instead, it's simply absurd. "There's a deconstruction of comedy that's happening in this medium. Things that are avant-garde are the things that take off," adds Key.
And there's a reason you have to be a bit ridiculous if you're trying to grab eyes on the Internet: It's the way we watch that content. Now people get their web videos so many different ways: on their phones, iPads, and iPods. The viewing experience is changing and it takes a lot to fully engross your audience. The competition is steep, but that's why we've got such a wealth of comedy at our fingertips right now.
"Look at it this way: If you're looking at an 11-inch screen and you're laughing out loud, someone's doing something right," says Key. It's pretty hard to argue with that. The only question that remains is: Does their Dubstep skit pass the tiny-screen test?
Key & Peele airs Wednesday nights at 10:30 PM ET on Comedy Central.
Follow Kelsea on Twitter @KelseaStahler
[Photo Credit: Danny Felds/Comedy Central]
More:
What is the Sitcom of the Future? And When Will It Get Here?
Lena Dunham is Writing a Book: Vying to Be 'The Voice of a Generation'
TIFF 2012: 'Liars Autobiography' Directors & Terry Jones on Capturing Graham Chapman