'Weeds' Creator Says 100th Episode Returns to Agrestic!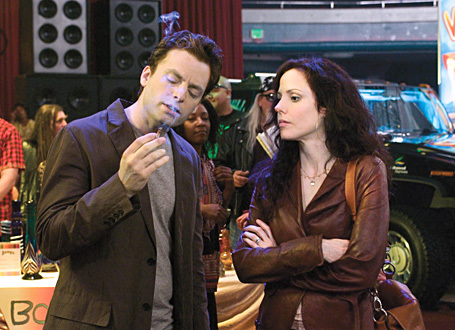 "Agrestic: The best of the bestic!"
Who doesn't remember that amazing town slogan once uttered by City Councilor Doug Wilson (Kevin Nealon)? All right, Weeds fans, it's time to think back eight years ago to the very first season of Showtime's chronic-themed comedy. Grab your designer gym bag, pick up a frozen coffee treat and hop on your golf carts, because the Botwins are heading back to Agrestic!
Hollywood.comcaught up with the mastermind of marijuana — creator Jenji Kohan — at the TCA panel on Monday in Los Angeles to get the scoop on the show's final episodes. After gifting the entire ballroom of reporters with an official Weeds joint (it was just rosemary, people!) Kohan spilled tons of details on the show's 100th episode.
"The 100th episode is a return to Agrestic," Kohan tells a small group with a smile. When asked if Nancy (Mary-Louise Parker) and co. would be moving back to the west coast, Kohan was quick to clarify. "It's a visit," she said. "It was a treat, it was a chance to go back and it was our reunion."
Here's a mini history lesson for those who are not quite so up-to-date on their fake Southern California towns: when the series began, the Botwin family lived in a swanky gated community called Agrestic, which was packed with Range Rovers, Costcos and country clubs. In 2007 Agrestic was forced to merge with a new development called Majestic; however, none of the name disputes mattered when the town mysteriously burnt to the ground later that year.
From Agrestic, to Majestic, to a giant wave of flames, many fans have been curious to know what happened to the upper-class community. Kohan reveals with a laugh, "Well, it's now Regrestic!" Oh, we're loving the new name, but we'd love it even more if we knew that our favorite suburbanites would be making cameos during the Botwin visit.
The showrunner explains that this last season is filled with a lot of "little Easter eggs" from earlier seasons as a big thank you to the fans. Kohan says, "We wanted to bring everyone we could back and everyone who said 'yes,' we brought back. It's a trip down memory lane and it's lined with all the best characters from the past." Please excuse us while we hyperventilate with excitement!
With the season coming to an end, fans desperately want to to know if the relationship status between Nancy and Andy (Justin Kirk) will be addressed. Although the two have never fully become an item, their spark and sexual tension is something that many 'Nandy' shippers have been rooting for since Season 1. Kohan confirms that this will "definitely" be addressed in the 100th episode. "We thought, we've gone a hundred, let's address this." 
To dig a little deeper, we chatted with Justin Kirk, who exclusively told us that Nandy fans will get their answers. Kirk explains, "[It'll be] wildly satisfying for people who have watched the show the from beginning. Old friends, things happening, it's just nice, it's really nice."
Weeds is now one of the rare cable TV shows to have hit the 100th episode mark. The episode, entitled "Good Willing And The Creek Don't Rise," is the 11th episode of the season and is set to air September 11 at 10 PM ET/PT on Showtime.
Are you excited for the Botwins to return to Agrestic? Think that Nancy and Andy should end up together? Shout out your thoughts in the comments below!
Follow Leanne on Twitter @LeanneAguilera
[Photo Credit: Showtime]
MORE:
Exclusive! 'Weeds' Hunk Hunter Parrish Spills a Big Secret
TCA 2012: Showtime Scoop on 'Dexter,' 'Weeds,' 'Homeland' and More!