Your 'SNL' Weekend Update Highlights: Cecily Strong Goes Full Disclosure and a Cressida Bonas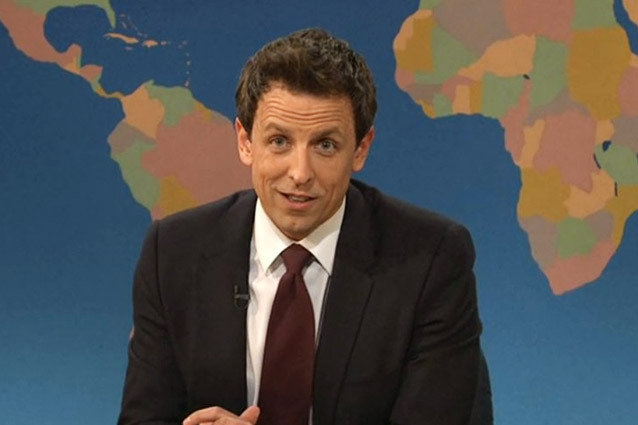 NBC
Cecily Strong continues getting comfortable at the desk, while Seth Meyers still handles the guest patter. The tattoo bit with featured player Brooks Wheelan was weak, and none of our no-fail recurring guests showed up. Not a home run week, but here are our favorite jokes from Saturday's Update sketch.
"Insiders are saying that Prince Harry may soon propose to his girlfriend Cressida Bonas, who, judging by her name, is a mid-priced Toyota sedan."
There's about a million and a half places to go with that name, but this take feels inventive.
"May they find themselves in a restroom stall devoid of toilet paper, with nothing to use but a receipt from CVS in they wallet. A receipt for a small purchase, that they must then tear into small pieces."
Kenan Thompson as Senate Chaplain Barry Black, who has been using his daily prayer to admonish members of Congress. (Although has Kenan ever been in a CVS? Even if you just buy a pack of gum, your receipt is a yard long!)
"A federal judge ruled this week that a former intern for a Chinese language broadcasting company cannot sue for sexual harrassment, because unpaid interns aren't technically employees. So, buckle up, NBC pages. Cause mama's gonna be droppin' a lotta pencils."
Cecily goes full Disclosure on the entire NBC intern program.
"The US Postal Service has announced that it is destroying an entire run of activity-oriented stamps, after they were criticized for depicting unsafe activities, such as skateboarding without pads. Guys, what were you thinking? You know kids will do anything they see on a stamp."
Seth's style of delivery is going to fit the Late Night monologue format like a glove.
"Bruce and Kris Jenner confirmed this week that they're getting divorced; no word on who gets to keep the haircut." "It was confirmed this week that the comedy and tragedy masks are getting divorced."
Seth and Cecily tag-team the Jenner marriage news with dueling jabs.
"Florida police arrested a man who was caught at a McDonald's drive-thru, wearing no pants and fondling himself. He's been charged with one count of lovin' it."
Ding ding ding, we have a winner. (Cecily's seemingly improvised grace note of tracing a McDonald's logo with her fingers was a nice touch as well; she really does seem to be relaxing into the anchor chair.)