Weird Al on '30 Rock': Will There Be Song Parodies?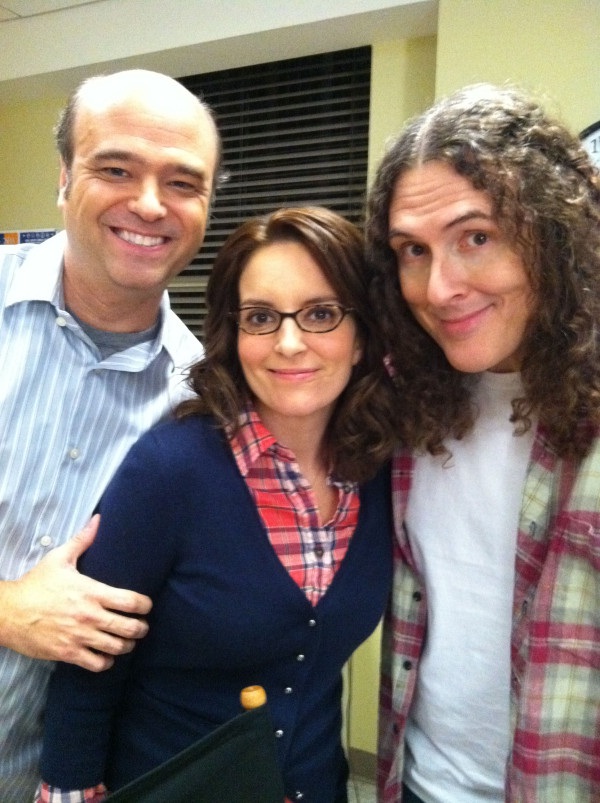 This sixth season of 30 Rock has been pretty densely packed with celebrity cameos. We've seen Emma Stone, Kelsey Grammer, Mr. Met. But ranking beyond any of them, beyond any member of our (or any alternative) race of living beings, is the man who is about to guest star on NBC's beloved comedy series: Weird Al Yankovic.
The information comes from the comedy musician's own Twitter, where he leaked the picture to the left, partnered with the caption, "Guess what show I'M gonna be on… [sic]" The photo depicts Weird Al with 30 Rock star and creator Tina Fey and series costar Scott Adsit, who plays Pete Hornberger, the perpetually exasperated producer of the in-universe variety show TGS with Tracy Jordan.
30 Rock is no stranger to parody. This season alone, the series has paid satirical homage to Bond films, the folklore of John Henry, Garry Marshall movies, and The Dark Knight. That said, joining forces with Weird Al, the foremost figure in the art of song parody, will likely result in new levels of make-funnery for Fey and co.
So the question is: will there be a song parody? And if so, what will be the objects of ridicule for 30 Rock and Weird Al?
Share your hopes and predictions!