The 5 Weirdest TV Holiday Traditions: From Festivus to Chrismukkah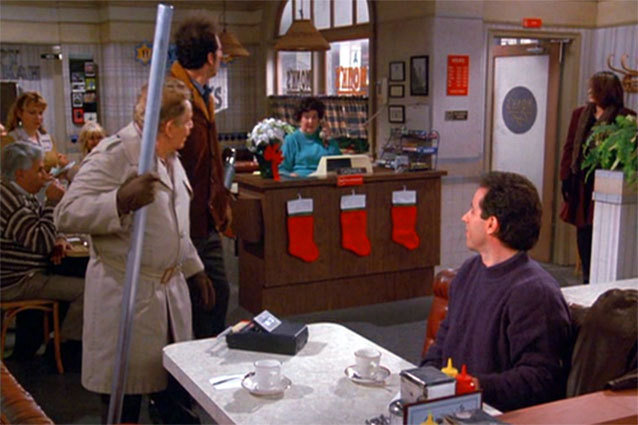 NBC
On television, sometimes the holidays can get a little wacky. You might not be looking forward to sitting down with your extended family for the holidays, but at least you won't have to deal with an alien invasion or the annual airing of grievances.
In fact, these wacky TV traditions make us appreciate our own crazy clans. Here are five weird holiday traditions to make your own family seem downright normal this winter season.
Festivus
Perhaps one of the best and weirdest alternative holiday traditions comes to us courtesy of the sitcom Seinfeld. Created as secular backlash to the commercialization of Christmas by George Costanza's father, Festivus has everything you could ever want in a holiday. That is, if what you want in a holiday is an unadorned aluminum pole, a wrestling match, and your whole family to point out how you failed them in the previous year.
Chrismukkah
In an early episode of the Southern California soap The O.C. Seth Cohen explains to his newly adopted brother how he celebrates the holidays. Since his mother is a gentile and his father is Jewish, Seth merged both Christmas and Hanukkah into one super-holiday. After the episode aired, Chrismukkah soon took on a life of it's own. Now kids from multi-religious families don't have to pick one religious holiday, they can just combine them!
Wookie Life Day
The Star Wars Christmas special has become infamous; it's so bad George Lucas wants to personally destroy every available copy. The special revolves around Chewbacca and his family trying to return to their home planet to celebrate "Life Day." See below for some examples of how truly strange the special was. 
Alien Invasion
There's nothing like a little alien invasion to get the new year started out right. At least that's the way it seems on Doctor Who, which airs a special episode on Christmas every year. The Christmas special is usually a big event in the Doctor Who universe, and this year's special will see current Doctor Matt Smith regenerate into new Doctor Peter Capldi. But in the Who universe, Christmas is usually the exact moment Britain is attacked by aliens. That might take a bit of cheer out of the holiday season.
Ludachristmas
While Kenneth the Page might have tried to teach the writers on 30 Rock an important message about the true meaning of Christmas, they seemed much more interested in celebrating their annual "Ludachristmas" holiday bash. Unfortunately Kenneth's message falls on deaf ears, and the writers decide to cut down the Rockefeller tree instead of throwing a riotous party. Not sure that's the upgrade Kenneth was hoping for.
What's your favorite weird TV holiday tradition? Do you celebrate Festivus or Chrismukkah? Share in the comments!