Welcome Back, Michael J. Fox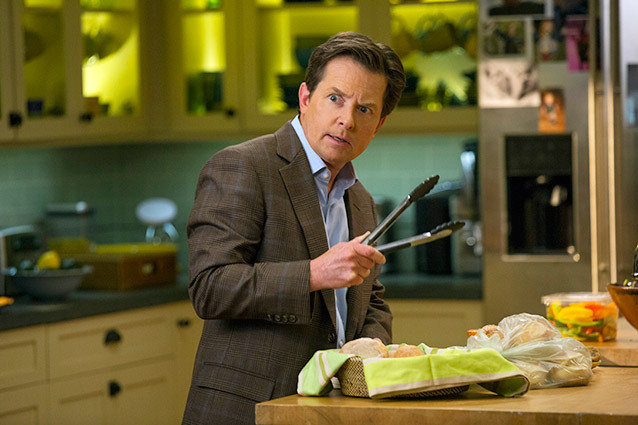 Eric Liebowitz/NBC
Last week, Michael J. Fox returned to television with his new show, The Michael J. Fox Show. It was his starring role in over a decade. Based on the first two episodes, it looks like it will be a good run. At least it seemed like it to me.
When it comes to watching this show, what helps put us all at ease is that fact that he's up front about the fact that he has Parkinson's — heck, his character on the show also has it. In an amazing coincidence, his character is also returning to television after a hiatus — his character is a news anchor, though. Fox puts his charms to early use. In one scene, he purposely drops something in his boss' lap…and then says with a wry grin in what is like one of those reality TV confessional moments: "Oops! Parkinson's!"
There are already plenty of meta-in-jokes for those who have been following Fox's struggles and who know what the symptoms of his disease can be. In the pilot episode, his legs were spasming so badly while he was sitting behind the news desk that his chair rolled out of the view of the camera during his farewell speech. He can still handle times of physical comedy, but his ability to turn extremely awkward moments — like when he's meeting an extremely attractive upstairs neighbor (who happens to be played by his real-life wife Tracy Pollan), he speaks for all of us who turn to fumbling, stammering idiots. It's also nice to see Betsy Brandt, who plays Fox's wife on the show, do comedy after that barrel of laughs we knew as Breaking Bad.
It's going to have a heavy competition, though, because it's sliding into a Thursday night slot at 9PM ET, which is kind of occupied by a ratings juggernaut known as Two and a Half Men. Can Fox draw viewers away from Ashton Kutcher? It's going to be a fight, but I find myself pulling for Fox, not just for what he has gone though, but he just seems to radiate a sense of general likability. Sure, I know that he's an actor and that's what they generally DO, but I glean that in both interviews he has given and his books as well. This is a dude that just seems to realize how good his life is despite what he's going through. He just seems like that short, funny person who doesn't put on airs.
Ever since he burst on the scene in Family Ties, he's always been fun to follow in the theaters or in shows like Spin City. He's also an awesome guest star — his turn in shows like Scrubs and The Good Wife have always been classics.
Here's hoping that he succeeds. The little guy deserves a win.
More:
9 Robots That Could Be Your Best Friend
'Breaking Bad' Video Tribute Video That Will Make You Sob
Best Zingers From the 'Agents of S.H.I.E.L.D.' Pilot
---
From Our Partners:


40 Most Revealing See-Through Red Carpet Looks (Vh1)


15 Stars Share Secrets of their Sex Lives (Celebuzz)