What is the Sitcom of the Future? And When Will It Get Here?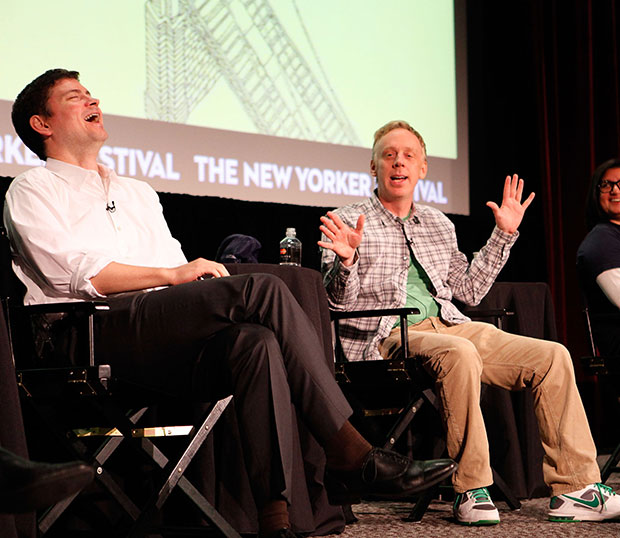 With the surge of comedy series that challenge the comfortable definition of a traditional sitcom (see: 
Louie
,
Girls
, and even
Community
), the field of TV sitcoms is widening. And whenever we experience the expansion of a genre, the question that's bound to follow is one the delves into the future. What better time than now to contemplate "The Future of the Sitcom"? What does that mean? Is it something that's barreling towards us, or are we simply assigning weight to the explosion of comedy we're enjoying at the moment? The real answer is "Who knows?" but in some respects, we're looking at pieces of this "future" right now.
During the New Yorker Festival's "Future of the Sitcom" panel in New York on Oct. 8, four current showrunners – Michael Schur (Parks and Recreation), Mike White (Enlightened), Nahnatchka Khan (Don't Trust the B in Apartment 23), and Greg Garcia (Raising Hope) – came together to discuss this exact question, and the biggest takeaway was that there is not a single answer to this fairly ridiculous question, but many.
JUST HOW RAUNCHY CAN IT GET?
Now that the TV landscape is so expansive, the comedy genre is opening up as well. In fact, the range of the most-talked about comedies on television is dizzying: from the family-friendly Modern Family, to the confounding, dark recently non-comedy Louie, to the controversial Girls, to racy, wacky series like Happy Endings, all the way to short sitcoms like Childrens Hospital. Our tastes are all over the place. But all this healthy competition seems to have one very important benefit: Showrunners are practically encouraged to push the button. Like the woman behind ABC's surprising new comedy Don't Trust the B in Apartment 23, Khan, who's greatly benefited from the openness of the sitcom world.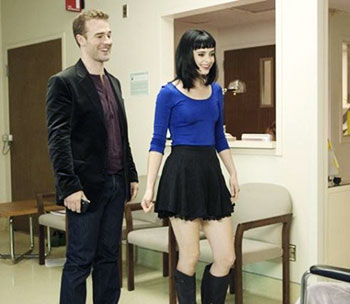 She noted a specific episode of Don't Trust The B in which Krysten Ritter's character, Chloe, is immortalized in a comic book series called "Tall Slut No Panties." And if you know anything about Chloe, that is the only fitting title for a biographical comic. But the censors were not pleased, and asked to change the word "panties" to "skivvies." "That's just not realistic in the world we live in. No one says that," says Khan. Of course, Khan eventually pushed back and won and now the world can enjoy the wonder of the skivvies-deprived comic book heroine.
Other shows have pushed the envelope even further. Garcia, who runs Fox's Raising Hope, recalled a recent argument with the network over Garret Dillahunt's character finding a "nightstick," which later turns out to be Cloris Leachman's Maw-maw's sex toy. Of course, it's easy to see why the network was a little miffed: Waving around a dildo on network television doesn't exactly have wide-audience appeal.
But that's not the point. "If you're a little offended, maybe that's kind of good," says Khan, who learned from her time as an American Dad writer that just getting the audience to smile isn't enough. Sometimes, taking the risk and potentially offending someone is the only way to get the "hard laugh" that Khan says she's pushing for.
And if our slate of television comedies are any indication, the sitcom world is finally starting to get there. Even NBC's Parks and Recreation, which is a sweet, sentimental series, managed to get an episode through network censors that puts an entire community of seniors in a sexual education class. "It's a little dicey. It's a little salty," showrunner Schur says. "But it's a legitimate story and a legitimate issue." 
And for now, it seems that's where sitcoms live: in a realm that allows potentially offensive content… as long as it's funny. Of course, that begs the question: How much further can it go when every good sitcom is trying to push the boundaries further than the last one?
WHAT ABOUT LOUIE? THAT'S GOT TO BE THE FUTURE, RIGHT? 
When the future seems uncertain, many of us go to Louie for answers. And it's understandable. Louis C.K.'s fantastic show is revolutionary, and its success in spite of the fact that Louie clearly doesn't care what any of us think is encouraging. But is it really the blueprint for the sitcom of the future? Schur doesn't think so. "As tempting as it is to say it's heralding a new era, I don't think it's accurate," Schur says. "In order to do [what Louie is doing], you have to be as funny as Louis C.K., so that narrows it down to one person … he's the Mozart of comedy," he laughs.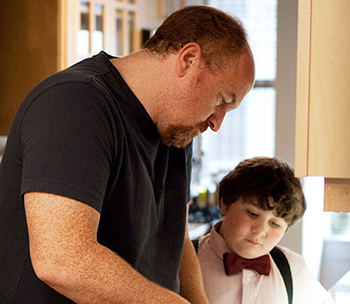 Adding fuel to that fire, Garcia points out that while he, personally, loves
Louie
, he sees why it's not a mainstream hit. "Some members of the [mainstream] audience would find it off-putting," he says of the FX show. The future isn't going to be littered with sitcoms that look like
Louie
, mainly because it's not exactly a sitcom. It's a show that occupies a half-hour of television from a comedian that makes people laugh sometimes. "What he's doing is writing and filming a
New Yorker
short story," Schur says.
And as we all know, New Yorker short stories never seem to ensnare as many readers as easily digestible material like whatever the next Fifty Shades of Grey is. Television isn't much different. "The shows that make the biggest ratings are multi-cams on CBS," says Garcia, adding the slightly cynical touch that "the future of sitcoms is going to be what makes the most money for the networks."
Still, Khan argues that we can see elements of Louie starting to influence the sitcom industry already. As Khan notes, the fact that a scene of Louie in which the titular character escapes from a meeting with his father by running through the streets of Boston on foot, on a bike, and later by boat could even make it past a network executive is encouraging. It appears execs are suddenly willing to allow comedy's seemingly ridiculous, nonsensical moments. And, funnily enough, this, in turn, matures the genre. "Now, it feels like it's a lot more sophisticated storytelling is going on," Khan says. 
This certainly benefits shows like Girls and White's Enlightened, a series that pushed an HBO exec to tell the showrunner, "I like your show, but there are moments where it just makes me want to kill myself." And while White's show obviously has the added benefit of being on HBO, it's still a good example of how execs are giving writers the freedom to bend the definition of a sitcom. White says it's been a challenge to get the show made the way he saw fit, but it's hard to argue with Laura Dern's shiny Best Actress in a Comedy Golden Globe.
IF THE FUTURE ISN'T LOUIE, THEN WHAT IS? 
So if the dark stuff isn't the future (if we could bottle "the future" and sprinkle it over all the little towns in Sitcomland), what is? If the commentary from these showrunners is any indication, the future is a varied wonderland made up of different elements: girl power à la New Girl, Girls, and Don't Trust the B; depth and darkness à la Louie; easy-going, crowd-pleasing comedy à la most of CBS' incredibly profitable line-up; and jokes that might infuriate the "faint of heart" more than they ever could have imagined, all in the name of a good laugh. The possibilities are endless. But it's not just about content. The future also surrounds how people are consuming television. "People are watching television differently," says Khan, which is why this wonderland is becoming so varied. "The change is percolating."