What Jimmy Kimmel Can Learn From Past Emmy Hosts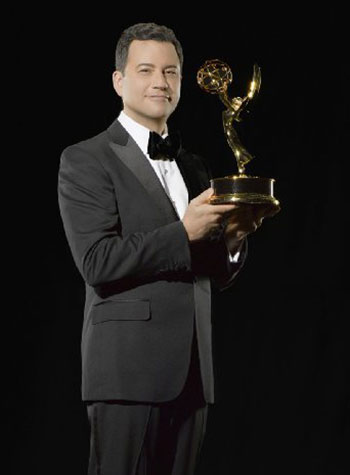 Hosting an awards show is a thankless job. Even if you do well, it's likely few will really remember you. If you really fudge it up (and you know I didn't really want to say fudge right there), then it can be a stain on the rest of your career. And that is the challenge that Jimmy Kimmel faces when he hosts the 64th Annual Primetime Emmy Awards (as they're called on their long-form birth certificate) on Sept. 23.
So what advice can we give him? Since we can only judge based on past awards shows, let's look back at the history books. How can he be as successful as some who have gone before him?
Sing a Song: Know who kills as a host of the Emmys, Tonys, Grammys, Kid's Choice Awards, Ari Weisenberg's Bar Mitzvah, or any thing that he has ever hosted or will ever host in his whole life? Neil Patrick Harris. What does he always start with? A jazzy song and dance number. Come on, Jimmy, we know that you masterminded "I'm Fudging Ben Affleck." That is exactly what the Emmys need: A viral hit. 
Script Something: Remember when the Emmys finally deigned to give the reality show hosts their own category, and in celebration, had all the nominees host the show that year? Yes, it was a national nightmare. They actually came out on stage and said, "Just like in reality, we have nothing planned." For real. Now, that is fudging ridiculous. (This is why you have a bad rap, reality.) And we shall never forgive Tom Bergeron, Heidi Klum, Howie Mandell, Jeff Probst, or Ryan Seacrest for perpetrating this on us.
Be Alone: A good host should act like a good boyfriend — he should make you feel like you're the most important person in the world, and, in turn, you should only want to focus on him. Look at how awful it was when the reality group hosted. Then, in 2003, there was like 11 hosts. No, there was lit-rally, to quote Rachel Zoe, 11 hosts. We can't even remember one. And who cares! Just let one guy do it. Don't share, Jimmy. Don't you dare.
Host a News Show: There are a surprising number of journalists who have hosted the show: Jane Pauley, Hugh Downs, Bryant Gumbel, Jon Stewart, Chet Huntley. That's weird. So perhaps Kimmel should get a lined notebook and put a card that said "Press" in his hat. Or maybe not. There's a reason why Anderson Cooper doesn't have this gig.
Have a Long Skinny Microphone: Television personality Art Linkletter hosted the Emmys twice. Let's remember the good ol' days of mid-century game shows and equip Kimmel with one of those long skinny microphones like on Match Game or one of Linkletter's programs. That would be so rad.
Differentiate Yourself: I have a really hard time keeping Jimmy Kimmel and Jimmy Fallon separate. They're like the Dylan McDermott and Dermot Mulroney of late night TV. And since Fallon just hosted the Emmys in 2010, Kimmel really has to do something different unless he wants the two of them to be the Selena Gomez and Demi Lovato of Emmy Hosts. Fallon did that whole canned opening with the cast of Glee. Please don't do that. Please, no Glee.
Come Out: Seriously, the hosts of the Emmys are gayer than Richard Simmons' headband collection. The aforementioned NPH, Jane Lynch, Wanda Sykes, Ellen DeGeneres (multiple times!), David Hyde Pierce, Raymond Burr, Joan Rivers (an honorary inductee). Still, there must be something that connects the gay gene with the hosting gene. How about Jimmy get some of that? Wait, maybe we should call Anderson Cooper after all. Either way, I'm sure Ben Affleck will be thrilled to help out.
Follow Brian Moylan on Twitter @BrianJMoylan
[Photo Credit: ABC]
More:
Jimmy Kimmel To Host the 2012 Emmy Awards
Emmys 2012: 10 Burning Questions!