What's Going On at 'The Office'? How The New Cast Members Could Fit in at Dunder Mifflin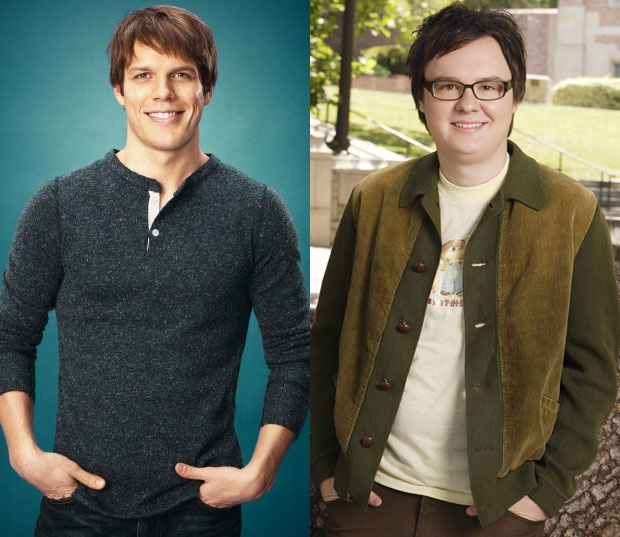 It's no secret that NBC's long-running sitcom The Office is in need of a bit of a George Foreman grill to the foot, and with the new faces hitting the small screen in Season 9, we could actually be looking at a whole new Scranton.
The latest face of the series renaissance is none other than Better With You's Jake Lacy, who will join the series as a potential love interest for Erin (Ellie Kemper). And if the tease from his first scene is any indication, he might just be as excitable and boring as Erin herself — or, he's pegged to be Jim's new partner in sarcasm. In a rough-draft scene obtained by EW, Lacy's character Pete says, "Not only am I the new guy who has to do the coffee runs, but it's a paper company, so pretty much a nonstop adrenaline rush."
Add to this that Clark Duke (Greek, and a terrific stint as an obnoxious legal intern on New Girl) is slated to join the Dunder Mifflin team as well while Mindy Kaling's Kelly Kapoor makes her quiet exit and Dwight Schute (Rainn Wilson) eyes a spinoff, and we've got a whole new show on our hands. Well, almost a whole new show.
With Erin the receptionist's potential interest in a cute, strapping young man with tousled hair and a (seeming) knack for sarcasm, it seems she could be repeating the Jim/Pam pattern. Our one small glimmer of hope is that we've long regarded Andy as the Jim to Erin's Pam, so perhaps this entanglement won't be so cut and dry. It will, however, be an element that sticks around, because even if the potential romance ignites and then fizzles, Lacy is joining the cast as a regular, so awkward break room lunches will be plentiful.
And as for Duke? He's got a knack for awkward comedy, not totally unlike Wilson's Dwight. As Dwight starts to transition to his own series alongside former Office showrunner Paul Lieberstein, the position of office nutjob will be open. Sure, Andy's got his share of insanity, and Creed is always good for an unexpected laugh, but who could replace the man who brings a real live beaver into the office or creates an office fire just to teach everyone a lesson? Someone who's equally capable of insanity, albeit a different flavor. Besides, after eight years of Dwight's farm-style pranks and proclivity for uncomfortable sexual commentary, we need a new kind of awkward. With Duke's background and his still unexplained character, he's got potential to fill the throne of uncomfortable silences.
And while our two new characters look like they may fall into similar patterns to Jim and Dwight, let's hope their dynamic doesn't mirror exactly the battle royale of the last eight seasons. The series dipped significantly when it attempted to split Michael Scott's characteristics between Helms and James Spader, so deriving too much inspiration from the series' other iconic characters can only spell disaster.
Letting the two new characters fill the voids left by their Dunder Mifflin forefathers, however, is a notion we can get behind.
How do you want to see The Office use Lacy and Duke?
Follow Kelsea on Twitter @KelseaStahler
[Photo Credit: Fox/ABC Family]
More:
TCA 2012: The Mindy Project Channels Nora Ephron
Why I'm Finally Breaking Up With The Office