'Downton Abbey' Season 4: 10 Spoilers About What's Next for the Crawleys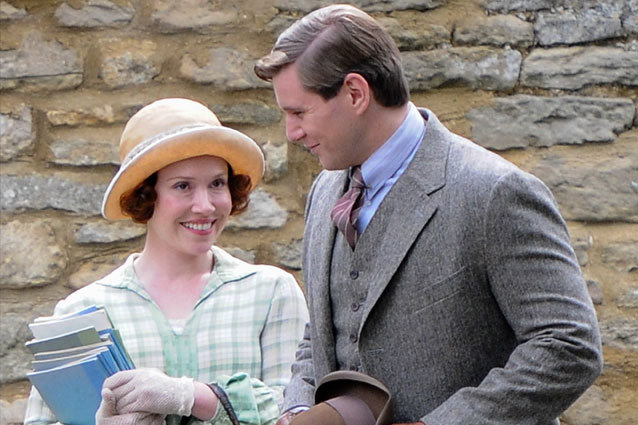 Our favorite upstairs-downstairs drama is back! Well, almost. 
On Tuesday, several Downton Abbey castmembers and executive producers took the stage at the TCA press tour to talk about the emotional whirlwind that was the third season and to give a few hints of what's to come in the new episodes. Here are some small spoilers:
Mrs. Hughes and Mr. Carson's relationship will remain strictly professional.
When asked about a potential romance between the two Downton staff members, actress Phyllis Logan, who plays Mrs. Hughes, was quick to put an end to those rumors. "No. No. We still have a very nice working relationship. We still have occasional spats here and there. We still have a lot of respect for one another. We occasionally get to drink a glass of sherry together…not as often as I would like." 
Lady Mary won't be in mourning the whole time.
Mary actress Michelle Dockery noted that the widow will have "more than one" love interest in the new season, including Lord Gillingham, a new character played by Irish actor Tom Cullen. "He is an old family friend who she's known since the girls were children, and they haven't seen him since she was tiny," she explained. "She's kind of slowly throughout the series coming back to real life and of course it's important for her to eventually move on, so he is a potential love interest."
Edith's bad luck may take a turn for the better.
Laura Carmichael, who plays Edith, said that "[Creator] Julian [Fellowes] has this take that some people in life are lucky. And some people aren't. And Edith is definitely one of those unlucky people. I love the Gregson and Edith relationship because he's so different from any of the other men in Downton. He's kind of a working, modern man. A self-made man. And exists in a different universe in London. Their relationship is interesting and I think different." Producer Gareth Neame added: "I think what we can say is it is a very different season for Edith this year. Really different stories. Very exciting."
But, Edith's career and relationship with her editor will become more "complicated."
In response to questions about Edith's future, Carmichael remarked, "She is still involved with her editor and it is a lot more complicated than that, which I'll just have to let you see without giving too much away." She also added, "She's still sort of turning in some articles and we know that she's been writing about the cause of the soldier, but it's the kind of modern woman thing. I like to think of her as the Carrie Bradshaw of the 20s." 
There will be a 5th season, hopefully without any more major cast departures.
"What's wonderful about the show is that it's opened doors for all of us," said Dockery. "As far as we know we're all doing series five next year, and beyond that we really don't know. That's in the hands of Julian and our producers so we'll see. So long as the core cast remain…I think if other actors start leaving that would be a worry."
The departure of Dan Stevens will open up a lot of new material.
Michelle Dockery talked about her thoughts on the loss of Matthew Crawley. "My first reaction was, 'Oh, crap. What is going to happen?' Because I thought, 'Where can this story go now?' We spent all this time on this will-they-or-won't they relationships and then suddenly it was coming to an end. So initially I was concerned." She quickly added, "But as much as it was sad to see Dan go, same as it was sad to see Jessica go, it opens it up for Julian to write a new chapter."
Widowed Mary won't be hooking up with her widowed brother-in-law.
"They are very much friends. And he is her brother-in-law still. I think they become close because of what they've both been through, having lost a partner. And also Mary becomes far more involved in the running of the estate with Tom, so we do have a lot of scenes together," said Dockery. "But romantically, I don't think it's going anywhere. I hope not."
Daisy has grown up, but only a bit.
When asked about Daisy's evolution, actress Sophie McShera responded, "Someone asked me how old she was when we began and how old she is now. And that couldn't work out…she must have been about 10 when we started." McShera added, "She's had such a journey and even during her terrible teens, you know that bratty teenage stage which she's still in a bit. She's being a bit of a jealous girl with Ivy and everything. She's had an amazing journey. I've really loved it. I like that we get such a long time because you can grow up on screen, which is always exciting."
Thomas is due for some drama.
Actor Rob James-Collier wasn't present to talk about Thomas Barrow, but Neame gave us a few hints about the insensitive valet's future. "He is a complete outsider. Of course it's going to be a complex world for him going forward. I've heard rumors that O'Brien may be heading for the hills. There's going to be a bit of a shakeup to what happens to his story." He added: "He's always going to have that core thing of wanting to be in control, wanting to find out what's going on, wanting to make sure he can dictate things, that rivalry with Carson. He remains a very compelling character."
Downton won't go to World War II.
We've watched Downton span a decade, but how far will it progress through modern history? This season picks up in 1922, a full ten years after it started, in the wake of the Titanic disaster, but Gareth Neame doesn't anticipate the show moving into any additional major historical events. "I don't think we'll go on to the Second World War," he said.
Downton Abbey Season 4 is set to premiere on January 5 in the U.S. (but we know that all of you true fans will be illegally streaming it come fall when it airs in the U.K.). Until then, we'll be counting down the days until we can hear Laura Linney tell us "this is Masterpiece Classic."
Follow Caroline On Twitter @Carolinesb | Follow Hollywood.Com On Twitter @Hollywood_com
More:
Diddy's 'Downton Abbey' Parody is Dreadfully Unfunny 
Dear PBS, Dealaying 'Downton Abbey' is Crazy   
Is Dan Stevens Leaving 'Downton Abbey'? How to Deal  
---
From Our Partners


Stars Pose Naked for 'Allure' (Celebuzz)


20 Grisliest TV Deaths of 2012-2013 (Vulture)