What's Next on 'Masters of Sex'?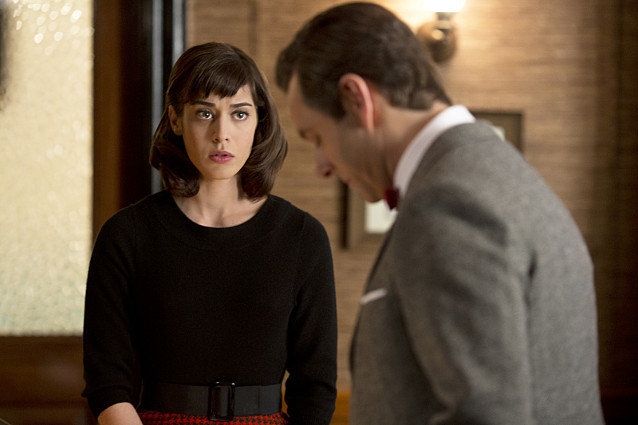 Peter Iovino/Showtime
We got a lot of loose ends at the close of season 1: Masters is effectively fired from the hospital (losing everything from his community standing to his research funds), and Virginia is left fielding a marriage proposal from Ethan, and a rain-soaked declaration of love from Bill. So what's in store for season 2? Caution: here be speculation.
* Romantic implications aside, I think it's pretty clear that Virginia will do what's best for the study. And moving to L.A. with Ethan won't exactly be the most conducive to study, will it? I'm guessing she'll want to stay local to St. Louis.
* That said, Ethan has made it clear that he's willing to mold his life to fit Virginia's: will he give up his cherry job at UCLA to stay by her (and her adorable children's) side?
* And onto the romance side of things: both men have pretty serious bugaboos (Ethan physically punched her in the face, and Bill did it metaphorically by basically paying her for sex), but I'm in Bill's corner. (Is that just me? Or is that how the writers of the show want it to be?) Staying with Ethan might mean prolonged drama – we all love a well-crafted love triangle – but is that a storyline that the writers will want to stay with? Perhaps they'll introduce a new love interest all together – somehow, I think it's still too early in the game for Masters and Johnson to ride off into the sunset.
* Executive Producer Michelle Ashford has also mentioned that we're likely to see some temporal jumps – the show has ten years to cover, after all. Maybe we'll find Masters and Johnson carrying on their research in an entirely new hospital a year from now (or rather, a year from then).
* And what of season MVPs Allison Janney and Beau Bridges? With Masters pretty irrevocably fired from the hospital, it's unlikely that they'll be able to be as integral a part of the show as they were this season, alas.  
* Oh, and speaking of casting: according to Michelle Ashford, Annaleigh Ashford is in, and Helene York is out. We were all sad to see world-weary Betty go after episode 3 (Annaleigh Ashford had a date with Kinky Boots) – and we'll definitely miss über-frank Jane (like her colleague, she's due to star in Bullets Over Broadway on, well, Broadway). But at least we get Betty back!