What's The Gang Up To On Season 7 of 'It's Always Sunny in Philadelphia'?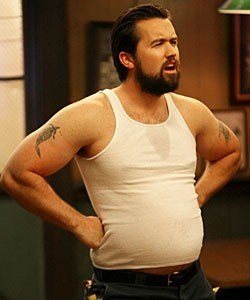 The cast of It's Always Sunny in Philadelphia recently met with AOLTV to discuss the upcoming seventh season of the FX comedy series. As the world already knows, creator and star Rob McElhenney gained fifty pounds for the new season, simply because he thought "playing Mac fat would be funnier." As Charlie Day (who, along with McElhenney and co-star Glenn Howerton, acts as a writer and producer on the show) explained on Conan last night, McElhenney also had a theory about the "increasing attractiveness" of sitcom stars over the course of their series, which he wanted to combat.
But McElhenney, Day, Howerton and costars Kaitlin Olson (Sweet Dee) and Danny DeVito (Frank Reynolds) had more than just Mac's weight-gain to talk about regarding Season 7. According to DeVito, this will be "the craziest season" yet. Some of the storylines to come will involve the show's take on The Jersey Shore and Toddlers & Tiaras; Frank's desire to marry and refine a local prostitute; and some drug use by Dee (well, some more drug use by Dee).
Possibly the most exciting piece of the upcoming season will be a two-part high school reunion episode — possibly involving some sort of musical number — that will bring back a good deal of characters from past episodes and introduce new ones that we have only heard about. 
It's Always Sunny has introduced a handful of memorable characters from the gang's youths over the course of its six seasons. Perhaps we'll be getting another chance to see childhood friends (and enemies) like Shmitty (Jason Sudeikis), Li'l Kevin (Kyle Davis), Bill and Maureen Ponderosa (Lance Barber and Catherine Reitman), Fatty Magoo (Judy Greer), the always-a-pleasure Rickety Cricket (David Hornsby), and, of course, the Waitress (Mary Elizabeth Ellis). Plus, I'm sure there'll be a McPoyle or two lurking around. Day and Howerton also alluded to the fact that some new information about The Gang might be revealed through some of the events at the reunion.
The new season of It's Always Sunny premieres next Thursday, Sept. 15, at 10 p.m. on FX.
Source: AOLTV