What Is 'Burning Love' & Why Is It Amazing?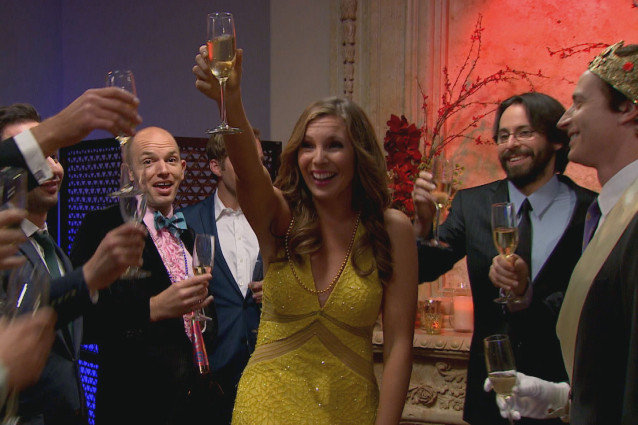 Yahoo! 
If you have been randomly surfing through the E! network's schedule or searching for your favorite comedic actors, you may have stumbled upon Burning Love. This series has a bunch of A-list actors and a really irreverent spin on shows like The Bachelor  and The Bachelorette. Not only is it shocking to see the likes of Adam Scott, Adam Brody, and Michael Cera in this relatively unknown show, but apparently the series started as a wildly popular web show that has featured Kristen Bell, Malin Ackerman, and Jennifer Aniston.
E! is currently airing the second season of The Bachelorette  spoof. The State  and Party Down  alum Ken Marino directs this series and starred in the first season. The current season centers on Julie Gristlewhite (June Diane Raphael), the runner up from the prior season. Like The Bachelorette,  Julie has a group of suitors vying for her affection. They include Ryan Hansen (Veronica Mars) as Blaze, the hot one, Joe Lo Truglio (Brooklyn Nine-Nine) as the single dad overly attached to his son, and Michael Cera, as the overly romantic guy. The cast also includes Adam Scott, Jerry O'Connell, Paul Scheer, Nick Kroll, and Colin Hanks.
It's insane to see this many great actors in such a small show. There are also cameos by Ben Stiller, Rob Corddry, Rebecca Romijn, and Paul Rudd. This much comedic talent in one place allows for a lot of funny bits and insanely irreverent moments. It also doesn't shy away from pointing out the stupidity of some of these marriage proposal shows. At times Julie is racist or easily fooled. The guys get overly competitive and all have the unique archetypes of the cast of the popular ABC reality series.
It's great to see Lo Truglio reunite with his The State co-stars Michael Ian Black and Marino. Along the same lines, Marino starred in Party Down with Scott, Hansen, and Martin Starr.
The series is definitely worth catching for a laugh. The second season is currently airing on E! and the full three seasons are available for viewing on Yahoo. Check out the series trailer: