'White Collar' Recap: Bull Market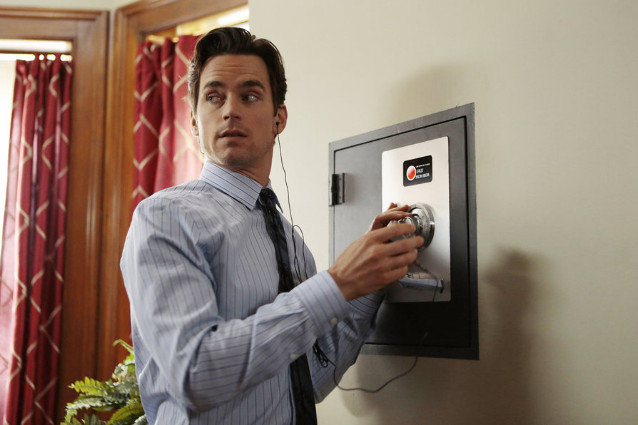 USA
The elevator recap seemed to work so well last time, I thought I'd bring it back again.
Neal Caffrey (Matt Bomer) started the episode off by asking Peter Burke (Tim DeKay, who also did directorial duty), who was getting ready to move to Washington, to recommend that he be allowed to be set free. Burke was hesitant and said he'd let him know later. Meanwhile, during the task of tagging and bagging all the evidence from the Rebecca Lowe/Rachel Turner (Bridget Regan) case, one of Lowe/Turner's burner phones rang: it was a person looking for her to do a job who had heard of her secondhand. The FBI couldn't allow that, so they needed someone to go undercover as Lowe. But who? Re-enter Agent Diana Berrigan (Marsha Thomason), who had given birth before but was ready to return to duty.
Berrigan called the burner phone and the person on the other end wanted a pre-arranged signal at the meet. They didn't know what the signal was, so they had to have Lowe/Turner come to the office. She asked to talk to Cafffrey before telling the signal, which was granted. Berrigan met with the person, a man named Conrad Worth (Steven Pasquale) and flashed the right signal. Worth wanted more confirmation, so Lowe/Turner got Caffrey to play a game of To Tell The Truth before giving Berrigan the information and story she needed to corraborate her bona fides with Worth. Lowe/Turner then said she felt that Caffrey still loved her, despite her, you know… killing two people. Caffrey basically told her to lose his number. The spurned criminal could only stare angrily. Hey, of course Caffrey forgot that whole saying about hell hath no fury like a woman scorned, etc.
Worth, satisfied, said Berrigan needed to steal a thumb drive from a former employer of his. It had an important algorithm. She was to steal it from the office. The FBI warned the man that his office was under a security threat … and he absconded with the thumb drive and hid it at home, in a safe. Now Caffrey and Berrigan had to try to get it from the house. Burke wanted to get it via legal channels. Berrigan was going to go with Caffrey but got called home because Mozzie (Willie Garson) had gone to her house and driven her nanny away. Don't forget, Mozzie had helped Berrigan give birth to Theo. Of course, Mozzie and Theo started bonding there. 
Caffrey got the thumb drive after a harrowing incident with the bosses' mistress coming over while he was out with his wife. Apparently the mistress knew Caffrey and she got him out of the place without his being noticed. Though Burke was unhappy with how it had been procured, the FBI got a look at the algorithm and it was a doozy – if activated it would crash the stock market while making Worth richer than dirt. They cloned a thumb drive, but it would only access a stockmarket simulator. Berrigan took it over and Worth seemed to buy it, but then he got a text saying that Lowe/Turner was in prison. Berrigan had to do some fast talking at gunpoint long enough to get Worth to look away. She got the gun and Agent Clinton Jones (Sharif Atkins) and Burke came bursting in. It turned out Lowe had sent the text herself … in prison.
Everything seemed to wrap up neatly. Mozzie figured out the secret behind the codex by looking at Theo's mobile and rushed home to tell Caffrey as soon as Berrigan returned. Burke and Caffrey were talking at the office and Burke said he still couldn't trust Caffrey to go straight. Caffrey said he'd have to do it himself. Just then, all the phones in the office started ringing. Burke's phone rang. Lowe/Turner had escaped. Of course, the episode ended with Mozzie going to Caffrey's house and leaving a message on his voice mail about what he had figured out about the location of the diamond. Over his shoulder, Lowe/Turner was on the terrace looking in. Dun Dun Dun.
Hey, wasn't it lucky that the elevator stopped so often again?
Thoughts
-The previews showed Mozzie collapsing. I will be highly unhappy if Mozzie dies. Garson's probably my favorite actor on the show.
-Regan is playing Lowe/Turner like Glenn Close in Fatal Attraction now. Add the fact that she had a completely different hairstyle in the next episode and held a gun to Caffrey's head, the man is probably going to go hide in a cave for 100 years after all this is over.
-It was nice seeing the banter between Caffrey and Berrigan again.
-Next week's episode is the season finale. Again, I hope Mozzie doesn't die. That would stink.
Caffrey's Relationship Status
Still non-existent, though he's lucky he doesn't have a pet rabbit. Well, Mozzie's kind of rabbit-like sometimes. Sigh. I hope Mozzie makes it.
Mozzie's Quirkiness Level
Medium. He posed as a gas line inspector to get into Berrigan's home and was reading Moon Landing Conspiracy novels to baby Theo while watching him for the day.