'Whitney' Gets 'Friends' Showrunner On Board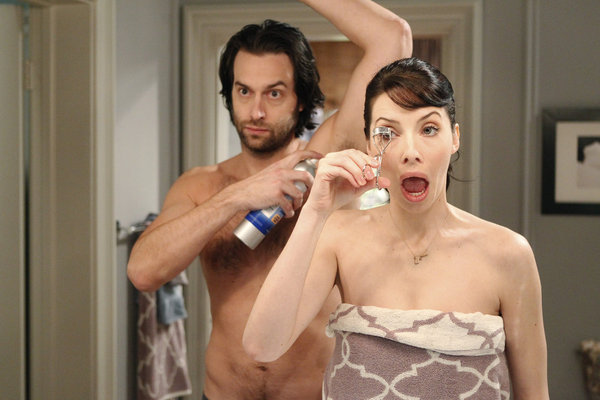 NBC is determined to make it work with their new girl Whitney. Despite receiving chilly reception in its first season from both critics and audiences alike (it ranked 27th among adults 18-49 with a 2.25 rating) the network not only gave Whitney Cummings' sitcom a second chance, but has recruited a new showrunner to shake things up. 
According to
The Hollywood Reporter
, 
Wil Calhoun
, who worked on one of NBC's greatest triumphs,
Friends,
will relieve executive producer Betsy Thomas from her post as showrunner. While Calhoun hasn't had a flawless track record (he's got
Gary Unmarried
and
Kath & Kim
to his credit, too) it's his Emmy-nominated work with
Friends
, one of NBC's all-time greatest successes, that likely got him recruited. He could just be the thing that saves
Whitney
from getting dropped. 
Calhoun worked as a writer/producer/editor on such classic Friends episodes as "The One With the Jellyfish," "The One Where Everybody Finds Out," and "The One With Ross' Sanwich." ("My sandwich? MY SANDWICH?!") Those three episodes in particular are a good barometer for what Calhoun can bring to the table; they possess some some key elements that Whitney is missing. 
"The One with the Jellyfish" put Monica way out of her comfort zone (it also set up the series' best Ross and Rachel cliffhanger); "The One Where Everybody Finds Out" used the entire ensemble to propel one of the show's biggest shifts (Monica and Chandler dating); and "The One with Ross' Sandwich" set forth a character shift that stuck. (Ross was always a bit of a spazz, but never quite like this.) It did what Friends did best, it had fun, but it also moved the story along. 
On paper, Whitney has nearly the same premise as Friends, young urbanites feeling their way through life and love. But Whitney seems intent on trying to make itself a relatable voice for twenty and thirtysomething urban cohabitants. (Aren't men so clueless in relationships?! Nyuk, nyuk!) While it's not to say that Friends didn't try to root itself in some reality, it was a mammoth hit because of its lighthearted mood, broad appeal, and its instantly recognizable characters. 
While Whitney has been exiled to the dreaded Friday night schedule as the lead-in to the cult comedy Community, it will be interesting to see if Calhoun can salvage the sitcom from an almost certain sophomore death. 
Do you think Calhoun can make Whitney work or is the series doomed?
[Photo credit: NBC] 
More: