Who Won the Super Bowl? Women!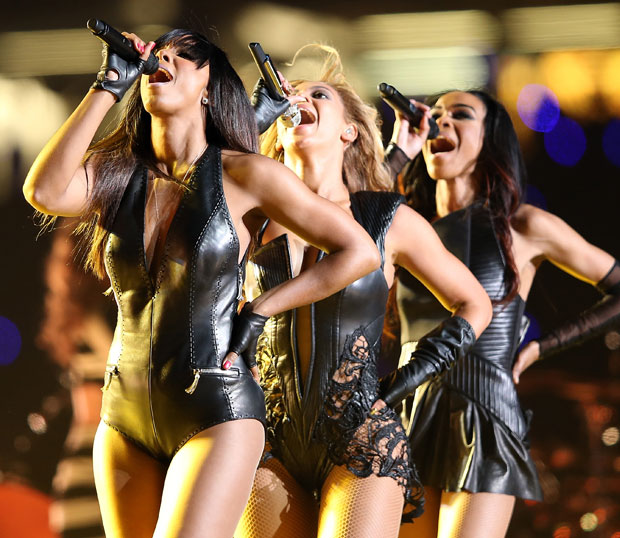 Who runs the world? If you're looking at last night's Super Bowl XLVII, than the answer seems to be girls, or more rightly, women.
From Beyoncé to Budweiser, the non-football elements of the biggest television event of the year were greatly driven by women and women's interests, making this year one for the ladies. A quick look at Monday's top Google searches, and it's clear that ladies are the ones dictating the discussion. Beyoncé, Super Bowl Commercials (many of which were clearly aimed at women), and the Puppy Bowl are all ranked higher than the game itself and retiring linebacker Ray Lewis. During the broadcast, Bey's halftime show generated 5.5 million tweets and the tweets-per-minute rate was almost double that of the game-making 49ers touchdown after the blackout and the final seconds of the game in which the Baltimore Ravens took the title. Even FLOTUS, Michelle Obama, got in on the action, tweeting, "Watching the #SuperBowl with family & friends. @Beyonce was phenomenal! I am so proud of her!" and signing it affectionately, "-mo." If you're looking at social media, it appears that the girl power-heavy halftime show was a bigger draw than the game itself.
RELATED: 47 Reasons Beyonce's Halftime Show Was Better Than the Game
But it wasn't just about Beyoncé. The game also opened with two other strong, talented women. Beyoncé's Dreamgirls co-star and vocal powerhouse Jennifer Hudson began the pre-game festivities with "America the Beautiul" and girl power figure Alicia Keys followed with a near-perfect "Star-Spangled Banner." It was clear that this year, more than ever before, the producers behind the Super Bowl were conscious of catering to both the usual beer-slinging, Taco-Bell-loving, he-men most ads and programming have catered to in years past and women. But why wouldn't they? According to most recent market research, women are the ones to aim for when it comes to marketing and social media.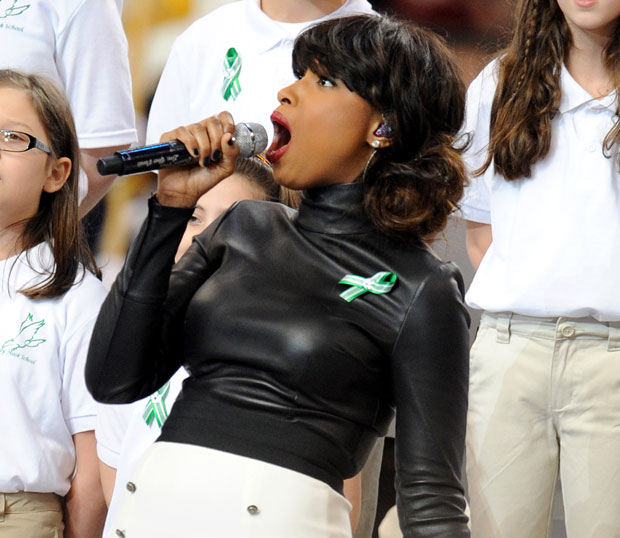 According to Comscore, women account for the majority of social media users and are generally more engaged. Pontiflex adds that women on social media tend to be more influential than men. And when it comes to spending, Pontiflex also reports that women are responsible for 85 percent of household spending, and hold the majority of spending decisions in big Super Bowl advertising categories such as food, new cars, and personal computers.
With data like that, it should come as no surprise that some of the more beloved Super Bowl commercials are clearly marketed toward society's big spenders. Best Buy — a company that generally takes aim at men — enlisted lady hero Amy Poehler and her supposed love of Fifty Shades of Grey to sell its wares. Jeep sought the help of womankind's favorite lifestyle guru, Oprah Winfrey, as the voiceover for its emotional Super Bowl spot this year and Kia went for the cute, ooh-and-awww-inspiring story of Babylandia to entice its potential buyers. Where Budweiser usually goes for the rugged, All-American feel — showing us amber waves of grain and the strength of plodding Clydesdales — 2013 showed us the kinder, gentler side of America's favorite beer, giving us a love story between a man and the horse he raises from pony to steed, set appropriately to "Landslide." Even commercials that appeared to skew towards men, like Time Warner's Walking Dead-invades-your-home spot and Tide's miracle stain ad, end with the twist: Sorry, dudes, but women are the ones holding the reins. (Miracle stain guy is bested by his wife, who's rooting against his Ravens, and even Daryl Dixon from The Walking Dead isn't too badass to heed mom's requests.) And that Calvin Klein ad, with a shiny, unbelievably buff model was definitely a little something for the ladies. While gross-out spots like Go Daddy's Bar Refaeli ad (which was offensive to nerds, people with ears, and living, breathing humans everywhere) and the borderline-rapey commercial for Gildan activewear, which featured a sneaky guy escaping after a one-night-stand, but not without trying to rip his t-shirt off his conquest first, the winning ads of the night were the feel-good, non-gender specific spots, and a few very-obviously female-skewing spots.
RELATED: Super Bowl XLVII's Best and Worst Ads
Yes, when the confetti fell on the Super Dome in New Orleans, it was for a team of sweaty dudes, but the night, overall, was a win for the ladies. Looking at the overnight ratings, which have been deemed the highest in history, made Super Bowl XLVII the biggest television event in the U.S., ever. The broadcast pulled in a 48.1 rating, which is equivalent to 114.7 million homes and 71 percent of the nation's televisions, and with the incessant chatter surrounding Beyoncé before (and long after) the halftime performance, it's hard to believe that the women who foretold that girls would run the world isn't at least partially to thank for the boost in viewership. UPDATE: The early numbers don't always match actual numbers and Super Bowl ratings were actually slightly down from years past, but interaction, especially during the halftime show, was still rather high and still rather focused on the lady of the five (plus) hour telecast. 
Follow Kelsea on Twitter @KelseaStahler
[Photo Credit: AP Images (2)]
---
You Might Also Like:

Biden? Ford? Surprisingly Hot Young Pics of Politicians

Who Wore This Crazy Hat?

Stars Who Changed Their Look After Love