Why Barbara Walters Thinks These People are More Fascinating Than You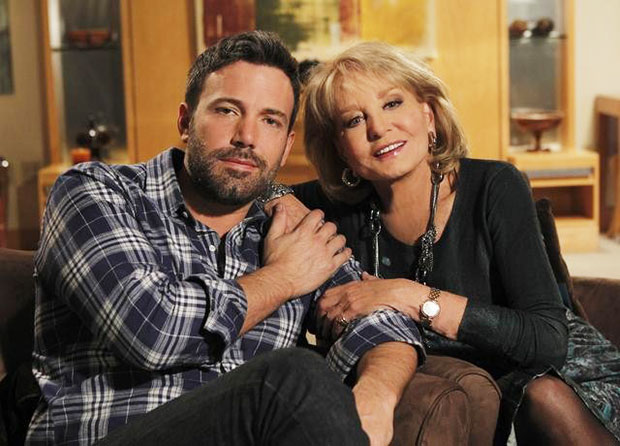 There are a lot of people more fascinating than you. This is life. Welcome to it. But sometimes, there are people so fascinating, so interesting that they merit a televised special hosted by one of the most venerable female journalists and interviewers in America. So is Barbara Walters' 2012 Most Fascinating People special, which aired Wednesday night on ABC. And you were not on that list.
We know your mother would have totally included you on her own list of Most Fascinating People—right before Jerry McGilich, the owner of the wine store down on Main Street—so that's something, right? We sure you're really fascinating and would've totally included you on our own list. (You're so unique, like a snowflake!) Want to know why you're not on the list? Need to figure out a way to up your fascinating game for 2013? Take a look at the undisputed most interesting, charming, smart, funny, talented, athletic, cute, handsome, beautiful, intelligent humans to ever exist in the history of 2012.
RELATED: Redneckognize It! Honey Boo Boo is One of Barbara Walter's 'Most Fascinating People'
One Direction – OK so, Barbara Walters thinks One Direction is fascinating because boy bands are so totally retro. But also a phenomenon. Yet also sort of outdated and, poo poo, so 90s! Essentially. She also used the word "tween" which was great fun for everyone involved. One Direction are fascinating because they were created on television: by producers and Simon Cowell. And they are boyish with accents! Anglofile tweens are born from their songs. There was an overdub about Taylor Swift, talk of girlfriends, breaking out solo which Zayn and Harry were at least cut to look like they stayed silent on while everyone else said "no way." It's always the curly-haired one and the "bad boy" that go solo. If you want to be considered as fascinating as One Direction, sing pop songs and date tall, surprised American girls.
Seth MacFarlane – Seth MacFarlane is interesting to Barbara Walters because he does all sorts of funny voices! Sometimes those voices are funny, other times they're crude, rude, and musical. Other times they're like maniacal New England babies, and sometimes they even sound like a tony 40s lounge singer. But mostly Barbara thinks he runs around smiling, offending, and amusing people in equal, confounding measures. Babs was mostly just happy that he'd be singing at The Oscars, though. If you want to be considered as fascinating as Seth MacFarlane, do it all and make fun of everything. And do it in front of a big audience.
RELATED: Barbara Walters' Most Fascinating People Include One Direction, Ben Affleck, & Stewie Griffin?
Chris Christie – Well, Barbara thinks Chris Christie is fascinating because he's The Governor of Sandwiches! Just kidding! Barbara is really uncomfortable talking about fat. She can talk about your deepest, darkest, most personal moments of sadness, she'll ask for explicit, painful details about the time you almost died, but she hates talking about fat. That said, the actual interesting thing about Chris Christie is how adult and professional he was in handling the Sandy superstorm crisis—especially when working with a Democratic POTUS as a Republican Governor. Especially because Barbara thinks he's just so angry! (He's a Jersey Italian boy! C'MON Barbs!) Unfortunately, Christie didn't cry about his love for Bruce Springsteen. If you want to be considered as fascinating as Chris Christie, be in charge of a wildly stereotyped state.
Gabby Douglas – Gabby is fascinating, but that's mostly just because she's so damned adorable and normal but also spectacular, since, you know, she's a superhuman gold medal gymnast from the 2012 London Olympics. Goodness gracious, that is one poised, lovely, smart, driven young woman. Seriously, just so lovely. Gabby Douglas is the type of girl you, the modern but sensible mother, hope your future daughter grows up to be. Gosh, she really is something, that one. So weird how literally everyone in America watching the special started crying simultaneously when they replayed her win again, right? If you want to be considered as fascinating as Gabby Douglas, just be perfect.
Prince Harry – Prince Harry is fascinating because he's a…twenty-eight year old guy? Sure, he's a Prince and he gets to be related to Kate Middleton's hair forever, but he's also in the army, gets drunk and naked in Vegas, has worn a stupid costume one time that was in really poor taste, and sometimes does nice things when his grandmother asks him. You know, normal guy stuff. Oh but we certainly can't resist and accented ginger! No interview for Prince Harry, though. Probably because he's a Prince and he doesn't have to follow any rules because his family lives in a fairy tale. If you want to be considered as fascinating as Prince Harry, be an elusive twentysomething member of a royal family.
Honey Boo Boo – Heaven help us, she says. Oh, Babs. Alana Thompson is fascinating because her family does audacious things and yell a lot. They're uninhibited! They make sketti! That is why she's famous, and that's why she's fascinating. Another one that Barbara did not wield her mighty interview sword against. Seriously? I wanted to hear what happens Barbara finally redneckognized what was going on. If you want to be considered as fascinating as Honey Boo Boo, be famous for shocking people with your uninhibited and unconventional antics.
RELATED: Seth MacFarlane to Host the Oscars, Just Like That One Time…
E L James – There's so much about this 50 Shades of Grey phenomenon that's fascinating (on, seriously, so many levels)—though Barbara does well to avoid all the parts that might be offensive when interviewing the author of every mom's guilty pleasure. But she did talk about fan fiction! And Twilight! E L James read some stuff on the Internet and decided to write a book about dudes that "like that sort of thing." She also probably has done some BDSM-tinged sex stuff with her husband. Research! If you want to be considered as fascinating as E L James, write about people doing it in any way other than missionary.
Hillary Clinton – What ISN'T fascinating about Hillary Clinton? First, she says she won't run for President of the United States, which shocks people. She's been repairing relations between the United States and the rest of the world, and has no such time for thoughts so trivial. She's married to Bill Clinton. She gets memes. Hillary Clinton is so fascinating I bet when she sweats she sparkles like a vampire. Of course she's on this list. Everyone wants Hillary to run for President in 2016 (she'd be a lock on the Democratic nomination at this point), but she'd still would rather do something philanthropic. She has "incredible stamina and energy"! Her words—direct quote! This honorary Head Queen Goddess Boss Lady has dreams, and her biggest dream would be to bring peace to the Middle East, especially in Isreal and Palestine. She's maybe a little scared about Iran. Also she wore scrunchies while making serious moves and brokering deals on the international politics front, so people are curious about that, too. If you want to be considered as fascinating as Hillary Clinton, HAHAHA NICE TRY. Don't even think about it: you aren't.
Ben Affleck – Ben Affleck is fascinating because he stole Justin Bieber's wig in a time machine incident from 2010 and used it in a movie called Argo. Also he's 40. His dad was an alcoholic who is sober now, and his mom was a Harvard-educated teacher. And he's BFF with Matt Damon (which caused an audible gasp of delight from the lips of Babs—swear to everything), which is really fascinating, because they're still friends but they're not attached at the hip anymore and haven't been for awhile but people still always just wonder about that. He's really sad about Gigli and maybe a little bit bitter about the J. Lo experience. But he really loves that Jennifer Garner gal, and that's real swell. If you want to be considered as fascinating Ben Affleck, make movies, be handsome, and a former overnight success story.
General David Petraeus – Surprise! Here's THE MOST fascinating person of all of 2012! According to Babs, it's because he stuck it in a lady that wasn't his wife. Emails! So many emails! Spies! Affairs! It's like Homeland brought to life, with less ugly-crying (somehow). Also there was a chance to make jokes about a "femme fatale in fatigues." If you want to be considered as fascinating as General Petraeus, be the head of a spy agency and make a mistake.
What do you think of this year's most fascinating people? Did you approve of Barbara Walters' list? Sound off in the comments!
[Photo Credit: Rick Rowell/ABC]
Follow Alicia on Twitter @alicialutes