Why 'Catfish' is MTV's New 'Jersey Shore' (Thanks to Manti Te'o)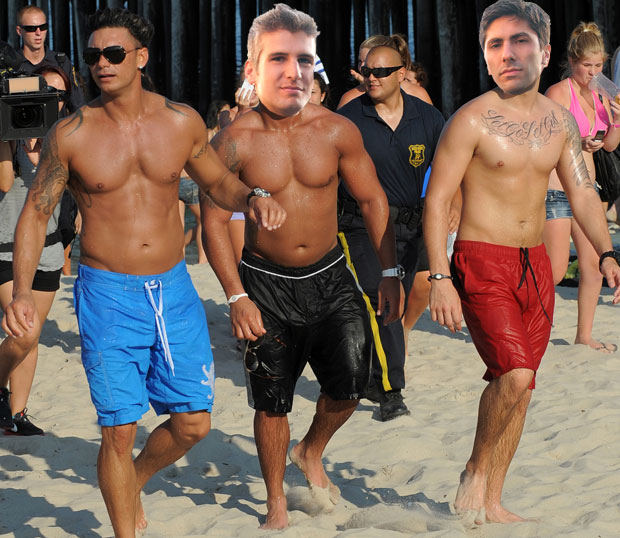 Desperate to spark a new pop culture phenomenon in a post-Jersey Shore world, MTV launched Buckwild and Washington Heights — two new reality shows — in late 2012, that followed the (often alcohol-fueled) hijinks of unique groups of young people. But now — thanks to an assist from Notre Dame football star Manti Te'o — Catfish: The TV Show, a dating-related docu-series that makes you squirm-watch through your fingers more than any gory horror movie ever could, has become the breakout hit the network wanted so badly. 
Even before Te'o was exposed as a big fat sucker — or a big fat liar, depending on whose story you believe — Catfish had captured a decent-sized but devoted audience who tuned in as Nev Schulman and Max Joseph investigated the online objects of affection of curious Internet daters. Schulman himself had been duped into believing he was talking to a beautiful twentysomething musician by a middle-aged woman in the midwest, and documented the discovery of her lies in the 2010 indie film Catfish.
MTV hired him as an Internet detective of sorts, pairing him up with viewers trying to figure out if the people they'd started online relationships with were really who they said they were. Spoiler: Most of the time, they weren't. It debuted on Nov. 12, 2012 to MTV's highest-ever series premiere ratings in the 11 p.m. time slot, and was renewed for a second season after six hourlong episodes.
Despite positive reviews and solid ratings, the show didn't reach Jersey Shore-level public awareness until Deadspin broke the story that the tragic death of Notre Dame football star Manti Te'o's girlfriend, Lennay Kekua, wasn't quite so tragic, considering she never actually existed. And, considering its respectable premiere ratings, it's a sure bet Catfish will see record numbers following Monday's new episode — after all, not only has the series and Schulman himself enjoyed the status of becoming trending topics after the story broke, but Catfish's Seaside Heights-centered kin was similarly boosted by its position in the news after several Italian-American groups attacked Jersey Shore for stereotyping. But it's impossible to attribute luck for Catfish's future success, even though there's no doubting the series will benefit from the unbelievably coincidental timing of the hoax. Instead, viewers will take Catfish's bait for the same reasons they tuned into the Jersey Shore: Unlike the 4,375th season of The Real World, the show is capturing something authentic — even if the show usually centers around something (or, rather, someone) fake. 
Just look at the fascination surrounding the Te'o hoax. After the initial news broke, Twitter and Facebook news feeds were dominated by the story — whether or not you believed Te'o, you could identify with the prospects of getting fooled on the Internet. If Catfish: The TV Show didn't already exist, it certainly would have been greenlit following the response to Te'o's story. And the prospects of Season 2 of Catfish became even more intriguing after we learned of a woman whose photo was allegedly stolen for Kekua's sister's Twitter had contacted Catfish star Schulman in late 2012 to help figure out how she'd gotten involved in the messy web of lies. (Though Schulman initially did not respond to the woman's attempts to connect with him, his recent tweet to Te'o — "I know how you feel. It happened 2 me. I want 2 help tell ur story & prevent this from happening to others in the future. Lets talk" — proves the series' star is eager to center an episode on the hoax.)
How could someone with as high a public profile as Te'o get duped so spectacularly? Or, if he actually was in on the ruse as some bloggers believe, how could a college athlete con newspapers across the country into believing what was ultimately a shoddily put-together hoax? It's simple: The Internet levels the playing field, so to speak. The Te'o scandal hit close to home, sparking the interest of millions of people and bringing the already relevant Catfish into the spotlight in every demo, not just MTV's 18-49 audience. It highlighted just why it works as a show in the first place: It's honest. Not to make too big of a leap, but isn't that why people started watching Jersey Shore in the first place? The first season was almost like a nature documentary in that it seemed like we were watching this group of drunken idiots in their natural habitat. They truly did not realize they were being followed by TV cameras, and the fact that they weren't embarrassed to be caught acting like that was endearing.
While Buckwild and Washington Heights, shows about groups of young people in West Virginia and New York City, are trying to cash in on that Jersey Shore premise, Catfish instead captures that feeling that drew us to Jersey Shore in the beginning: honesty. Isn't that what we're all looking for anyway?
Follow Jean on Twitter @hijean
[PHOTO CREDIT: MTV]
More:
The Manti Te'o Catfishing Story is the Only Sports Story That Matters
MTV's 'Catfish: The TV Show' Succeeds Where the Film Failed
'Catfish' Star Nev Schulman Responds to the Manti Te'o Controversy

54 Cutest Celebrity Kids! (Celebuzz)