Why 'Dogs in the City' Star Justin Silver Is Every Reality Show Host Combined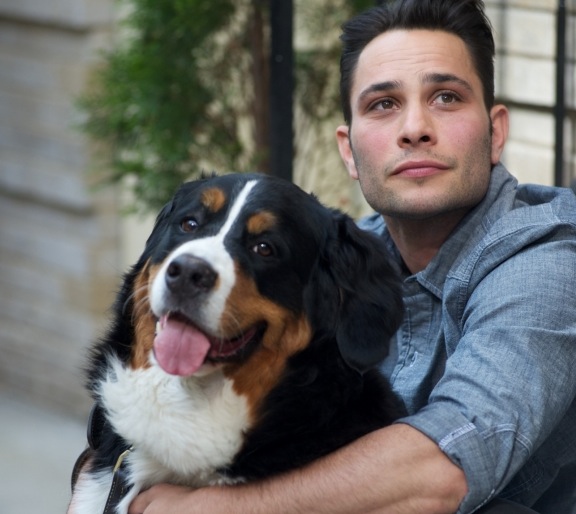 "If there's one language I speak fluently, it's canine." – Justin Silver
For the networks, the summer months are a no-holds-barred barrage of new reality shows, each one with a high concept twist that spins its familiar core premise into must watch television. The latest debut, tonight's Dogs in the City, is the perfect example. CBS knows what they have on their hands, another animal emergency show that helped birth cable channels like Animal Planet. But their curveball is Justin Silver, a fresh-faced personality who comes off like the Frankenstein's Monster of reality show hosts.
As evidenced from episode one, that's not a bad thing. With Silver pulling out all the stops, Dogs in the City sports a little something for every type of reality fan. Don't believe me? Sit! Here's the trick:
Mo'Nique, Sharon Osbourne and Ricki Lake of Charm School
There are plenty of wildlife hosts who may be better equated with the Dogs in the City, but right from the get go, Silver makes it clear that most dog-related problems come from the irresponsibility of their owners. Case in point: Elli Frank, who brings her dog to work everyday (a model agency she started) even though the dog attempts to bite all of her coworkers. When Silver suggests thinking of others (The models! Their faces!) instead of herself, it's like the sky opens up and stone tablets fall to her lap. Much like the trio of ladies who whipped their contestants into tip top etiquette shape on Charm School, Silver unleashes sass in order to help the ignorant see the light of day. Don't bring your aggressive dog into an office setting — who would have thought!?
Dr. Phil of Dr. Phil
Things get even more serious for Silver when he helps a couple divided by their dog come together through the act of training. Turns out, inviting their bulldog Beefy into bed every night hasn't done wonders for their sex life, so Silver sits down the newlywed couple down and gives them serious heart-to-hearts worthy of Dr. Phil. Or maybe Joey Greco on Cheaters? Point is, the couple reunites through proper turkey meat rewards — the key to any bulldog's heart — and avoids any messy "who is the father?" or other Phil McGraw-esque fiascos. And yet, my Grandma would still love the show!
Donald Trump of Celebrity Apprentice
Maybe he's the real deal or maybe it's an act, but the Manhattan setting for Dogs in the City gives Justin Silver the opportunity to lay on the Trump "New Yawk" accent nice and thick. "Roll over" may not have the same weight as "You're fired!," but then again, we're not dogs.
Howie Mandel of America's Got Talent
Fist bumps. Fist. bumps.
Alison Sweeney of The Biggest Loser
In segment three of the debut episode, Silver paints himself as not only as an expert in dog mood swings, but as a dietitian to the pups. Helping out a Bernese Mountain Dog with a penchant for chowing down on pedestrian ice cream cones, Silver astutely recommends to the father/daughter owners that maybe the dog should stick to dog food. Like his Biggest Loser counterpart, Silver maps out a regiment of healthy living for the 101 pound mammoth, albeit without the drill sergeant attitude.
Criss Angel of MindFreak
First and foremost, Silver is a helper. He's out to improve the lives of the dog owners he features on the show. But he also knows he's on TV, so everything's a trick — and the man's no old dog. He's got a bag of them, and with every magical move — whether he's miraculously making a puppy follow his walking commands or keeping a snappy schnauzer restrained through invisible forces — Silver plays up the "wow" factor. Criss Angel and Justin Silver may not shop at the same stores (unless he's hiding the wardrobe from his hair metal days for later in the season), but they have the same sensibilities.
Anthony Bourdain of The Layover, No Reservations
Silver strikes me as an heir to the Bourdain throne in two ways: he's a connoisseur of doggie meats and he likes to have a good time. The suave dog trainer knows that his skill set was custom made to win over ladies — when he walks into the modeling agency for the first time, he's overt: "Dogs and models, two things that I'm into." A strict palette and a love for fun loving times? Let's hope Dogs in the City gets a Vegas episode.
Cesar Millan of The Dog Whisperer
Guess why?
="font-style:>
More:
'Celebrity Apprentice': Who Came Out on Top?
A New 'Biggest Loser' Is Revealed!
Anthony Bourdain Leaves Travel for CNN: Will He Take His Edge With Him?