Why The Judging Panel Exodus at 'Idol' Is A Chance To Finally Get It Right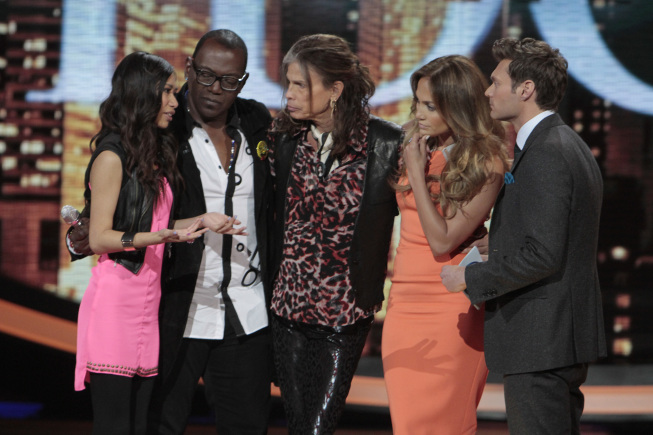 American Idol is undergoing something of a spiritual cleansing. Thursday, judge Steven Tyler officially turned in his Coca-Cola chalice and renounced his seat as a judge on the Fox show one day before Jennifer Lopez confirmed her exit during Ryan Seacrest's radio show. With both of the superstar judges packing up, fans and reporters alike are turning their attention to Randy Jackson, the only remaining judge from the original panel. Could Jackson take this mass exodus as his cue to exit the series? And more importantly, what will happen if Idol does undergo a full judging reboot? Well, as much as we've grown accustomed to our counterproductive threesome, the singing competition is likely looking at a very promising prospect: a clean slate.
And while that prospect isn't very different from The X Factor's Season 2 reboot or the once open tables at any of the various copycat singing series, Idol has two very significant factors on its side: history and brand power. Of the U.S. singing competitions in rotation at the moment, Idol has produced the most viable candidates for music industry success – the series has done so well, its Season 1 winner Kelly Clarkson is a go-to music industry maven for not one, but two singing competitions (The Voice and Duets). Plus, it's simply been around longer and survived handfuls of judging panel shakeups. If the last five years of the series have proved anything, it's that all we really need to maintain that nostalgic Idol feeling is the signature theme song, the ridiculously cheesy editing gags, and Seacrest.
But even with that power and legacy, Idol's ratings have diminished greatly from the height of its popularity. There are few different reasons that likely feed into the decrease (which has dropped from the mid-20 millions to numbers in the 14-18 million range – boo hoo, right?). First, the series' success bred a legion of other musical competitions, so singing show fatigue and a plethora of other choices is a likely factor. Next, there are issues that are a little less tangible, like the quickly shrinking judging panel.
Randy, Jennifer, and Steven have chemistry on Idol that's fun to watch, but it was still never quite right. Were they a serious judging panel, aiming to truly better these fledgling stars? Or were they a group of celebs palling around in great clothes and helping us get through the doldrums of auditions? We're not sure and it seems the trio never fully figured it out either.
Jackson, well-known in the industry as an A&R (artists and repertoire – a.k.a. talent scouting and artistic development) expert, managed to rein in his fish-slaying metaphors and his fellow judges, but perhaps 11 years of listening to yodeling, delusional auditioners handpicked by producers and the handful of lounge and karaoke singers who inevitably make it through voting rounds every year have crushed his spirit. His commentary was never that helpful — I can't remember the last time someone sat me down and said "Yo, dawg" and then made a really solid point — and he relied heavily on his empty, canned phrases like "This girl's in it to win it" and "Ryan! He wants it, Ryan!"
Turn to the other judges, Lopez and Tyler, and you get two music industry veterans who were more akin to an overly affectionate aunt and a questionably loopy teddy bear than shrewd judges. They loved everyone, and Tyler was especially fond of every contestant's "beauty," but both singers were little more than cheerleaders with high Q scores. Sure, they were entertaining, but were they really nurturing or lending truly constructive criticism to the young artists before them? Joshua Ledet's record, and ridiculous, 18 standing ovations beg to differ. (And in the arena, Jackson is guilty as well.)
In an emotional sense, we will certainly miss our jolly trio of Season 10/11 judges, but in a practical sense, it is time for a change. Filling a judges' table with famous faces is so mainstream — every singing series practically considers it a prerequisite for production. But Idol never needed that. In its original form, it took two behind-the-scenes experts with colorful personalities (Simon Cowell's was little more than grey and red, but hey, those are colors too) and a practically retired '80s pop star and unleashed them on bright-eyed and bushy-tailed aspiring singers. It's what they accomplished on American Idol that made them famous (or famous again, in Paula Abdul's case). The show stood for itself instead of feeding off of its judges' existing clout.
And with the opportunity to return to that place now that the Fox series is forced to recast its judges, I implore Nigel Lythgoe and company to consider taking the panel in one of two directions. On one hand, Idol has always been a showcase for peacocking and slapstick. And as the judges became less and less integral (and mentor and legendary music producer Jimmy Iovine's commentary became more and more precious), the goof-balling was largely in their court. If Idol insists on chasing entertainment over a serious competition, it should go whole ham. Bring in a slate of music industry goofballs whose stars are merely flickering and let the jokes fly. Of course, this would be a move to destroy any last shred of artistic integrity held by the series, sending it off to the land of baffling ratings and America's Got Talent.
Option two, however, could be the remedy, and if the rumors are true, Idol may already be a third of the way there. Alum Adam Lambert is apparently in the running to judge Season 12, and while names like Mariah Carey and Katy Perry are flying around as well, going with a former contestant is a move we can get behind. In fact, if Idol doubled up on that order, nabbing one successful, outspoken former contestant like Lambert and another struggling, yet knowledgeable contestant like Casey Abrams (he'd be sure to fill that Steven-screech-shaped hole in many viewers' hearts), it would be the perfect expert artist balance to strike. They've both been through a significant stretch of the competition. They both made and corrected their mistakes and lived through consequences. And they both know, firsthand, what it's like to jump from Idol into the belly of the vicious music industry. If anyone has insight into guiding these kids, it's alumni.
But you can't have a judging panel without an industry expert, and Iovine has expressed his desire to stay on the mentoring side of the show (which is likely better for the contestants too). And there are plenty of successful behind-the-scenes folks to consider. From music industry classics like mega-producer Todd Rundgren to younger, hipper folks like Max Martin (Katy Perry's "Last Friday Night," Britney Spears' "Hold It Against Me") and Calvin Harris (Rihanna's "We Found Love"), Idol has a wealth of marginally famous expert personalities to choose from. (I personally think Rundgren's old school, off-beat presence could be a welcome change of pace for the aging competition. How 'bout it, Todd?)
Infusing a little Idol history with a fresh, industry perspective could be exactly what the doctor ordered. And who knows? If the series gets it right, we could be looking at the next Carrie Underwood come next May. And if they waste this golden opportunity, we could be staring down the barrel of the next Lee Dewyze. The choice is yours, Idol.
Follow Kelsea on Twitter @KelseaStahler.
[Photo Credit: Fox]
More:
Jennifer Lopez Confirms Official Idol Exit to Ryan Seacrest