Why There Will Never Be Another Dick Clark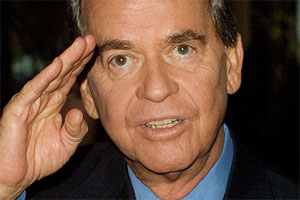 Today Dick Clark passed away at 82 after suffering a massive heart attack. This is one of those deaths that touches nearly everyone in America, because everyone has some memory of him counting the ball dropping on New Year's Eve, introducing musical acts on American Bandstand, laughing with Ed McMahon on TV Bloopers and Practical Jokes, or even trying to get a contesant to figure out the last illuminated square on the $10,000 Pyramid. Everyone watched the American Music Awards and saw that familiar Dick Clark Productions logo at the end of the broadcast, shocked that the man who was eternally youthful before the camera was such a force even when he was behind the scenes.
Yes, everyone has a memory of Dick Clark, but such ubiquitous cultural figures are on the wane in America. Back when he started his career in 1956 on Bandstand, there were only three television channels to choose from and an audience of millions was almost guaranteed, even though the population was a lot smaller than it is today. Continuing through the '80s, when the show moved to syndication and eventually to USA, Dick Clark was still a cultural force, hosting the game show (a format that has fallen woefully out of favor) and other specials. He was someone everyone with a TV set knew, trusted, and probably had a good opinion of.
These days, our culture is a lot more fractured. There are hundreds of television channels, at least a few devoted entirely to music, and it's hard for most cable networks to break even a million viewers. We learn about our new music not thanks to the bands TV producers select for its rabid teenage fanbase, but through YouTube videos passed around by our friends on Facebook and Twitter. And if we can come across a game show, it's either Jeopardy!, Wheel of Fortune, or something on the Game Show Network that gets as many pairs of eyes as cable access shows in larger markets.
Yes, there will never be another Dick Clark. Many people say that his obvious predecessor is Ryan Seacrest, who is also ubiquitous, hosts a very popular music show, produces a bunch of television programs, and has taken over the host of New Year's Rockin' Eve. But Seacrest, with his highlights and shiny face, is a host for the reality age. He's not promoting music so much as escorting contestants back and forth in a singing Hunger Games, where America picks them off one by one. He's not producing awards shows and high-caliber productions, he's helping the Kardashians take over the universe and promoting Shahs of Sunset. These are programs that may define the zeitgeist, but (with the exception of American Idol) they don't connect with the culture as a whole. And as popular as Kim, Khloe, and Ko may be, they're as despised by just as many people (if not more) as they are loved.
The country isn't as innocent or as unified as it was when we embraced Dick Clark as our never-aging older brother. While we may revel in the amount of content and the freedom of choice we have now, it's with nostalgic sadness that we say farewell, not only to an iconic announcer, host, and producer like Mr. Clark, but to a simpler, more-unified culture that we'll never experience again.
Follow Brian Moylan on Twitter @BrianJMoylan
More:
Clark Still Partying as Mr. New Years