Why We Can't Wait for 'Girl Meets World'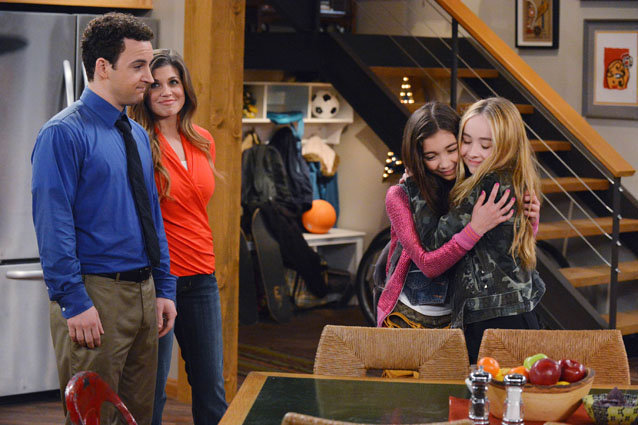 Disney Channel
Fans of the former TGIF sitcom Boy Meets World have been anxiously awaiting the debut of Disney Channel's tween-com Girl Meets World ever since the pilot was first ordered. Recently, the cable network finally released a short clip showing a now grown Cory (Ben Savage) and Topanga (Danielle Fishel) interacting with their adorable daughter Riley (Spy Kids: All the Time in the World's Rowan Blanchard). Excitement over seeing Savage and Fishel once again arm-in-arm as Cory and Topanga spread across social media, as fans of the '90s show began quickly sharing the clip.
Girl Meets World marks a departure for the Disney Channel as they attempt to market a show just as much to the parents of their normal six-to-12-year-old target audience. Someone who was 12 in 1993 when the original began — as Fishel was — is now 33, an age when it's entirely plausible to have children in the appropriate demographic.
By putting the focus on the children of one of TV's favorite teen couples, the network and producer Michael Jacobs have hit upon a way for the fans of the former show to look in on old favorites without having to worry too much about what's transpired. This isn't a Dawson's Creek-style flash-forward with a beloved character (Michelle Williams' Jen) on her deathbed. This is a Disney-style look in.
There's something reassuring about seeing a pair of characters that we cared about in the middle of their happy ending. We watched Cory and Topanga meet as kids and come together as teens, and we followed them right up until their wedding. Now they're still married with two kids and a nice home. It's like going to visit that one high school couple that is still perfectly content with their lives. Whether it happens all the time or not, it's nice to know that it happens sometimes.
More importantly, by blending nostalgia with the formula that Disney Channel has employed with its other live action hits like Jessie and Good Luck, Charlie, the show provides a unique opportunity for parents to actively watch with their children. Not in an obligatory sense, but in a true "I have to see this" way. Family-oriented sitcoms were once a staple of network television, but now those shows have largely moved to cable… taking many of the same writers/producers with them.
The marketing of Girl Meets World has produced something that 10-year-olds and their moms both want to see… how often does a TV show do that these days? As parents fill their kids in on who the older characters are, the kids can fill their parents in on what Riley is talking about with her friends. If that leads to a discussion of things transpiring in real life, well, that's a beautiful thing. Many movies and TV shows have paid lip service to providing such an opening for parents… GMW seems legitimately positioned to actually deliver on that promise.
Jacobs has lined up a series of cameos from the original series to keep the parents entertained including Cory's brother and parents (Will Friedle, Betsy Randle and William Russ), William Daniels' persnickety Mr. Feeny, and Rider Strong's brooding Shawn Hunter. Even Lee Norris, whose character Minkus was written off the show after the first season, makes an appearance as the father of Riley's friend Farkle (Corey Fogelmanis). It's hard to say why it's so good to see Mr. Feeny again — the show tweeted a photo of Daniels on set — but it just is.
Keeping with the family feel, it's come out during the promotion of the new show that most of the original cast — particularly Savage, Fishel, Strong, and Friedle — have remained friends since Boy Meets World ended in 2000. Even though most of the acting will be done by the new kids, Strong and Savage are each also taking a turn sitting in the director's chair on GMW.
The show can't live off of the nostalgia of parents alone. Blanchard's Riley and her BFF Maya (Sabrina Carpenter) have to connect with the normal Disney Channel audience, and really there's no way to predict whether or not that will happen. No matter whether the new show is a ratings success or not, fans of Boy Meets World will enjoy catching up with their old friends… and maybe share a few nice moments with their kids at the same time. As was the case the first time, having Cory and Topanga around makes television a nicer place.