Why Whitney Is Actually the Star of 'The Houstons: On Our Own'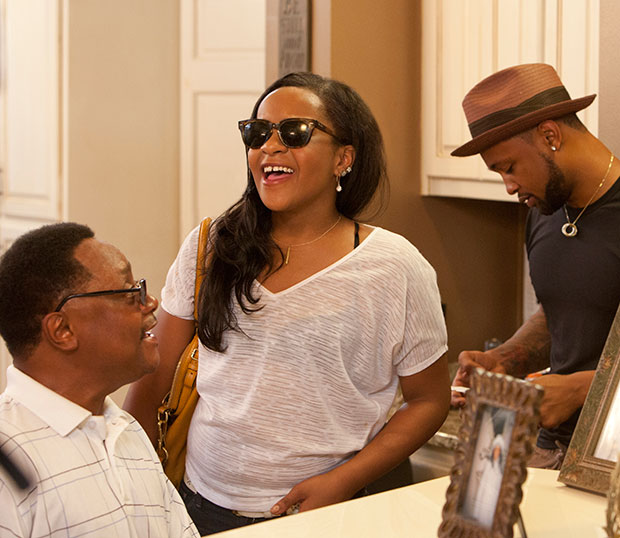 At the center of a great reality show is a great character. Whether they're profoundly honest, laughable, or just bats**t nuts, they end up making great TV because they can work the camera and transform their world around them into watchable drama.
That makes The Houstons: On Our Own one of the more bizarre reality experiments. The show follows the family of the late Whitney Houston: her brother Gary, her sister-in-law/manager Pat, their daughter Rayah, their mother Cissy, Bobbi Kristina, the daughter of Houston and Bobby Brown who moves in with Gary and Pat, and Bobbi's pseudo-brother/boyfriend Nick Gordon. Aside from Bobbi, who went on to become tabloid fodder in the wake of Houston's death, none of them are particularly famous, and as the show reveals, particularly interesting. Luckily, that's not a major hurdle, because there's one more character who keeps the show moving: Whitney Houston.
Houston died of from an accidental drowning in February of this year but she's the invisible star of The Houstons: On Our Own, part examination of a celebrity death's ripple effect, part mournful tribute, and part schadenfreude-filled character study of the musician's stardom-hungry daughter. In a family where every hand was on deck to serve Houston's career, it's not a surprise that the the gang can't stop talking about the singer, but that doesn't make it any less creepy, thanks the show's insistence on playing up the run-of-the-mill reality show drama over what really concerns the family after Houston's death. Here are the many ways The Houstons: On Our Own isn't actually about "The Houstons" so much as it is all about Whitney:
She's Front and Center in the Opening Credits
From the get go, it's obvious that Whitney Houston is the driving force of The Houstons. The title cards introduce us to the many Houstons, but it's Whitney who towers over them with blinding white glow. The odd arrangement screams, "know your place in the world, lesser Houstons."
A Trip to Whitney Houston's Grave
Wacky antics work wonders on reality shows, but how about grieving? The Houstons: On Our Own' first episode "White Roses" throws us into the lives of the Houstons at the peak of their mourning. Coinciding with the arrival of Bobbi to Gary and Pat's home, the whole gang has planned a wild outing to New York City! Where Whitney Houston is buried. A necessary confrontation on Bobbi's first Mother's Day without Whitney, but a bummer of a half hour television show.
The Are They/Aren't They Having an Incestuous Relationship Hook
As the overseer of all things Whitney, Pat can't help but worry about her newfound responsibilities as Bobbi's surrogate mother. Anyone would feel the same way if their new 19-year-old dependent declared over dinner that she and her best friend/potentially adopted brother were getting married, the case between Bobbi and Nick. Pat can't even begin to tackle Bobbi's emerging drinking problem because she's too grossed out by the too-close-for-comfort relationship. Most of the problem solving amounts of lamenting about Whitney not being around and how Pat could never take her place in Bobbi's life. Thankfully, Bobbi and Nick are aware that they're making everyone around them gag — if anything balances out the Whitney references in the episode, it's the couple's insistence that "everyone has [their] relationship screwed up."
Bobbi's Music Career
One prospect that lights up the eyes of everyone in the family is the potential for Bobbi to jump in the recording studio with cousin Damon Elliot (also in NYC for the family meet-up) and lay down some of her own tracks. Bobbi wants to escape her Mom's shadow, be an individual. She let's us loud and clear in a confessional. "Being Whitney Houston's daughter can put a lot of pressure on one person. I am here to prove to the world that I am my own person." Her own person… who is also Whitney Houston's daughter. Bobbi's ambition is music to the ears of Pat, who gives off the impression that the Houston could use someone to carry the banner (and keep them all employed).
Would The Houstons: On Our Own be any better if it didn't forcefully remind us every two seconds of Whitney Houston's untimely death and never-ending legacy? Probably not, but there may be a better direction to explore and one that previews of upcoming episodes don't hint at. Now if they get Bobby Brown to show up….
The Houstons: On Our Own airs tonight at 9 P.M. on Lifetime.
Follow Matt Patches on Twitter @misterpatches
[Photo Credit: Richard Knapp/Lifetime]
More:
Bobbi Kristina Brown Confirms Engagement to Adopted Brother — VIDEO
Bobby Brown Arrested for Another DUI