Why You Should Be Watching 'Switched at Birth'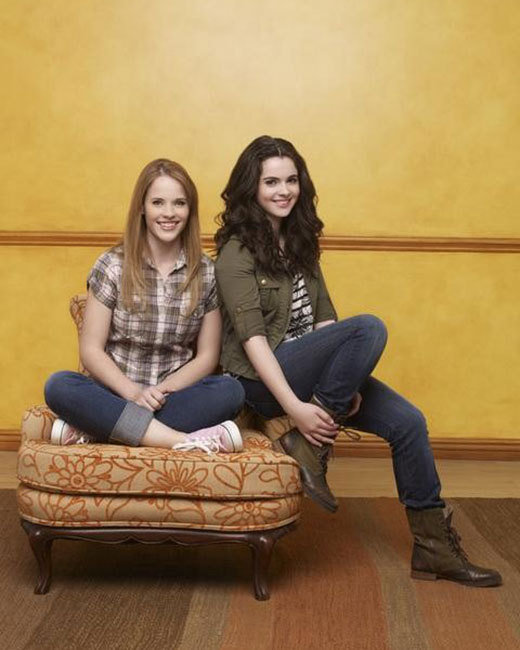 ABC Family
ABC Family has reinvented the teen drama series with shows like Pretty Little Liars and The Secret Life of the American Teenager.  (Although we're still wicked pissed that they canceled Amy Sherman-Palladino's wonderful Bunheads after only one season.) Teenagers have relationships, pregnancy scares, alcoholic beverages and it isn't all handled with "a very special episode." With the freedom to really go there, they are redefining the genre. Switched at Birth  is an amazing series that explores family and class issues and gives voice to the deaf community. Not bad for an hour-long series on a second-tier cable network.
Bay Kennish (Vanessa Marano) always felt different than her type-A parents, John (D.W. Moffett) and Kathryn (Lea Thompson). After getting a blood test, she finds out she's not genetically related to them and discovers she was switched at birth with another baby. Enter Daphne Vasquez (Katie Leclerc), who is not only the spitting image of her parents, she's also deaf. Her biological mother, Regina (Constance Marie), is an artist and free spirit just like her. Daphne and Regina decide to move in so that everyone can spend time together. Things quickly get tense with big revelations, class and race issues, and two families trying to reconnect with their lost child.
Sure the whole "switched at birth" thing sounds hokey but the series not only brings family drama. Lots of issues appear in the periphery. The Kennishes are a white, wealthy, Republican family. Regina is a Latina single mother from a poor side of town. Their culture clash plays out lots of what's happening politically. They have different ways of raising children and different opinions on hot-button topics. 
Switched at Birth  also exposes what life is like for deaf people and their family members. A lot of the cast communicate in American Sign Language (ASL) when communicating with Daphne or with each other. Leclerc, who can hear, gives a stellar performance as a deaf teen. The series also gives deaf actors a platform. Marlee Matlin plays mother to Emmett (Sean Berdy) a motorcycle-riding, drum-playing artist that just happens to be deaf. There are also quite a few additions to the cast that just so happen to be deaf. There was even an entire episode in ASL.
Switched at Birth  has all the drama you'd want from a teen show but it goes a few levels deeper to expose the experiences of the deaf community. It also manages to be entertaining without feeling preachy or like propaganda. It's definitely worth watching for the shocking reveals, family upheavals, with a nice side of social issues.
If you want to get caught up you can catch up on the first two seasons on Netflix.