Why You Should Be Watching 'The Fosters'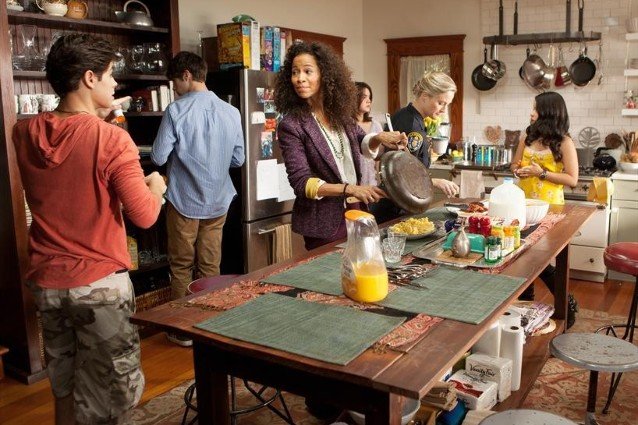 ABC Family
The Fosters is the latest in ABC Family's teen-oriented family dramas. ABC Family has strived to add more realism and positive representations of families and teenagers on shows like Switched at Birth and the suspense series Pretty Little Liars. The Fosters goes even further by showcasing a non-traditional family with multi-racial and LGBT family members. It also challenges previous representations of the foster system.
Callie Jacob (Maia Mitchell) gets out of juvenile hall and needs a place to stay. The foster system places her with Steff (Teri Polo) and Lena Foster (Sherri Saum). They are lesbian partners with three children of their own. They have adopted twins Jesus (Jake T. Austin) and Mariana (Cierra Ramirez). Steff also has a son, Brandon (David Lambert), from her previous marriage to Mike Foster (Danny Nucci). Tensions rise as Callie adjusts to her new surroundings and still tries to care for her brother Jude (Hayden Byerly). There's also tension when Steff and Mike are assigned to be partners on the police force.
Created by Brad Bredeweg and Peter Paige (Queer as Folk) and executive produced by Jennifer Lopez, this series is not only completely addictive but it's also heartfelt and emotional. Each episode explores the challenges of this non-traditional family, while still reaffirming their connection. Lena tells one of the children, "DNA doesn't make a family. Love does." This series is a testament to the unsung heroes in the foster system and the parents that adopt American orphans and children from broken homes. Most media representations focus on the horror stories but it's nice to believe that there are families offering homes to disenfranchised youth.
The series is also a great blend of positive representations of multiple ethnicities and sexualities. Lena is bi-racial and the series explores her racial identity and complex relationship with her mother. The two twins are Latino and have ties to their Latin heritage despite being adopted. The show also doesn't feel heavy handed in its portrayal of LGBT characters and storylines. Steff was married and had a son but she fell in love with her partner Lena and together they formed a family. The series explores her relationship with her parents and ex-husband. The series also introduces certain juvenile experimentation with the character of Jude. He tried on his mother's clothes, he wears nail polish, and he likes a boy at school. His parents on the show, as well as the show's writers, don't judge this or play this up. Instead, they just portray it as natural.
The Fosters  is inspiring. It brings together drama and heartfelt emotion while still maintaining a positive view of families and balanced and positive portrayals of ethnic and sexual minority groups. Luckily, episodes are available on Netflix and Hulu and the new season returns January 13.