Will 'How I Met Your Mother' End Nicely…or in A Nightmare?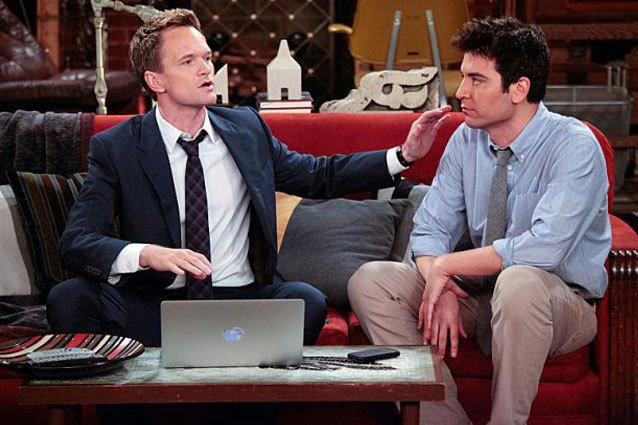 CBS 
The final season of How I Met Your Mother starts tonight (Monday Sept. 23) at 8 PM ET on CBS, and there's plenty of speculation about how the show ends. Here's five ways that it could culminate, both silly and serious.
"Bye, Mom"
The mom dies young. The thing that made me think of that possibility is that scene from last season where Ted is giving a preview of sorts of what is to come, getting punched by her ex-boyfriend and then he was standing in her doorway, so earnest and be said, "If I had known then what I know later, then I would have met you even earlier. We would have more time…" Remember, this is a show that LOVES suckerpunches. Yeah. Robin and her infertility? Carter Bays and Craig Thomas would be so gleeful to hit us with that, wouldn't they?
"When Kids Attack"
Picture Ted wrapping up the story to his future kids. They sit there slack-jawed for a minute. Suddenly the anger begins to crease their faces. "You mean to say you wasted 80 of our hours telling us lame stories that never led to meeting Mom and then THAT'S how you did it?" They pause for a minute and then the show ends with them both leaping toward the narrator, fists raised. The screen goes black and Ted can be heard howling, "No, kids! No!"
"You're Not Our Real Dad!" 
Yup. The Mosby kids are adopted! Ted married the mother, but she is infertile. So the two kids are not their biological children. So making them sit through all that might be construed as child abuse. Call CPS, kids!
"See Ya"
Ted is sitting there telling his children about how he met their mother. There will then be a spin-off about how the experienced such marital conflict that they could not go on, even with two young kids. She left them when they were young, so that is why he has to recap everything. Get ready for the spin-off: How I Dumped Your Mother. Of course Barney would get Ted a really good divorce lawyer. He's got a guy.
"Is This A Fairy Tale?"
After all this, maybe Ted does meet the woman of his dreams and winds up marrying her and living happily ever after. Sure, that's a possibility. There's also the possibility that Marshall or Lily might not butt their heads into Ted's business again. Seriously, though, maybe the producers of the show might get tired of yanking us around…Hah. Sure. Right. I would be pleasantly surprised if this was the course of action, though.
More:
When Actors Find Out About Shipping
Now That's What I Call Pharrell
The Final Two Episodes of 'Breaking Bad' Will Each Be 15 Minutes Longer
---
From Our Partners:


40 Most Revealing See-Through Red Carpet Looks (Vh1)


15 Stars Share Secrets of their Sex Lives (Celebuzz)