Will the Kardashians' Reality TV Dynasty Ever End?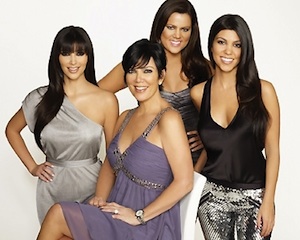 Shortly after the Kim Kardashian divorce debacle, there were calls to boycott her shows, and many people proclaimed that her family's fifteen minutes were finally coming to a close. Yet, despite the bad publicity, the family is more popular than ever. In fact, they've just inked a deal that secures their place as the most enduring reality TV family of all-time.
The family's new deal with E! includes orders for seasons seven, eight, and nine of Keeping Up With the Kardashians. The entire clan is covered, from Kim Kardashian to Kylie Jenner, and the agreement also extends the network's first-look deal with the family for any other reality projects.
While plenty of other families have made millions from airing their dirty laundry on television, the Kardashians are now in a class of their own. Though the Osbournes were massively popular during the first half of the last decade, they fizzled out after four seasons. In true Kardashian style, Newlyweds star Jessica Simpson managed to score a spinoff for her sister Ashlee Simpson, but together their shows only ran four seasons. Programs like The Simple Life, Kate Plus 8, and The Real Housewives of Orange County, all made it to five seasons or more, but conflict between the stars either led to cancelation or a new batch of costars.
It seems unlikely that the Kardashians will fall into these traps. For starters, there are too many of them. While Jessica Simpson and Nick Lachey's divorce meant no more Newlyweds, if Khloe and Lamar Odom split, Kourtney and Scott Disick can take over spinoff duties for a season. Plus, the Kardashians are pros at the reality TV game. They aren't going to break under the pressure of sudden fame like Jon and Kate Gosselin, and if the sisters ever got into a serious feud, Kris would get them back in line before they ripped the family apart. (A little sisterly rivalry is great, but you can't have stars who refuse to work together like Paris Hilton and Nicole Richie.)
Theoretically, the one thing that could end the Kardashians' reality TV reign is viewers losing interest, but there's no sign of that happening anytime soon. Though the Kardashians are America's favorite punching bag, the ratings don't reflect all the criticism in the media. Keeping Up With the Kardashians is E!'s highest-rated show of all time, and season six averaged more than 3 million total viewers. There's no sign of the family's popularity waning, so prepare yourself for Kim and Kanye Take New York, Kendall & Kylie: The College Years, and Kourtney & Scott's Elopement Special (the divorce backlash didn't amount to anything, but there's no way executives are taking a risk on another flashy Kardashian wedding special).
More:
Kim & Kanye: Let's Name Their (Non-Existent) Reality Show!
Kris Jenner Shares Naked Pregnancy Photo
Jon Hamm Calls Kim Kardashian 'Idiot': Hollywood's Favorite Punching Bag?
[Deadline]