Where Will Jay Leno's Fans Go If He Really Leaves NBC This Time?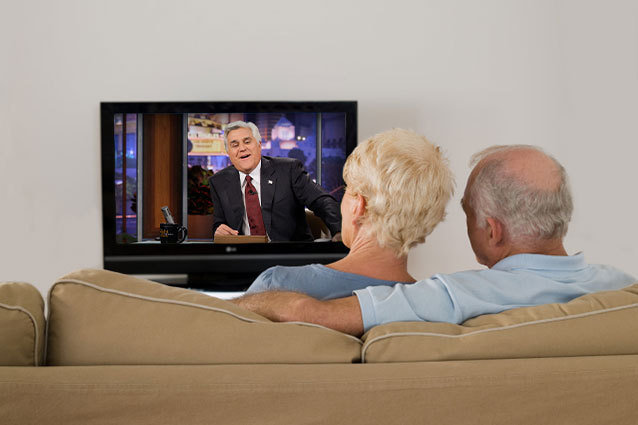 No matter what your feelings on Jay Leno may be (especially if you're current time slot rival Jimmy Kimmel), there's no denying that he's just as capable of stepping on toes as he is getting viewers to tune in to his show. Now with the rumblings that NBC is ready to boot the host (again) and replace him with a younger, hipper guy (again! … only this time it would be Jimmy Fallon), will Leno's faithful fans stick with The Tonight Show, go elsewhere, or tune out at 11:35 PM for good? 
RELATED: If Jimmy Fallon Replaces Jay Leno, Who Will Replace Fallon?
Even though Leno is biting the hand that feeds him by mocking the floundering NBC on an almost nightly basis, insiders are baffled as to why the network would dare get rid of him. As Tim Malloy over at The Wrap muses, Leno would be "the only one losing his job in late night — even though he's beating the guys who are keeping theirs."
Bill Gorman, the co-founder of television ratings website TV by the Numbers, broke down the current averages of the season to date for the late night shows and their respective hosts for Hollywood.com: 
– The Tonight Show, Leno: 0.8 adults 18-49 rating, 3.5 million total viewers
– The Late Show, Letterman:  0.7 adults 18-49 rating, 3.1 million total viewers
– Jimmy Kimmel Live, 0.7 adults 18-49 rating, 2.6 million total viewers (avg. since his show moved to 11:35 in January)
RELATED: Jimmy Fallon Jokes About Jay Leno Replacement Rumors
Meanwhile Leno's proposed replacement, Late Night host Fallon, who is on at the later 12:35 AM time slot, has a "0.5 rating, 1.7 million total viewers season to date." So where would Leno's devoted fans in the coveted 18-49 demo go? Will they move to rival David Letterman, who, like Leno, sways to an older crowd? Or will they abandon network TV for good and instead flip to cable for, say, The Daily Show or The Colbert Report? (As Gorman notes, "On a week to week basis, [Jon] Stewart and [Stephen] Colbert's shows are now pretty close to the broadcast shows among adults 18-49, but draw about half as many total viewers.") 
Michael Schneider of TV Guide Magazine, lends his expertise on the subject to Hollywood.com: "In this fragmented TV world, if Leno leaves The Tonight Show, his audience would likely be spread far and wide — it's unlikely one show would be the beneficiary."
"If Letterman outlasts Leno, he'd pick up some of those viewers. Some might stick around to check out Fallon or try Kimmel, but others will likely move on to news shows, syndicated repeats or even their DVR," Schneider adds. "If Arsenio [Hall]'s still on the air at that point (he launches this fall), he could very well pick up a chunk of Leno's audience. But in the end, once Leno's show goes away, his audience may choose another, powerfully seductive late-night competitor: Sleep."
RELATED: Jimmy Fallon to Replace Jay Leno, 'Tonight Show' to Return to New York
If you're a Leno fan, will you continue to tune into The Tonight Show or jump ship for good? Will you tune into the other late night programs? Let us know in the comments section!
[Photo Credit: Hollywood.com Illustration]
---
You Might Also Like:


Topanga's Revealing Lingerie Shoot: Hello '90s!


25 Stars Before They Were Famous