'Workaholics' Get Cuter, Weirder, Faster, Squishier in Season 3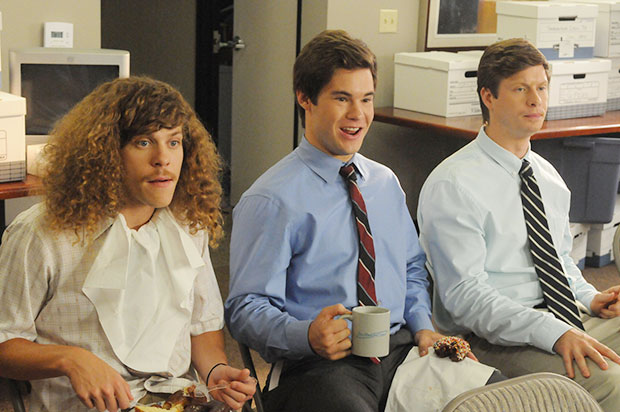 When Hollywood.com sat down with the stars and creators of Workaholics about the show's newest batch of episodes, things got weird. It wasn't entirely unexpected, considering that's the unofficial motto of their Comedy Central sitcom about three slacker telemarketers.
There was a Daniel Day Lewis impression, a strange metaphor about sauce and noodles and nuggets, a cameo from Dog the Bounty Hunter, a shout out to Hot Lips from M*A*S*H — and that's just the stuff we cut out. But between all the weirdness, Adam DeVine, Blake Anderson, Anders Holm, and Kyle Newacheck had a lot of very thoughtful things to say about their hit comedy. Here's what you need to know about Workaholics season three, part two, premiering Wednesday, Jan. 16 at 10 p.m. on Comedy Central.
How weird will these episodes be?
Blake:
The weirdest.
Adam: I'm done with weird. I'm saying strange.
Anders: Yeah, it's very strange. Home on the strange.
Blake: I haven't signed off on that yet, but I like it.
Kyle: We just started it but I'm on board.
Anders: I was done with weird anyways. I'm going with fantastic. 'Let's get fantastic! Let's get fantastic!'
Adam: It's my favorite season.
Blake: Weirdest season yet.
What are the jokes like?
Blake:
They're fast and weird.
Anders: They're bottle rockets coming at you at lighting speed.
Adam: Strike that. Cannons. Canons are faster than rockets.
Will the episodes look different at all?
Adam:
We're not changing much. If you like our show, you're going to continue to like our show. We're not trying to reinvent the wheel. Nobody's getting married, nobody's having kids.
Kyle: Nobody's got a girlfriend!
Adam: We still love how the show is. This is going to be 40 episodes — this next [batch of] 10 is going to make it 40 [total] — and that's not quite two seasons of a regular network show. We still feel like we have time to grow into those things and I'm sure we will down the line, but right now we're still having fun with these characters.
Blake: What's really weird, though, is if you didn't like the show and you start watching, you're going to really like it. If you already liked it, you're going to love it, but if you didn't like it, you're going to start liking it.
How is it more accessible?
Blake:
We just got cuter.
Adam: What happened to me is I gained a little weight so I could be more accessible to people. They're not like 'Oh my god, he's like a male model comedian, yuck, ugh.' It's like 'Oh, he's a little squishy, He's like me. He's accessible.' And girls are like 'Look how cuddly he is, ' just want to cuddle up in his neck fat and go to sleep.'
Did you shoot these episodes at the same time as the first half of the season?
Adam:
This year was pretty insane because we started Jan. 2, wrote 10, shot 10, took [time] off, wrote 10, shot 10, and then that was abut three weeks ago.
Kyle: And we do this for you guys. It isn't for us.
Blake: I would've liked to let my back heal.
Now that you have two more seasons, will you be taking more risks or making the story more serialized?
Adam:
People don't want to have to know what happened the week before [in comedy]. With our show you just want to have 22 minutes that is fun and fast with a lot of jokes and laugh and a good story and that's it.
Have you considered giving them a different job?
Adam:
Yeah, definitely. At the beginning we didn't know what we were going to do. Ders and I had done telemarketing before and thought that it was the worst dogs–t job you could have.
Anders: [I don't like] when shows get too involved in the job.
Adam: Yeah! You don't know what Murphy Brown did at the job.
Anders: She was a news anchor. It was all about the job. [Laughs]
Adam: [Laughs] Oh, I had no idea. I've actually never seen that show.
Anders: By the way, Candice Bergen can come on the show. She's still got it. She still looks great.
Who are your dream guest stars for seasons four and five?
Anders:
Daniel Day Lewis. Jamie Foxx. Christoph Waltz. Leonardo DiCaprio. Paul Walker. Channing Tatum. And Tatum O'Neal.
Adam: We're trying to get anyone that hasn't done TV before. if you're a movie star and don't want to do TV or do comedy, we want you. Come on down. Just flop in the mud with us.
Workaholics airs Wednesday nights at 10 p.m. on Comedy Central.
Follow Jean on Twitter @hijean
[PHOTO CREDIT: Comedy Central]
More:
'Workaholics' Seasons 4 and 5, 'Drunk History' Headed to Comedy Central
Comedy Central Roasts Roseanne Barr
Rebel Wilson and Adam DeVine Plan the Sexy Sequel to 'Pitch Perfect'

Craziest Celebrity Swimsuits (Celebuzz)