'Workaholics' Seasons 4 and 5, 'Drunk History' Headed to Comedy Central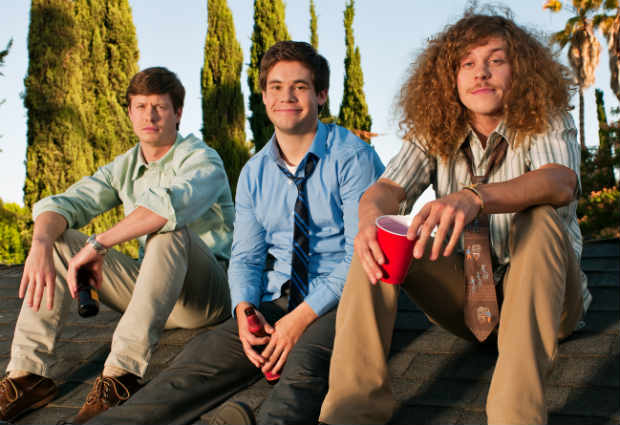 Comedy Central is getting weird for at least two more years. At the network's session during the Television Critics Association winter press tour, Kent Alterman, the Head of Original Programming and Production for Comedy Central announced that it has picked up comedy hit Workaholics for seasons four and five.
"When I realized Workaholics is not a reality show, it made me appreciate the guys' talent that much more. It only seems right that we would renew for two seasons," Alterman said.
After the news broke, co-creator, co-writer, director, and sometime-star Kyle Newacheck told Hollywood.com that although it's a great feeling knowing that they're getting two more years, they won't be changing their formula at all. "I think we're just going to keep doing it how we do it," he said.
Seasons 4 and 5 will consist of 13 episodes each. The second half of Season 3 premieres Wednesday, Jan. 16 at 10 p.m. on Comedy Central.
Additionally, Alterman announced that Comedy Central had ordered eight episodes of a new show called Drunk History, based on the popular Funny or Die series that features famous stars (including the likes of Ryan Gosling, Will Ferrell, Michael Cera) reenacting versions of historical events as told by drunk narrators. 
Follow Jean on Twitter @hijean
[Photo credit: Matt Hoyle]
More:
TCA: Al Pacino on Taking on 'Phil Spector'
TCA: Matt Damon and Michael Douglas Say 'Behind the Candelabra' Will Respect Liberace's Legacy
TCA: Carlton Cuse Talks 'Psycho' Prequel 'Bates Motel'

20 Hottest Bikini Bodies of 2012: Katy Perry, Miley and More!