'X Factor' Adds Britney And Demi: Why It Could Work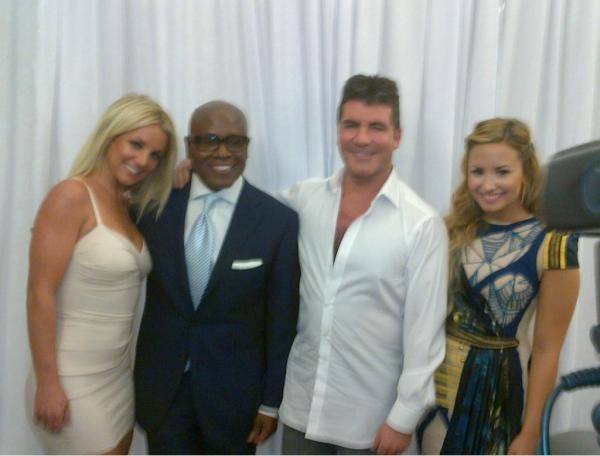 When Fox announced that Paula Abdul, Nicole Scherzinger, and host Steve Jones were leaving The X Factor last January, my entire system went into shock. See, it may not say this on my resume, but I am Hollywood.com's official X Factor expert. Having survived last season's bootcamp, almost every live show, and several instances of Stacy Francis-induced auditory-rape, I now proudly display my X Factor PhD above my cat pictures as a badge of courage. The show was an absolute mess, but I loved it that way — and eliminating its three craziest elements, I feared, would ruin the fun forever.
With Jones gone, who would be there to awkwardly thank the show's "sexy dancing people?" Without Scherzinger, would I ever hear inane, poetic "judging" comments like "If that song doesn't save a small country somewhere, I don't know WHAT will," or "Your spirit transcends across the universe" again? Devastated, I was ready to put a giant "X" on the show for the upcoming fall TV season.
But, lo and behold, Simon Cowell's decision was ultimately for the best — because the show is about to get infinitely more interesting. Earlier this month, my talented colleague Brian Moylan argued that taking the rumored $15-million X Factor deal would be a horrible decision for Britney Spears, who isn't exactly known for her ability to form cohesive thoughts on the fly. But now that Spears and Demi Lovato have officially signed on, I have to respectfully disagree — these four judges together have the potential to make television miracles happen. As the always-humble L.A. Reid says, they're going to be the "Rolls Royce of reality TV."
The main problem with Abdul and Scherzinger last season wasn't that they were boring (which they were) — it was their complete inability to actually JUDGE the contestants. Remember when Scherzinger tearfully refused to send Marcus Canty home over the vastly superior Rachel Crow, sending the vote to a "deadlock" that ultimately sent Crow packing? That's not going to happen this year. Why? Well, first because the show took so much heat for it last year, but also because Demi Lovato is freaking tough. We're talking about a girl who, as a teenager, punched a back-up dancer in the face, successfully completed rehab in the embarrassing light of the public eye, and ultimately ended up better from it. She has since opened up about her struggles with bulimia and self-injury, proving that she isn't afraid to be bold, and now she has the chance to verbally punch performers in the face without consequences. Demi is not going to back down from that challenge. And even though she's very young, and filling a slot that could potentially have been taken by Whitney Houston, it doesn't take a Mozart to judge pop singers on a live talent competition. I mean, I know next to nothing about music, and I did it from my seat twice a week. 
Then there is Spears, who, in Moylan's words, is set to fill the Abdul role of the "faded pop star who says nice but completely idiotic things about the singers on the show." This may be true, but Spears' comments will be a treat for the fans either way — and they shouldn't hurt her career. If she takes the Abdul/Scherzinger route of half-assing it and never saying anything negative ever, she'll at least have three other judges to round things out, and Spears has an uncanny ability to make dumb statements sound cute and funny. Also, her entire team of life mentors, psychics, publicists and handlers will be coaching her on this for the next several months, so when the time comes for live shows, I highly doubt she'll be slurring her words in a prescription drug-addled haze like Abdul always seemed to be doing. Spears already conquered the difficult task of winning us over with last summer's new and improved comeback tour, so the masterminds running the Britney machine will do everything in their power to prevent her from taking another tumble. Plus, I'd put money on the fact that they'll keep her away from those who could hurt her reputation the most: The Press. All four judges spoke to the press after the shows last year, but something tells me that Spears' contract will eliminate this responsibility. 
But there's another very important factor that could make Spears go the other way — her old Mickey Mouse Club rival, Christina Aguilera. Aguilera kills it with her "tell it like it is" judging style on The X Factor's infinitely superior rival, The Voice, and she's even taken a stab or two at Britney. Cowell and Reid have not been shy about the fact that they think they can rival The Voice with a better judging panel, and Spears will undoubtedly feel the pressure to live up to Aguilera's standards — something she's been doing quite well since approximately 1999. Xtina is a talented, opinionated judge who is very tough to beat, but things could get very interesting if Spears even cares enough to try. Make someone cry, Britney!
Finally, both Spears and Lovato will receive larger-than-life paychecks for their judging gigs, which should tie up a hefty portion of The X Factor's budget — and they still haven't hired a new host. I know that this is wishful thinking, but hear me out: Simon, could you pretty please bring Steve Jones back for another season? He'll do it for minimum wage. Thanksgiving.
Read Shaunna's inane X Factor tweets at @HWShaunna
More:
Britney Spears, Demi Lovato Sign 'X Factor' Deal
Dear Britney: Doing 'The X Factor' Is a Really Bad Idea