'X Factor' Premiere: It's Britney, [And She's Kind Of A] Bitch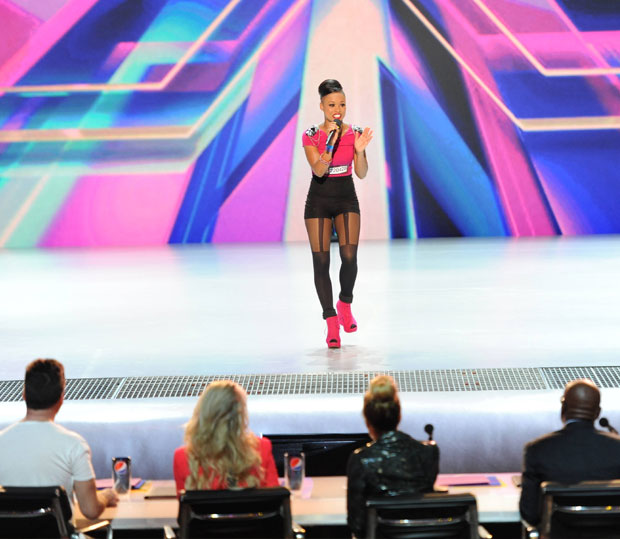 I don't know if the last nine months has been nearly enough time for me to recover from the severe physical and mental damage I suffered covering season one of The X Factor, but, well, here we are. And, much like how last season began with a literal high note — from future Nicole Scherzinger bullying victim Rachel Crow —  this year we kicked things off in Austin with Paige Thomas, a young single mom slash successful wearer of hot pants who brought the house down with her rendition of X Factor staple "I'm Going Down." Even before she sang we knew she was going to get through, because introducing a 21-year-old mother and her daughter to the world only to humiliate them on national television is already MTV's thing.
But let's back it up, because Britney Spears is on this show. Ever since Britney's contract was finalized eons ago, the modern television academia has found much delight in the endless debate surrounding her mental state on this show — because Britney has not participated in an interview or anything "live" without her dedicated team of parental units, world famous linguists, and Ivy League interns since she shaved her head in 2007. For Breaking Bad's Walter White, the head-shave has always symbolized some sort of rebirth: At first it was a mental disguise, a look he could sport while he made his brief foray into the meth world. The man had (has?) terminal cancer, and as long as he was still bald, he (and we) could remember that everything he did was for the betterment of his family, after his death. Now, it's how he makes himself Heisenberg again and again and again. 
For Britney, the head-shave is a symbol of death. It wasn't her marriage and subsequent divorce to Kevin Federline, or even her stint in rehab, that murdered her America's sweetheart public persona — it was the image of a lost, dead-eyed girl in a Sherman Oaks tattoo parlor that finally made us realize that she needed help. Then, of course, there was the failed MTV Video Music Awards comeback performance, the hospitalization, and the conservatorship granted to her father, James. After James took the reins, things got better. Her tour last summer was a success, she's maintained a seemingly healthy relationship, and she's kept herself out of the public eye as much as possible. The few interviews she has agreed to have been painstakingly rehearsed, and for a while it seemed that while Britney was physically back, the woman inside would forever be hidden behind a thick veil of public image professionals and Wellbutrin.
Then, she accepted a $15 million contract to appear on X Factor. (Mostly) live. Unrehearsed. For an audience of millions. She'd have to be clever without help; she'd have to dole out off-the-cuff criticism without advice from her trained monkeys. Even worse, she'd have to reach the sky-high bar set by her lifelong "rival" Christina Aguilera, whose larger-than-life personality was killing it over on The Voice. The stakes were huge, and I think it's safe to say that the pop culture loving majority didn't think she could actually do it. But tonight, she told the pop culture loving majority to go f*** themselves.
Next: Lambs for the slaughter
It's Britney, bitch. Everyone's favorite smug bastard Simon Cowell can sleep pretty tonight, because Britney did exactly what she needed to do. She wasn't as vampy as XTina or as naturally charismatic as the show's other newcomer, Demi Lovato, but she took on the immense pressure with humor, grace, and a healthy heap of much-needed nastiness. Last year's fired "judges" Scherzinger and Paula Abdul spewed out nothing but fluffy teddy bear love for the show's contestants, and it was boring. Britney was incisive, and definitely not afraid to tell someone that they would never make the cut. Which, finally, brings us back to the show!
Cowell is yet to hire a host, so, in addition to two new judges, tonight also brought a new format — instead of third-party host narration, we were treated to more of a behind-the-scenes look at contestant-dom. It wasn't anything revolutionary, but it did offer a peek at the cattiness that goes on backstage. Arguably, tonight's biggest laughs came from 22-year-old bank teller Kaci Newton, who is basically a younger, sadder, and more Texas version of Amy Poehler's character from Mean Girls. Kaci brought her almost identical in appearance, and completely identical in horrendous-ness, older sister Kaylee along for the ride. "Did you see she [single mom Paige Thomas] has a big run in her pantyhose?" Kaylee snarked  "Ewwwww," Kaci replied. Ew, indeed. These girls aren't getting through. But kudos to X Factor, because everyone loves to hate on skinny blonde girls. Especially skinny blonde girls who are astonishingly stupid, and claim to be a mix of Carrie Underwood and Adele.
After Thomas got through, Kaci and Kaylee — the forgotten Kardashians — discussed Kaci's chances. "Yeah, well, you're pretty," Kaylee said, after her sister expressed a smidgen of doubt. "Not all are pretty," Kaci mused, thoughtfully. "Not in this room." 
Kaci was right — the next performance was not very pretty. 50-year-old Shawn Armenta, of the Phoenix Armentas, came to the stage armed with his discman (!!) and 18 months worth of daily practice. His original song "Candy Girl" was supposedly about the kind of girl you'd meet at your local bar, but it was really about the plight of the middle-aged, lower middle class embarrassing drunk dad in American society. I have a friend whose artsy, hipster dad came home one day with a random motorcycle and full-on leather attire, and that humiliating family incident was basically a microcosm of what we saw on X Factor tonight. He managed to verbally insult Demi Lovato and mentally scar his entire audience before Britney laid down some truth bombs: "I want to know who let you on stage. I feel uncomfortable with you even staring at me." BOOM. 
Next, we were treated to a montage of [It's] Britney [bitch] smack-downs:  "I thought it was just kind of bad." "The singing came in, and it wasn't very nice." "You're like Vanilla Ice meets Lauryn Hill meets West Side Story." See, guys? Britney can be mean, just like the rest of us. But she showed her non-Toxic side to the next featured contestant, 13-year-old Justin Bieber lookalike Reed Deming, who currently has my vote for "most likely to suffer a complete emotional breakdown" when he eventually doesn't win. Like, I'm sorry, but if the kid is already talking about panic and anxiety getting the best of him at 13, then maybe he shouldn't be doing this show. But he did well, and got through. So it goes.
After Demi told Simon that she wouldn't be dating for an entire year for her own well-being (been there, girl), future self-proclaimed legend slash former GCB extra Kaci took the stage. She sang Katy Perry's "Firework" and it was unsurprisingly awful, but the best part of the whole thing was how insulted Britney looked when Simon said Kaci reminded him of her when she walked onstage. Before she even started singing. That's how instantly grating this girl is. "If you were dying and suffering and singing, I think that's what it would sound like," Simon said when she was through. The dream was over. 
Next:  Was the dream really over? Yes it was. Or was it?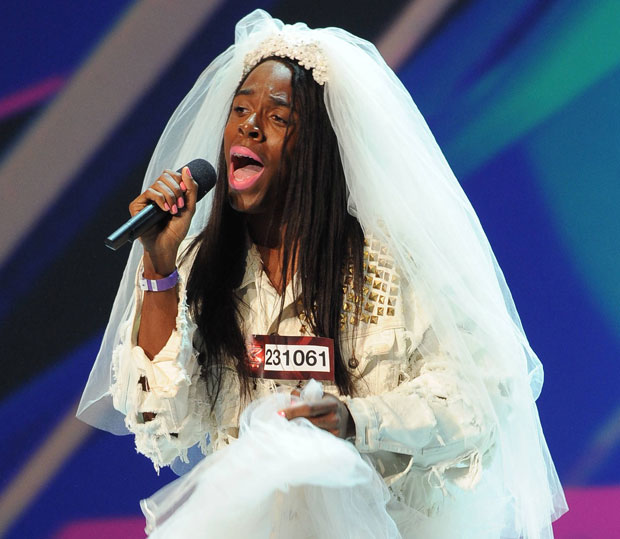 Yes, it was. Because then they left Austin and went to San Francisco, that Northern California city that everyone says is great but I personally don't really care for. But I loved San Francisco tonight, because Britney wore her smart person glasses and she looked amazing. There, we met Quatrele Da'an Smith, a cake decorator (ASIDE: Totally this season's burrito-maker) and drag-enthusiast who charmed the pants off of everyone but L.A. Reid with his rendition of Lady Gaga's "Born This Way." Simon decided to "embrace the madness" and let Smith through, but I wouldn't count on him making it past the Hollywood round, or whatever they call that on X Factor. 
Then there was that skater-B0I group Emblem3. They look like all of the Santa Monica high school skater boys I almost hit with my car every morning before work, so I immediately didn't trust them. I don't want that s*** on my conscience. But their original song, "Sunset Boulevard" (barf) was pretty good, and the inexperienced trio was able to humiliate 22-year-old actor/former boy-band member Vincent Thomas just by being way, way better than him. ("You know there used to be boy bands, years ago, and there were five of them, and there was always one who didn't sing?" Simon said to Thomas. "That's you.") Their song was no "Young Homie," but with some fine-tuning they could actually be a pretty decent act. I know, right? "I don't like you… I LOVE you!" L.A. said. You guys, L.A. Reid is the best judge on TV.
Next came the moment everyone will be talking about on Thursday: Britney's painfully awkward run-in with her former duet partner, 32-year-old Don Philip. Philip recorded a duet on Brit's debut album over a decade ago, but then he left the business because he didn't feel good enough, or something. He looks a bit meth-y, like he could have been this season's Chris Rene, and he honestly seems really, really sad. Right away, we all want him to do well. It was refreshing when — unlike XTina, who didn't recognize her former Mouseketeer Tony Lucca on The Voice last year — Britney recognized him right away, and seemed happy to see him.
But then Philip sang, and it was heartbreakingly average. Britney looked like a depressed deer in headlights when Simon told him he didn't have a good singing voice, but she was forced to give comment: "I feel like through the years, maybe you've gone through a lot of hardships and battles," she said. "But your voice really isn't up to par with the standards of The X Factor, and what we want." Britney and Philip were both horrified, and producers mercifully showed us the latter's extreme, humiliating send-off as he left the stage, crying to his friend because he disappointed his former duet partner. "Did you see Britney's eyes?" he sobbed. "My God. I saw her face and I feel like I've hurt her." It was terrible. See their duet below, to reminisce on what could have been:
Next: Sad and perky teens make Providence a hit!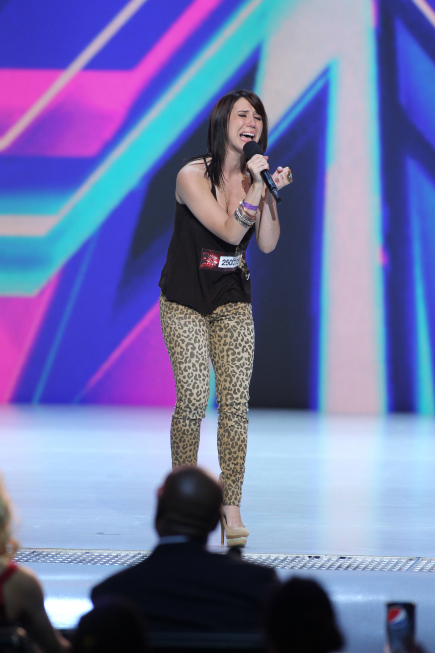 Finally we landed in Providence, where the 18-year-old peppy (probable) Gleek Jennel Garcia stunned with her version of "Paris (Ooh La La)." It was fun, sexy, energetic, and one of the evening's few vocal highlights. Good for her.
Next came 19-year-old Jillian Jensen, who happened to hail from the same town as Garcia — Rochester, Mass. We knew she was the underdog to root for when she told Lovato that she had the same "Stay Strong" tattoo as the notoriously troubled star, who was a victim of bullying throughout her teen years (been there, girl). "We're both up here," Lovato said. "The bullies that bullied us — they're at home watching us on TV." Boom! But, also, unimportant. I don't exactly have a psychology degree, but I hope that Jensen can find peace and closure in her life without the glitzy aid of a televised talent competition. But hey — this is just me, speaking from experience. 
Jensen was crying throughout her entire performance — she sang Jessie J's "Who You Are" — but her bold and raspy voice made the raw emotion powerful, not distracting. Lovato ran onstage to give her a long, Buster Bluth hug after she sang, and even Simon shed a tear. (Well, he at least pretended to. That counts for something.) Naturally Jensen moved on, and I imagine we'll be seeing a lot more from her in the very near future.
Well, there you have it — the long-awaited premiere of The X Factor. Were you happy with the re-vamped format? Did you like the new judges? Is Britney finally back? Sound off in the comments!
Follow Shaunna on Twitter @HWShaunna
[PHOTO CREDITS: FOX]
MORE:
Five Things You Need To Know About The 'X Factor' Premiere
New 'X Factor' Judges Britney Spears, Demi Lovato Show Their Teeth