'X Factor' Recap: Babies, Babies, Babies… Oh, and Old People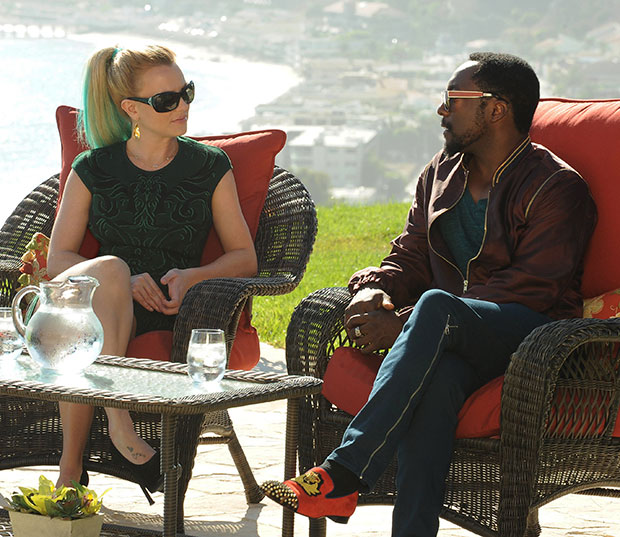 This! Is! Not American Idol. So why am I here? What could I possibly be doing functioning in recap form without Coke cups (Wha?! Pepsi? Aw, remember this?) and utterly predictable song choices involving hits from artists whose names rhyme with Fitney Blouston (Oh wait!)? Filling in for your vacationing X Factor recapper, Shaunna Murphy, that's what!
But never fear — we're in this together folks. And prior to seeing the episode, I thought we would go through this like Simon Cowell got through Season 9: Slowly and begrudgingly. Because unlike your dear Shaunna, I am somewhat new to the X Factor train, which, from what I know, rides you straight past our judges "homes," into a Pepsi commercial, and straight out onto the Island of Forgotten Misfit Reality Stars. But this season is different! This season we have bright-eyed promise, Britney Spears, and, of course, Canadian wonder Justin Bieber. So what's all the fuss aboot? Let's get into it!
As screaming host man made clear during his voiceovers (nope, Dunkleman is still worse), on Wednesday night, our judges were handed their teams. And first up tonight was L.A. Reid's group of youthful twenty and thirtysomethings. Oh wait, did I say youthful twenty and thirtysomethings? I meant slowly decaying corpses. At least if you ask L.A., a man who passes much judgment despite a friendship with a man named Scooter. (Did he learn nothing from Valerie?) Yes, the big news was the Biebes and his manager, Scooter Braun, were on tap to coolly bop their heads and say insightful things like, "They have to give it their all," "He has a good voice," and "She was singing, eh?" Let's roll through L.A.'s lineup of moving carcasses:
Jason Brock: "Big Girls Don't Cry," by Fergie: The former misfit delivered an impassioned — if a bit overstated — performance of the hit single. The judges, however, seemed unimpressed until Bieber perked up halfway through the song, possibly simply identifying with the lyrics, "I'm gonna miss you like a child misses their blanket." Poor Bieber blanket. All alone. It was a decent performance that would have affected me more if Jason's speaking voice didn't sound like he was constantly stumbling out of a Watch What Happens Live taping after too many cocktails.
David Correy: "Domino," by Jessie J: The man who chose the most complicated method possible to reconnect with his birth mother delivered a strong performance of the Jessie J single. Negative points, however, for pointing at the skyline while singing about the "Hollywood stars." 1999 called, and Backstreet Boys want their moves back.
Daryl Black: "She's Gone," Hall & Oates: I agreed with Bieber here when he essentially stated that Daryl was, in fact, a human who made noises from his mouth. Sorry, Daryl — you were as forgettable as Johnny Mnemonic. Oh, Canada.
Tate Stevens: "One," Brian McKnight: X Factor's resident cowboy may be unique, but his vocal chops need plenty of work to be fit for a $5 million prize. But, lucky for him, this isn't a singing competition, silly! It's a package competition. And when you have Bieber rooting for you, you know you're the Toronto Maple Leafs. Or you have a leg up in the competition. Bonus points to Tate, however, for singing "One" on 10/11/12, a day dedicated to the art of counting.
Vino Alan: "Sober," Pink: I wanted to like Vino after hearing his horrific backstory, but, unfortunately, if I wasn't sober, I'd swear he was the seventh member of Crazy Town.
Tara Simon: "The Reason," Hoobastank: You know that girl back in drama club who only loved the Rent soundtrack more than the spotlight? That was Tara, a vocal coach who claimed in the course of 60 seconds, "I feel like I will win the whole thing," "I've always been a star — people have just now caught onto it," and "I want to be America's darling." Typically, however, darlings don't use the meat cleaver that is their voice to murder a song that was already a bloody mess. Then to clinch the whole audition with, "Thank you, Jesus." Well, there's "The Reason" to show yourself straight out of L.A.'s door.
Following the ghoulish sight of people who have outlived puberty, it was time to move on to Britney Spears' group of teens, guest mentored by will.i.am. And we finally learned why the Black Eyed Peas singer gave himself the nickname — as a reminder that he is Will, and not a series of objects and things he associates with people. "She's like a caterpillar … he's like a used hairbrush … she's like that plastic thing that sits in the center of delivery pizza … he's like lamp. I love lamp!"
Meanwhile, the children sat waiting for their turn to sing, "joking" about "fighting to the death." You see, they're all competing against one another, but no, they really aren't, because they're all in the same boat and care for each other, but no, they're really competing and they all better watch out, cue teenage eye rolls, and BAM! At least two of these girls suddenly became emotionally damaged. Hooray for child stardom! Ready for precociousness?
Diamond White: "I'm With You," Avril Lavigne: Funny how the episode didn't hit its stride until the introduction of this young teen, who managed to deliver a beautiful rendition of a hit that's a song version of hangnails. Plus, Diamond is adorable, sparkling, and ripe for plenty of jewelry puns. A writer's dream.
Reed Deming: "Hey There Delilah," Plain White Ts: Remember Idol's Eben Franckewitz? Short, tiny, poised? Extinguished "Set Fire to the Rain" until it was a heap of semifinal rubble? Well, Reed was like a slightly more talented and robotic version of Eben. And, I have to admit, I dug it, despite wondering what will happen when his voice eventually changes. (Ohpleaseohpleaseohpleaseohplease on the live X Factor stage!) will.i.am labeled Reed "The Emperor," which makes me wonder why he's imagining Reed without clothes and oh my god does this mean I am too? Do I have to report myself to my neighbors?
James Tanner: "Party Like a Rock Star," Shop Boyz: This child raps. It's adorable. But, sorry, James — you're about as gansta as Eminem is a Southern Belle. Next.
Arin Ray: "Starships," Nicki Minaj: The boy formerly known as an inTENsity group member irritated me for two reasons: 1) The unwillingness to take responsibility for his Season 1 failure, claiming that now he doesn't "have to rely on anyone," and 2) Being part of a group with unnecessary caps that my computer autocorrects, forcing me to go back and reformat my text. That said, Britney liked his stripped down version of the hit, meaning my wish to see him escape to the island over overly complex titles — ruled by President HawtoRNe — will likely go ungranted.
Beatrice Miller: "Titanium," David Guetta: Beatrice is like a baby, 2010s version of Fiona Apple: She has a mad cool voice, is incredibly artistic, and is an emotional loose cannon. The young singer almost crumbled under the pressure of having to perform in front of Britney, giving us uncomfortable Season 1 Rachel Crow feelings. Still, she pulled through with an excellent, unique performance of Guetta's hit. Britney, however, might not think she's emotionally ready. But if they cut you, Beatrice, just remember: This X Factor is bulls**t.
Carly Rose Sonenclar: "Brokenhearted," Karmin: Beatrice's biggest competition, however, is teen frontrunner Sonenclar, who boasts a voice so mature, I think it just purchased a fine Malbec. Smooth, silky, and absolutely refined — is there any beating her at this stage? Word to the wise: Stay away from the Cornucopia, Carly.
What did you think of the episode? Which eight will advance to the live shows? Were you as disappointed as I was that the ho-hum "Overs" proved L.A.'s first instincts right? Did you feel like checking yourself into a retirement home every time the teens said they've been working towards this their whole. Entire. Life? And are you, too, disappointed that we were treated to no pool-centric slapstick at Britney's home? How did no one fall in?!
[Image Credit: FOX]
More:
The X Factor Recap: Groups and Young Adults Get Judged
The X Factor Bootcamp Recap: Battle Round
The X Factor Bootcamp Recap: CeCe Frey and a Ballad of Broken Dreams