X Factor Recap: Thanks(giving), But No Thanks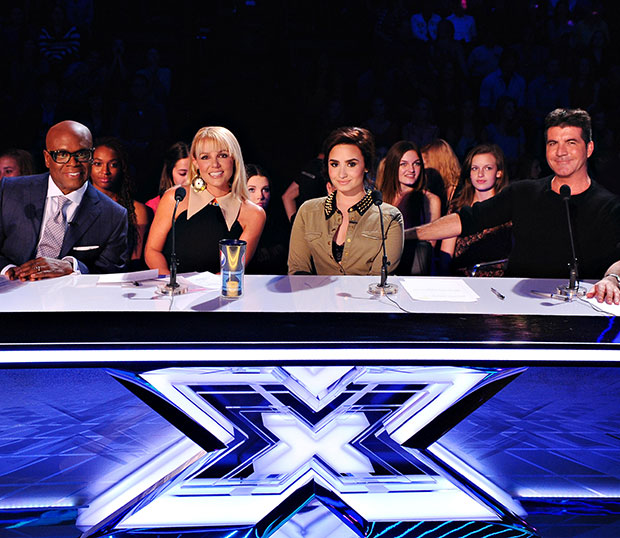 The reality TV cornucopia has been lacking one key ingredient this Thanksgiving week: mercy. First, Dancing With the Stars: All-Stars eliminated two of its contestants, Apolo Ohno and Emmitt Smith, both previous champions and bearers of the mirror-ball trophy. Then The X Factor followed suit with a double elimination of its own last night. No American Idol-style reprieve for these contestants! Anyway, I, for one, think the sweet saltiness of tears is the perfect seasoning to a Thanksgiving dinner. Don't you agree?
It wasn't all bitterness, though, Thursday night. The show partnered with Best Buy to give the tuneful kids of Bancroft Middle School a new music room. A new music room that looked exactly like the kind of place Mr. Schuester would set up shop. As a non-diva, my reaction to this, if I were a student at Bancroft, would have been quite like that of the Greendale Seven in Community's brilliant Glee takedown last year, "Regional Holiday Music." The addition of this glossy music room is more likely to cultivate ego than a love of music, and I'd personally see this as the first stage of an insidious takeover plot by vocally-adrenalized pod-people in sweater vests. First, they'd conquer Bancroft. Then, X Factor! All my fears came true as the Bancroft choir then proceeded to sing Coldplay's "Fix You," accompanied by the Top 10. Scratch my earlier comment. It was all bitterness, Thursday night.
The results weren't terribly surprising, though. Probably the most shocking thing was that Tate Stevens, the deep-throated, Trace Adkins-style country drawler, didn't finish in the No. 1 spot. Top honors actually went to Carly Rose Sonenclar. The rest of the rankings were as expected: Diamond White, Vino Alan, Fifth Harmony, and Emblem 3 all got sent through. Paige Thomas, who last week sang for her reality-show life against Jennel Garcia in the bottom two, finished sixth, well out of harm's way.
Last night's guest performer was British X Factor alumna–and all-around cutie–Cher Lloyd. Watching the fourth-place finisher from the seventh U.K. cycle sparkle her way across the stage, it was hard to imagine any of the remaining X Factor finalists following in her perfectly confectionary, pre-packaged footsteps. Agree?
Anyway, there were a couple turkeys to ax on this Thanksgiving night.Arin Ray, the two-time X Factor contestant who last season vocalized with the group InTENsity, was the first to get the boot. Britney Spears, Arin's mentor, told the 18-year-old to look at his time on the show as a "learning experience." Believe me, I'm sure he's plotting exactly how he'll win it all on his third appearance on X Factor next year. Anyone want to place bets on the name of Arin's next group? DiVERSEity, perhaps? Where the misspelling is intended to be charming rather than annoying? Or maybe MusiCALity, to try to get the California vote?
As for the singing showdown, 13-year-old Beatrice Miller square off against sing-off mainstay CeCe Frey. Frey totally nailed it with Kelly Clarkson's "Because of You." Miller, however, has been heading toward collapse for awhile now. First of all, last week she had to sing Cyndi Lauper's "Time After Time," which just didn't seem to click for her. If you ask me, she'd probably never even heard of Lauper before appearing on this show. Then on Wednesday, she took on Snow Patrol's "Chasing Cars." No one associated with Snow Patrol can, or will, win anything. Ever. And for her duel with Frey, she sang Dido's "White Flag," which proved prophetic. Miller got the boot, with all but her mentor Britney voting for her ouster.
The 13-year-old Miller was visibly shaken and her monosyllabic reply to Khloe Kardashian's concerned "Are you okay?" said it all: "No." But she's young! There are so many more singing competitions she can try out for.
Here are your Top 8:
1. Carly Rose Sonenclar
2. Tate Stevens
3. Vino Alan
4. Emblem3
5. Diamond White
6. Paige Thomas
7. Fifth Harmony
8. CeCe Frey
Thankful for the results Thanksgiving Night?
Follow Christian Blauvelt on Twitter @Ctblauvelt
[Photo Credit: Ray Mickshaw/FOX]
More:
'X Factor' Recap: Let's Give Thanks
'X Factor' Contestants Emblem3, Jason Brock, and More Discuss Dating, Homophobia, and Demi

Jennifer Lawrence Bikinis in Hawaii (PICS)

Best and Worst of the Thanksgiving Parade