'X Factor' Scoop: Simon Cowell Compares Eliminated Diamond White to Jennifer Hudson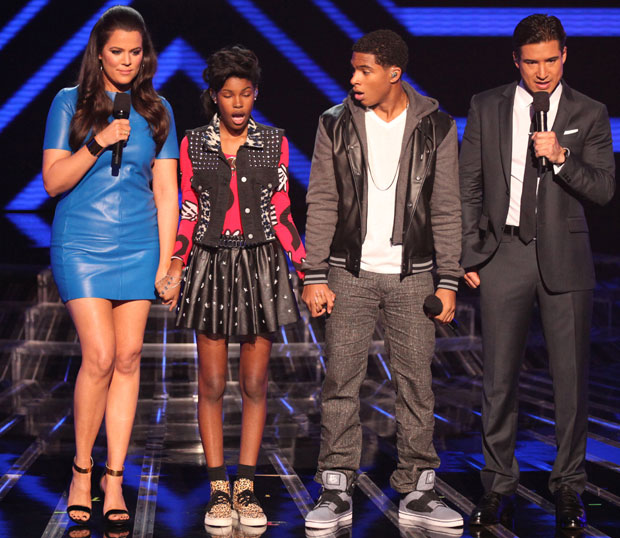 This week, The X Factor judges took their rightful seats at the front of the stage, ready to critique, criticize, and compliment the top 16 performers — only this time it was live. (Cue the applause!) After sitting through the good, the bad and what seemed to be an endless amount of fog, it was time for the first four to go home. (Find out who got the boot right here!). Three not-so-shocking eliminations and one "What the hell were you thinking, Britney?!" later, Hollywood.com headed backstage to catch up with the judges, hosts and the recently Xed contestants to bring you all the inside scoop on the over-the-top, but oh-so fun singing competition.
On Thursday night, Britney Spears created her own teen version of a double edged sword by pitting soon-to-be heartthrob Arin Ray against the tremendously talented Diamond White. L.A. Reid summed it up best: "That was the toughest call of the night, in my opinion. That was a very, very special voice, versus a really handsome and charismatic guy, and the room was screaming for this guy, girls were screaming for him So it was like mania versus a really special talent." At the end of the neck-and-neck sing-for-survival segment, Spears decided to save 16-year-old Ray.
The princess of pop describes sending the 13-year-old starlet home as "dreadful." Spears explained, "I love Diamond, but one had to go. So, you had to make that decision, and it's really tough, because they are just so incredibly talented. She has such an amazing voice at such a young age, and it's really hard to do that." While many fans were baffled at Spears' ruling, (one journalist exclaimed, "This is why Britney should not be allowed to make her own decisions!") the X Factor judge is confident with her choice. "I was just looking for that eye-of-the-tiger, that it-factor … that kind of just wows you and takes you in and you just kind of know so that's why I made my decision."
Simon Cowell, on the other hand, was not so pleased with Brit-Brit's decision. During our interview with the Executive Producer, White came over to bid adieu to the blunt Brit, and Cowell took this opportunity to be completely honest with the young singing-hopeful. "Diamond, I'm really sorry. I really am. You're the one we should've kept. But you know what, things like this can sometimes help you in life. Remember Jennifer Hudson? I mean that, because you were amazing tonight." Cowell continued, "More than fine. Don't feel down, because you're talented, and you know that, and you're going to be a brand. Remember that." Aaaand then our hearts melted.
Reid said that he too is confident that someone in the music industry is going to snatch up that little star. "I have some friends who just adore her. Friends in entertainment, who each week have emailed me and just raved about her." Please excuse us while we currently try to cross all of our fingers and toes. But how is White herself handeling the news? Answer: Like a classy young lady. "I'm actually feeling pretty awesome," she said with a smile. "I made it to the top 16 out of hundreds of thousands of people, so I think that's an awesome goal. Now that this door has closed, I'm going to go onto bigger and better things. My next goal is shooting for Madison Square Garden." You go girl! (Wow. Okay, sorry, we really thought we could pull that phrase off…)
Would you line up to see Diamond White sing at Madison Square Garden? Shocked that she was kicked off the competition so soon? Sing your thoughts in the comments below!
Follow Leanne on Twitter @LeanneAguilera
[Photo Credit: FOX]
MORE:
'The X Factor' Recap: Behold…The Top 12
'The X Factor' Recap: It's A-Live Show!
'X Factor' To Hit Us (Baby) One More Time With a Third Season
From Our Partners: