'X Factor': Tate Stevens, Fifth Harmony, Emblem3 Talk the Beatles…and Winning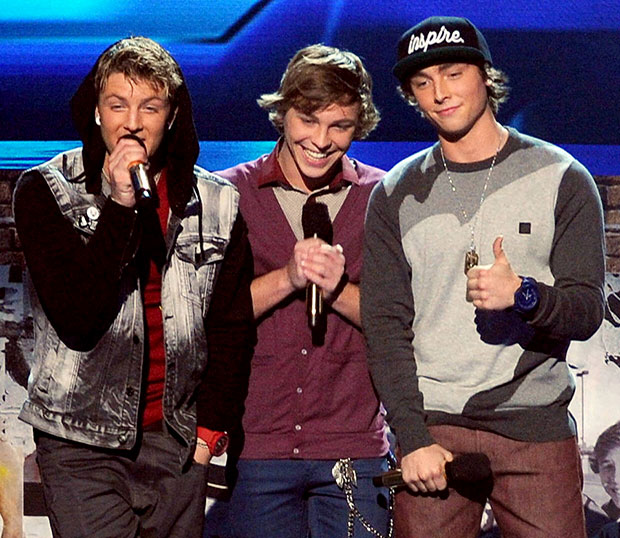 When the princess of pop tells you to take a bow after a performance on The X Factor, you take in that once-in-a-lifetime glorious moment in front of America – just ask Emblem3. After making their adoring-female fans bite their nail art by performing the quite risky "Hey Jude" by The Beatles, E3 proved to be more than just another new boy band on the block. (See what I did there, NKOTB? How about LFO? Or B2K? 1D, anyone? Caution: The '90s acronym boy bands may be back with a serious vengeance.) Tate Stevens set the roof on fire with his opening number of "Bonfire" by Craig Norman, giving the nation a taste of what's in store for his soon-to-be country music concerts (from our website to God's ears, right Tate?). And Fifth Harmony could've magically proved that "Anything Could Happen," while OMG, Carly Rose Sonenclar finally convinced us she really is a 13-year-old when she gave one of the biggest capricious attitudes on reality TV after learning from her mentor, Britney Spears, that she had to perform with a piano. (Someone call the whambulance!)
After the show for the semi-finals, Hollywood.com chit-chatted with the final 4 contestants to discuss their two songs – one was a contestant song choice, and one chosen by the mentor (insert Carly's signature pouty face here). Tate Stevens didn't bite his tongue on why he has to win the $5 million, America is falling in L-O-V-E with him, while E3 dished on being compared to The Beatles, Simon Cowell wanting to sign them, and Fifth Harmony well, they gush about their undeniable love for E3. (We don't blame you, ladies.) Check out just what they had to say below:
Tate Stevens, on America falling in love with him:
Tate: I sure hope so, I really do. There is no BS there, and I really hope so because I don't want to leave this show tomorrow. But if my ride is over or I win the whole thing then that is amazing. My goal now is that hopefully they are falling in love with me, and what I do enough that when I leave this show, whether its tomorrow or I win, that I can do this forever. That is the goal.
On having the most at stake:
Tate: The rest of the competition, they really have mom and dad. They can go home and regroup, mom and dad's cool, whatever. I am mom and dad. So there's really none of that for me. It's all or nothing. So hopefully America sees that this guy, we want him to go, we want him to get through, and hopefully win the whole thing. I didn't come here to lose. I didn't come here to take second.
On de-stressing and relaxing:
Tate: You know what, it's a lot of soul searching. I mean, I do a lot of praying. And figuring out who I am and why I'm here, and I think I found out why. I realized that this is me, and what I should be doing.
On Britney raining on his parade:
Tate: That is fine – let her do that! It's okay to drink a little Haterade every once in a while. It's all right! I don't think [my first performance] was really that bad.
Emblem3, on the Beatles comparisons:
Drew: Being publicly compared to the Beatles has been the biggest honor of my entire life, hands down. It's literally a dream come true because we never talk about it or whatever say it in public, because when you say stuff like that people say, "Dude, shut up." You just never say that. They are a musical phenomenon. You just don't do that. But to be compared to them not only publicly by [L.A. Reid] who is one of the most respected people in the industry, that's huge to hear. It was a dream come true for us. We do want to be like that.
Keaton: I'm probably going to cry like a baby later. When I actually realize what he said.
Wesley: He'll probably cry in the shower.
On Simon hinting at giving them a contract:
Keaton Stromberg: Well, he hasn't come to us directly, but we definitely saw your interview.
Drew Chadwick: We saw that, heard that.
Keaton: That's freaking rad.
Wesley Stromberg: He always kind of looks at us like, wink, wink, hint, hint.
Drew: Our first audition, our first live performance he said, "You guys are going." [He] just pointed up, and like winked. He said, "You guys are going to the top." Wesley: It's only gotten more like that.
Drew: At our first audition, he said, "I predict big things for you guys going forward." Simon is on that law of attraction.
On finding a middle ground as up-and-coming artists:
D: In any industry – especially starting out – you have to make sacrifices, and you have to make compromises.
K: We just have to find a middle ground. It's going to work.
D: It's going to work, and it's going to be better than we imagined. Right now, we don't understand it, but it's going to be better than that.
On their outlook for their debut album:
Drew: You know, honestly, our first album is probably going to be more on the pop side. You know, they are not going to do something we hate because why would they want us running around with terrible attitude, and hating what we are doing. You have to do what you love if you want it to be authentic and real, or else it's going to be transparent.
On their mom's thoughts of "Baby, I Love Your Way":
Wesley: My mom loves that song. She walks up [after our performance] and goes, "I told you so."
Keaton: She's the one that told us to sing it.
Wesley: She will never let that go. I'm going to be getting married, and she's going to be like, "Remember when I told you to sing that song?"
Fifth Harmony, on Emblem3's game-changing night:
Lauren Jauregui: They did fantastic, and picked songs that are them.
Camila Cabello: I was so happy for them, my gosh!
Normani Hamilton: They have been bummed out because of the song choices in the past weeks, and this week they got to be themselves again. It was awesome to see them like that.
Lauren: I love them. They deserve it, too.
Dinah-Jane Hansen: They deserve it so much, everywhere you go you can see them jamming.
Lauren: they love it! They do it because they love it.
On singing in Spanish:
Ally Brooke: We were so proud to have been able to sing a little bit of that in Spanish.
Lauren: We really were. Camilla and I are fluent in Spanish, so it wasn't that hard. It was easy.
Normani Hamilton: But Ally whipped it out.
Camila: Here's a story – Ally wasn't supposed to sing that part in Spanish, she was going to do it in English. Then for the first time she got on stage, and started singing in Spanish, and I was shocked. Literally, I was like, what you doing?
Dinah: She actually told me before we walked on stage that she would be singing in Spanish, okay? She told me.
Lauren: She never told me!

Justin Bieber Murder Plot Foiled: Two Men Had Planned on Castrating and Strangling the Pop Star (REPORT)

Kim Kardashians Best Bikini Moments (PHOTOS)Follow Christian Blauvelt on Twitter @Ctblauvelt
[Photo Credit: Ray Mickshaw/Fox]
More:
'The X Factor' Recap: The Top 4 Perform Live
'The X Factor': Emblem3 on Demi Lovato's Crush: 'She Has a Shrine'
'The X Factor': Emblem3, Tate Stevens Talk Britney, Tattoos, and Stripping