Xena: Warrior Princess to Romance Ron Swanson on 'Parks and Rec'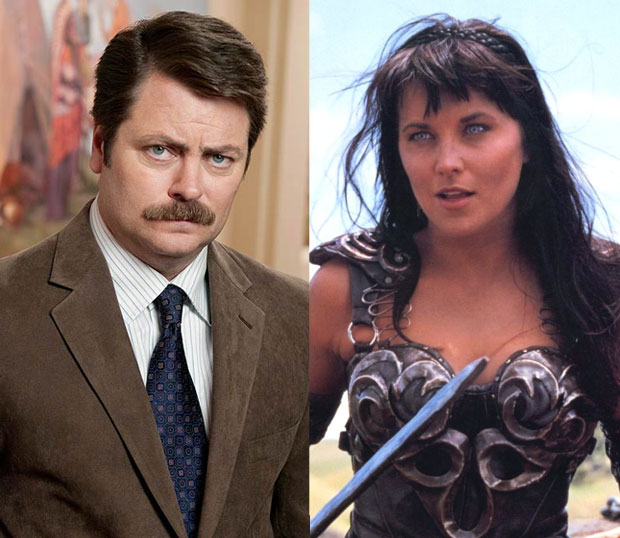 Things I never thought I'd say include: "This beet salad is so delicious," "Waffles are disgusting," "No please, don't put extra whipped cream on my blended coffee drink," and "Ron Swanson's new love interest is Lucy Lawless." Well, now I get to prove myself wildly ignorant because one of those things has come true. Lawless will romance Nick Offerman's Ron Swanson on Parks and Recreation. And it will be epic. 
Okay, it will be epic in the way Ron Swanson is epic: in a no-nonsense, straight-forward sort of way. Lawless
tweeted
about her stint on the NBC series, praising the "kooky, ironic, and elegant" writing, and from the looks of her plot line, she'll get to enjoy the kooky part, at the very least. According to
The Hollywood Reporter
, Lawless' Diane is a single mom in Pawnee who'll need Ron and Andy's (
Chris Pratt
) help and the chemistry will be palpable (which is the only way Ron Swanson does chemistry, my friends).
Lawless' first episode of her two-episode arc will air on Oct. 4, and while that's not a lot of time in Pawnee for the Xena: Warrior Princess and Spartacus: Vengeance vet (who, for the record, does not only star in projects with a colon in the title), it could be enough time to squeeze in a quick Swansonian date, right? Naturally, this raises so many questions: Will they go for the obvious and eat steak with a side of whiskey, neat? Will Ron go home-style and cook her up some perfectly average burgers made from Food & Stuff ingredients? Or will he be a show-off and order all the bacon and eggs J.J.'s Diner can rustle up?
Of course, I think the more important question lies with Lawless: Will it be her gut-wrenching warrior yell that puts the nail in the relationship coffin by the end of her second episode? And will our brains explode from the sheer awesomeness of this short-lived meeting of epic TV actors? The only way this story could get better is if Kevin Sorbo was slated to play Lawless' character's jealous ex. 
Are you still standing? Get up and tell us how excited you are for this swift Parks and Rec coupling!
[Photo Credit: NBC; Courtesy of Xena]