You Can Now Watch the Opening Scene of the 'Breaking Bad' Season 4 Finale
Breaking Bad is a smidge more addictive than the exquisite crystal meth its main character so masterfully produces. That said, those of you out there who are hooked might be riddled with the shakes this week in anticipation of the fourth season finale. The events of the past three episodes have more than doubled our excitement about what might happen to Walt, his family, Jesse, and the remaining involved parties.
If you've truly got the craving shooting up your spine, maybe this will tide you over until Sunday night: you can watch the opening scene of the season finale over at Hitfix. The episode picks up immediately after the events of last week's episode (spoilers) when Walt, on an adjacent roof, scoped out Gus and his henchmen heading to their car, on which he planted a bomb. At the last moment, Gus (for reasons yet to be explained) turned around and went back into the hospital, sending Walt into a state of panic.
The clip from the next episode (more spoilers) shows us Walt rushing frantically to Gus' car, removing the bomb, and then meeting up with Jesse inside the hospital.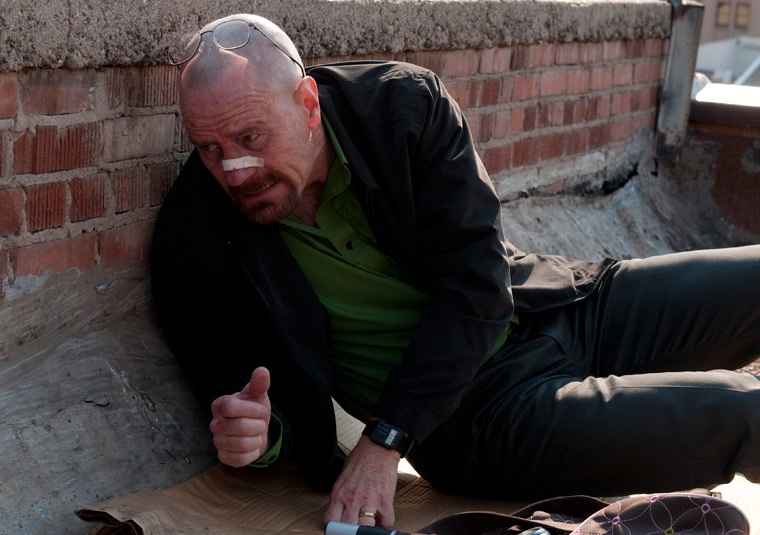 Breaking Bad's season finale airs on Sunday at 10 p.m. ET/PT on AMC.
The fifth season will be the final season for Vince Gilligan's ingenious drama starring the unstoppable Bryan Cranston (Walter White), Aaron Paul (Jesse Pinkman), Anna Gunn (Skyler White), RJ Mitte (Walter White, Jr.), Dean Norris (Hank Schrader), Betsy Brandt (Marie Schrader), Giancarlo Esposito (Gustavo Fring), Jonathan Banks (Mike Ehrmantraut) and Bob Odenkirk (Saul Goodman).
Source: Hitfix