You're Going To Need Tissues For Tonight's 'Nikita'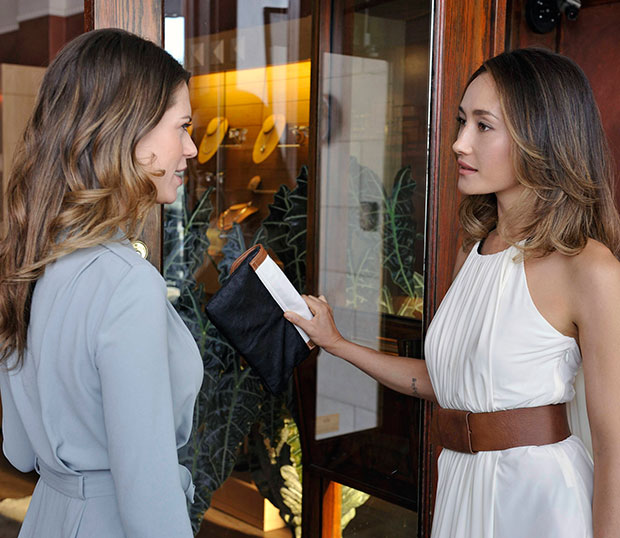 It was almost cruel to gift us with the perfect engagement for Mikita ("You had me at 'Give me the damn glock!'"), and then make us wait a whole entire week to see the aftermath. Cruel, I tell you!
Well, lucky for me (but not for you! Well, maybe for you too…) I didn't have to wait a week. I got to screen Season 3 Episode 2, "Innocence," early, and I can promise you that it does not disappoint. The new Division is going strong, Michael (Shane West) and Nikita (Maggie Q) are even stronger, and Birkhoff is at his awesomest, nerdiest self.
In order to prepare you for tonight's top-of-its-game Nikita, I have got some extra-juicy spoilers for you! And for all you spoiler-phobic fans, don't worry: I'm not giving anything major away. I wouldn't be that mean…
-At the beginning of the episode, Nikita makes her position on having children quite clear. But after certain events transpire over the course of the hour, she might waver on her previous stance…
-Just what is Michael's last name, anyway?
-While we, as fans, were over the moon about Mikita's engagement, Birkhoff is decidedly less so. Now, before you go all DOWN WITH BIRKHOFF, he has his reasons. Specifically, that one of the guys in the running for best man (a.k.a. Birkhoff) was left out of the loop of the engagement! The way he found out about the proposal is so classically Nikita that it made me giggle, but Birkhoff was not feeling the love.
-Taking down the Dirty 30 of the week tonight may be more than Nikita & Co. bargained for, seeing as how this guy is Michael's predecessor, albeit a much more ruthless version. The reason Michael replaced him as the recruit trainer? This guy beat a recruit to death, with his bare hands. And let me tell you, he hasn't been letting his recruit training skills get rusty.
-As I mentioned above, Birkhoff is at his awesomest, nerdiest self tonight. Just wait until you hear his robot voice. I can't give justice to it here and I won't even try. It's that amazing.
-We always knew Michael and Nikita have had a thing for each other from their days back in Percy's Division, but tonight you'll see just how far back they go. There was a Mikita before we even had hope for a Mikita.
-Alex's (Lyndsy Fonseca) storyline, especially the last scene, is a tearjerker. And while it's not impossible to get me crying, it certainly takes something big. We haven't really delved into the aftermath of Alexandra Udinov's public return that much. And if you think about it, her story is an amazing one (at least to the public): little girl gets kidnapped and finds her way back to her family years later. While you see so many stories on the news about children getting kidnapped, you don't exactly hear as many stories about them getting home safely. Alex has been so desensitized to her situation in light of taking down Percy's Division that only now is she really getting to focus on dealing with her past. And that rears its head during tonight's mission. Will she finally get some closure?
-And of course, the swelling Florence + the Machine's "Never Let Me Go", also heard in the greatest Damon/Elena scene to date in The Vampire Diaries, gives the emotional ending an extra punch or two. Like I said, it's a tearjerker. Prepare yourselves with tissues, my friends.
Follow Sydney on Twitter @SydneyBucksbaum
[Photo Credit: Ben Mark Holzberg/The CW]
More:
'Vampire Diaries' Recap: The First Cut Is The Deepest
'Parks and Recreation' Recap: It's Better Than Strawberry Jell-O Night
'Project Runway': Hey Now, You're An 'All-Star'?
From Our Partners:

Jessica Biel's Pink Wedding Dress: Celebrity Brides Who Didn't Wear White — GALLERY
(Celebuzz)

'Real Housewives of Atlanta's New Gal Kenya Moore Redefines Model Behavior — EXCLUSIVE VIDEO
(Celebuzz)